NFT Airdrop for wBAN Early Adopters
As a thank you for being involved in wBAN, we have airdropped some NFTs to wBAN "early" users.



As a thank you for being involved in wBAN, we have airdropped some NFTs to wBAN "early" users.
Airdrop Details
For wBAN staking farm we took a snapshot on block 9362000 (Jul-21–2021 09:50:58 PM UTC). Any monkey who was involved in this farm was eligible for this airdrop. This date was chosen as it is before we announced that the wBAN staking farm would end.
For both wBAN-BNB and wBAN-BUSD farms, the snapshot was made on block 10591302 (Sep-03–2021 11:24:31 AM UTC), a few days before we announced wBAN on Polygon.
If you withdrew from these farms before the respective snapshots or invested in them after these snapshots, you were not eligible for the NFT airdrop.
Distribution
For each old farm a monkey was involved with, a NFT was sent.
If a monkey was involved in multiple farms he has received up to 3 NFTs.
603 monkeys were airdropped at least one NFT:
old wBAN staking farm: 318 eligible monkeys
old ApeSwap wBAN-BNB farm: 275 eligible monkeys
old ApeSwap wBAN-BUSD farm: 199 eligible monkeys
792 NFTs were distributed to monkeys:
447 monkeys were airdropped 1 NFT,
123 monkeys got 2 NFTs,
33 monkeys got 3 NFTs.
For each farm, there are 3 different NFTs:

Whale version: top 19 investors
Shark version: next top 42 investors
Shrimp version: all the others
As an example, if you had a tiny bit of wBAN staked in wBAN staking farm and a lot in ApeSwap wBAN-BNB farm, you should have received a "wBAN Staking Shrimp" and a "wBAN-BNB Whale".
All the NFTs have been distributed on the Polygon network, to the Binance Smart Chain addresses who were involved in the farms.
Where to find & trade these NFTS?
You can find and trade all the NFTs in OpenSea:
https://opensea.io/collection/wban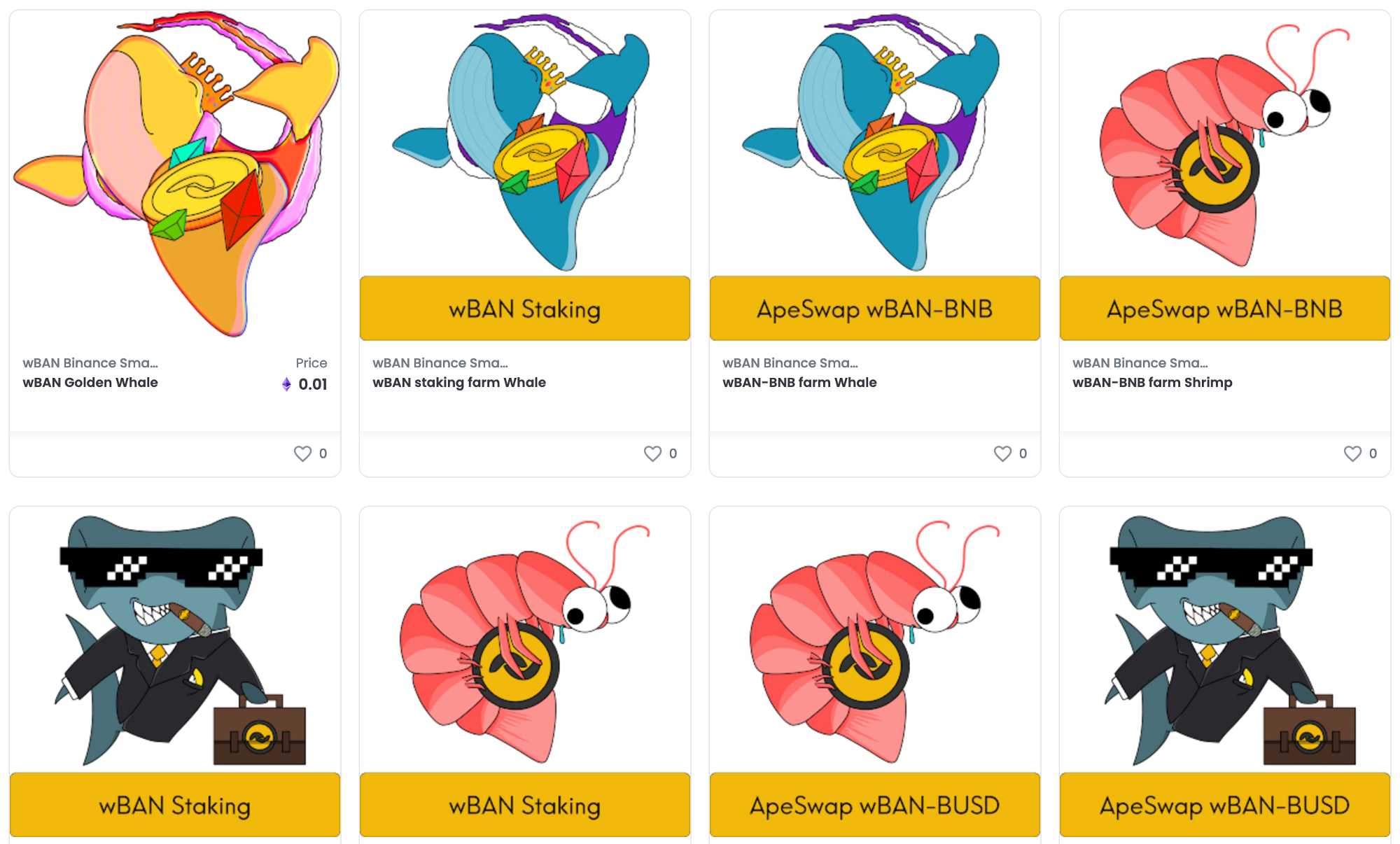 If you own a NFT you can decide to sell it and make a listing with a price of your choosing (in ETH or USDC).
If you are interested in a NFT, you can make offers to those having it or buy from available listings. If you don't have ETH or USDC on Polygon, you can wrap some BAN and swap them through SushiSwap.
What to do with these NFTs?
Besides collecting/trading the NFTs, there is one more thing you can do which is to blend a set of all Shrimp NFTs (one corresponding to each farm) into a Golden NFT. You can also blend standard Whale and Shark NFTs into Golden Whales and Golden Sharks.
This can be done from this page: https://polygon.banano.cc/nft
When you will do so, that will burn the 3 non-golden NFTs and give you a single golden one.
That means you will likely need to get your hands on missing NFTs in order to claim a golden one, bringing scarcity and potential value to the golden NFTs.
This is not financial advice, but enjoy swimming with these NFTs!
NFTokenomics
There is a total of only 19 Whales and 42 Sharks for each farm which were airdropped.
On top of that we minted:
3 complete sets (including golden and non-golden versions): one for Soggy who provided the incredible designs, one for Tigwyk who provided the screencasts and helped a lot throughout, and one for WTP who wrote this and paid the outrageous MATIC fees (2.793116 MATIC — about $5.335 — in total in order to airdrop you, mistakes included)
a set of non-golden NFTs to be distributed for future events
No new mints will be done for these NFTs.
This means a max supply of 26 golden whales (19+3*2+1) and 49 golden sharks (42+3*2+1) NFTs.
Contrary to the cryptomonKeys NFTs you may be familiar with, there aren't mint numbers for these NFTs.
What the Fork is BANANO?
For those of you who don't know BANANO yet, it's obviously perfect to just read our animated, meme-rich and interactive Yellowpaper! BANANO is a cryptocurrency (forked from NANO in April 2018) powered by DAG technology — here to disrupt the meme economy. Yes, BANANO has memes! And also feeless and near-instant transactions, a highly active community, and active technical development! The BANANO community doesn't take themselves too seriously, but we're here for the long run and we enjoy what we do. On top of this, BANANO is super easy to use and puts an emphasis on free and fair distribution, gamification and crypto education.
See current BANANO price and market data at Coingecko or Coinmarketcap. All current trading pairs and exchanges here.
Join the Banano Republic!
BANANO ($BAN) is a fee-less, instant, rich in potassium cryptocurrency powered by DAG technology disrupting the meme economy.
Official Website: banano.cc
Yellowpaper: banano.cc/yellowpaper
Help getting started: banano.how
Community News: The Daily Peel
Join our social channels for updates & giveaways:
Discord | Twitter | Telegram | Reddit | Youtube
Publish0x | Uptrennd | LBRY | Medium | Hive
Github | BitcoinTalk | Instagram | Facebook | TikTok
Overviews:
BANANO News | BANANO links