Wrapped BANANO (wBAN) on Binance Smart Chain Update
Backed by next generation DAG tech and potassium, BANANO is a cryptocurrency getting into your wallet fast, feelessly, and with loads of…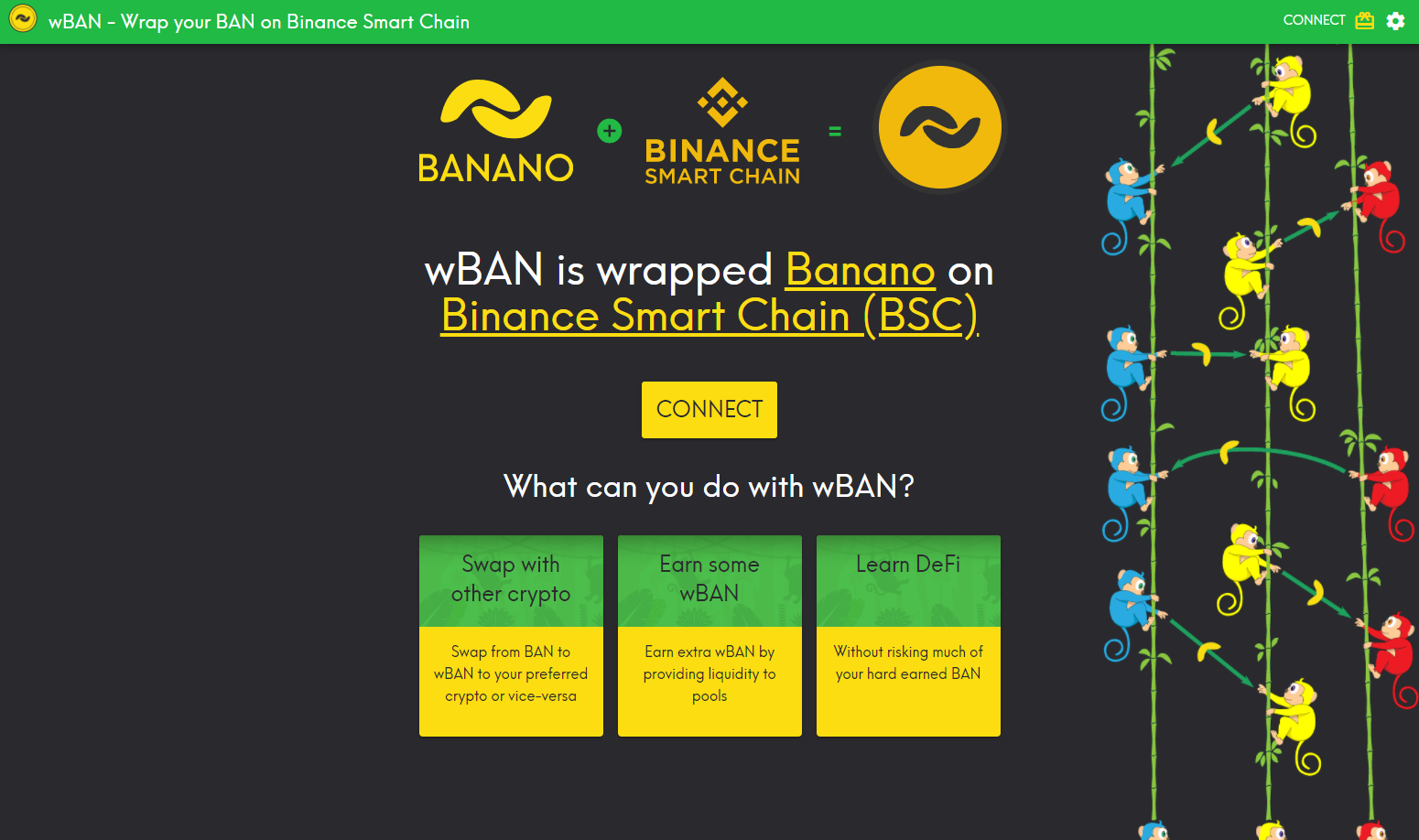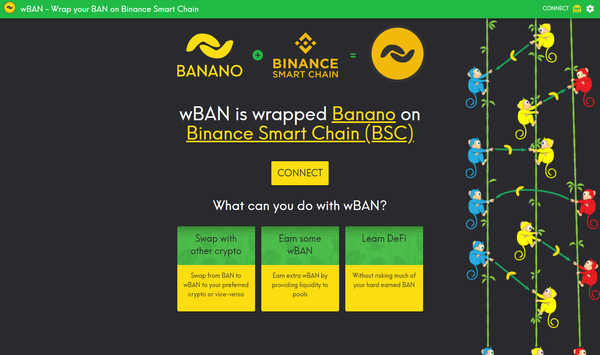 Backed by next generation DAG tech and potassium, BANANO is a cryptocurrency getting into your wallet fast, feelessly, and with loads of fun. BANANO is distributed for free to everyone. Its easy-to-use technology onboards normies and crypto-noobs without the usual hassle by combining a fun attitude and gamification in an educational context to ultimately enable everyone to handle crypto in general in a responsible way.
wBAN (wrapped BANANO on Binance Smart Chain) was launched almost 4 weeks ago, and it is time for an update!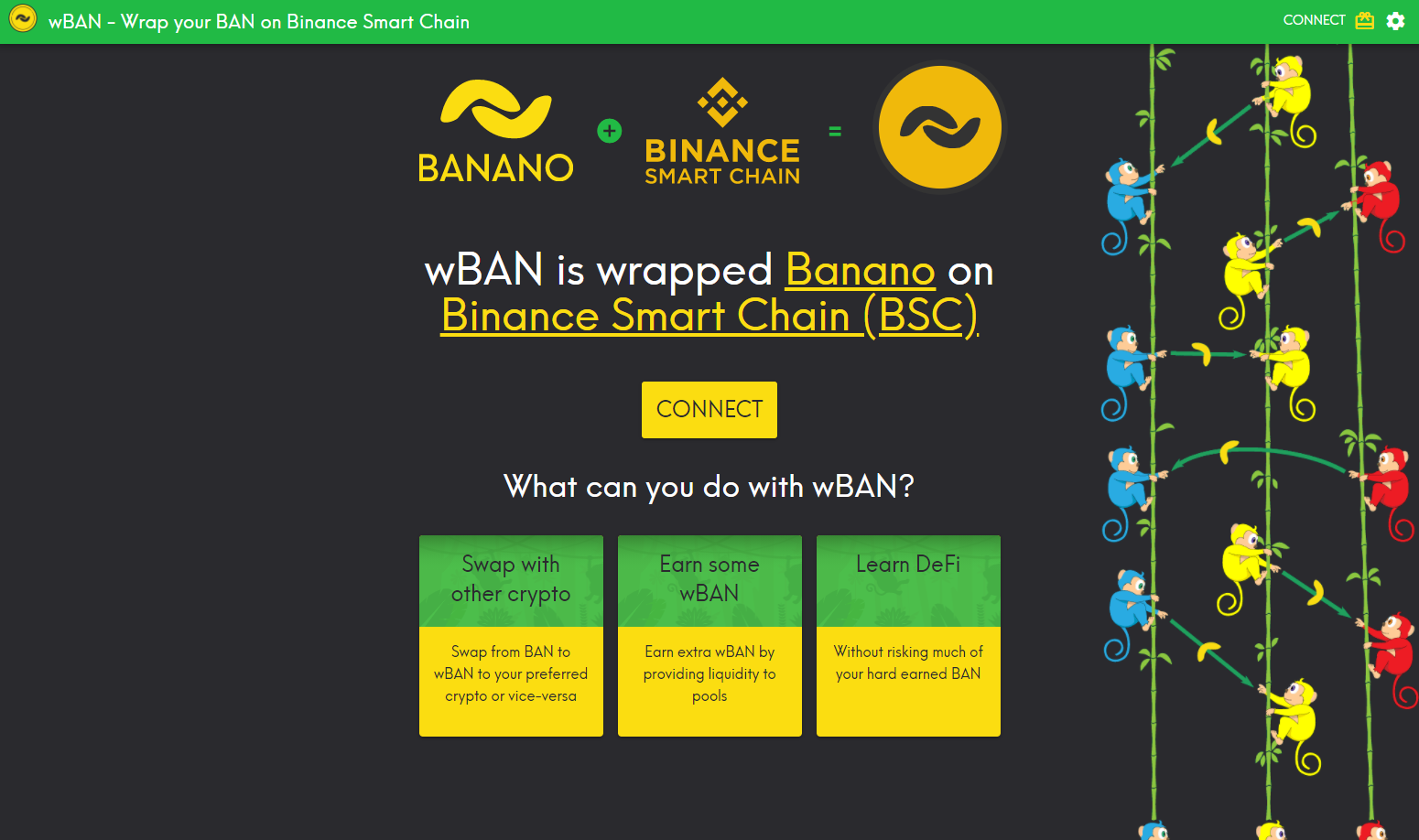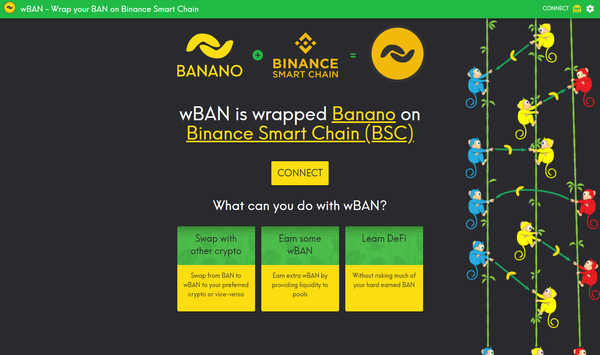 First Month Recap
In just a few hours, we managed to have as much liquidity as the CoinEx liquidity pool.
During the night, we managed to get twice the amount of the CoinEx pool!
And about a day after launch we had nearly 37 M BAN (1 million $USD!) staked into wBAN staking farm and more than $480k of liquidity in wBAN-BNB and wBAN-BUSD.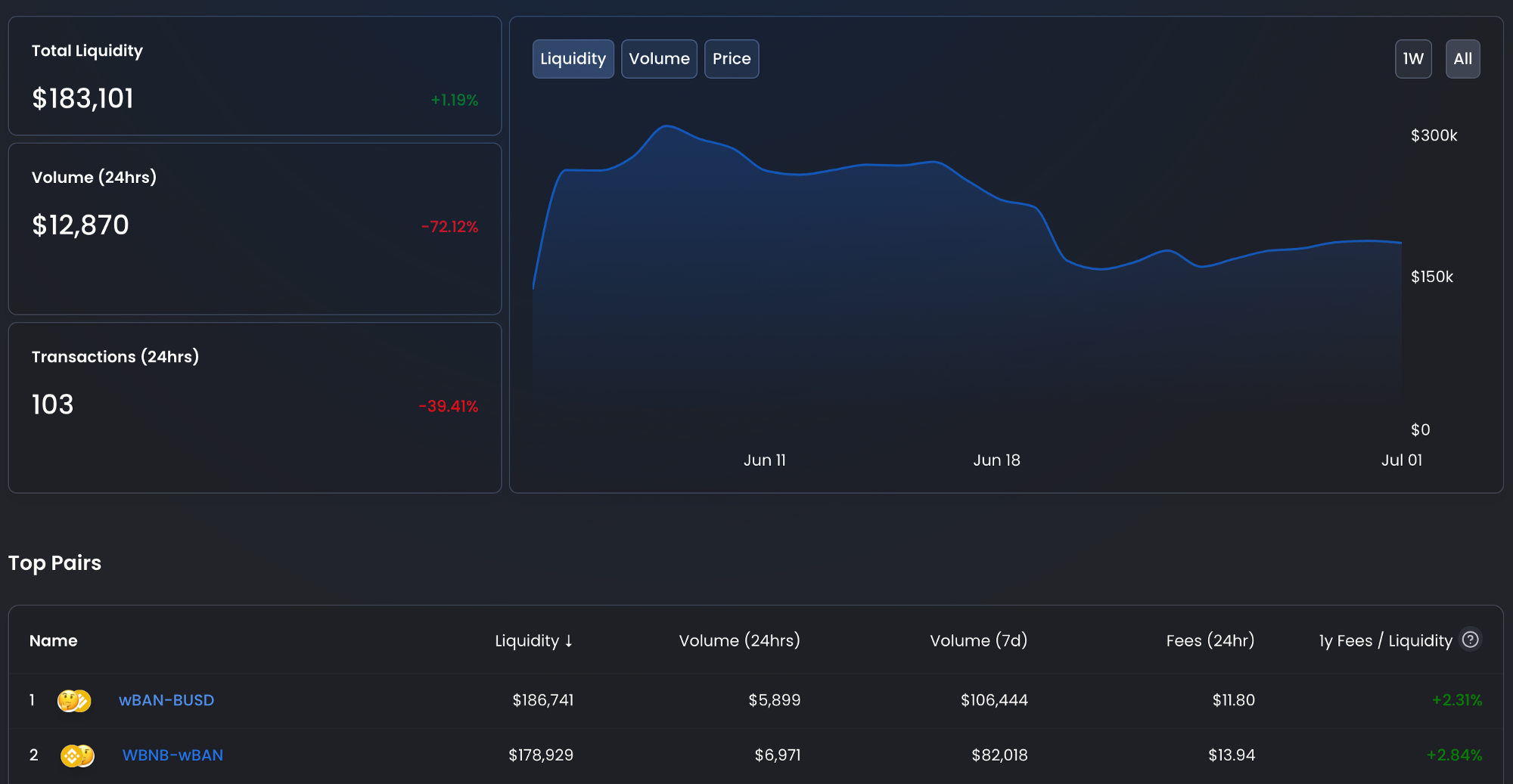 We have good amounts of liquidity and we can now handle more and bigger trades.
As you can see on the above screenshot, swap fees collected by liquidity providers are not yet enough to make this sustainable without Benis farms which is a challenge. Either some of you don't know they can buy (w)BAN from ApeSwap or don't need this. We will come back to you and ask for input regarding wBAN roadmap.
Global Changes
As announced, Benis will start to give less rewards than before, starting on Saturday at 3PM UTC.
The rate of rewards (all farms included) will be reduced by 25%, from 1.5 M BAN / 4 weeks to 1.125 MBAN / 4 weeks.
Expect more changes after those 4 extra weeks of rewards.
wBAN Staking
wBAN staking was a nice experiment and helped tremendously to onboard many monkeys, but as BANANO has no staking features, wBAN shouldn't really have one either.
This staking farm will keep running for 4 more weeks but the multiplier of this farm will be reduced in half.
After these 4 extra weeks expect this farm to be stopped!
wBAN-BNB and wBAN-BUSD farms
Those farms will keep the same multipliers as they are helping the Banano family with the provided liquidity.
Recap of Changes

What's Next?
We are exploring various options to expand wBan to additional DEX(s), and also to new blockchain networks. There's a whole world of DeFi and potential interactions with other blockchains out there, and we look forward to exploring, educating, and helping to introduce ban fam to all the possibilities! If you have fun ideas on this, we'd love to hear them!
What the Fork is BANANO?
For those of you who don't know BANANO yet, it's obviously perfect to just read our animated, meme-rich and interactive Yellowpaper! BANANO is a cryptocurrency (forked from NANO in April 2018) powered by DAG technology — here to disrupt the meme economy. Yes, BANANO has memes! And also feeless and near-instant transactions, a highly active community, and active technical development! The BANANO community doesn't take themselves too seriously, but we're here for the long run and we enjoy what we do. On top of this, BANANO is super easy to use and puts an emphasis on free and fair distribution, gamification and crypto education.
See current BANANO price and market data at Coingecko or Coinmarketcap. All current trading pairs and exchanges here.
Join the Banano Republic!
BANANO ($BAN) is a fee-less, instant, rich in potassium cryptocurrency powered by DAG technology disrupting the meme economy.
Official Website: banano.cc
Yellowpaper: banano.cc/yellowpaper
Help getting started: banano.how
Community News: The Daily Peel
Join our social channels for updates & giveaways:
Discord | Twitter | Telegram | Reddit | Youtube
Publish0x | Uptrennd | LBRY | Medium | Hive
Github | BitcoinTalk | Instagram | Facebook | TikTok
Overviews:
BANANO News | BANANO links