Wrapped BANANO (wBAN) Updates — February 2022
The new swap feature is here! You can now swap tokens directly from our interface. We also have another round of 350K Banano rewards.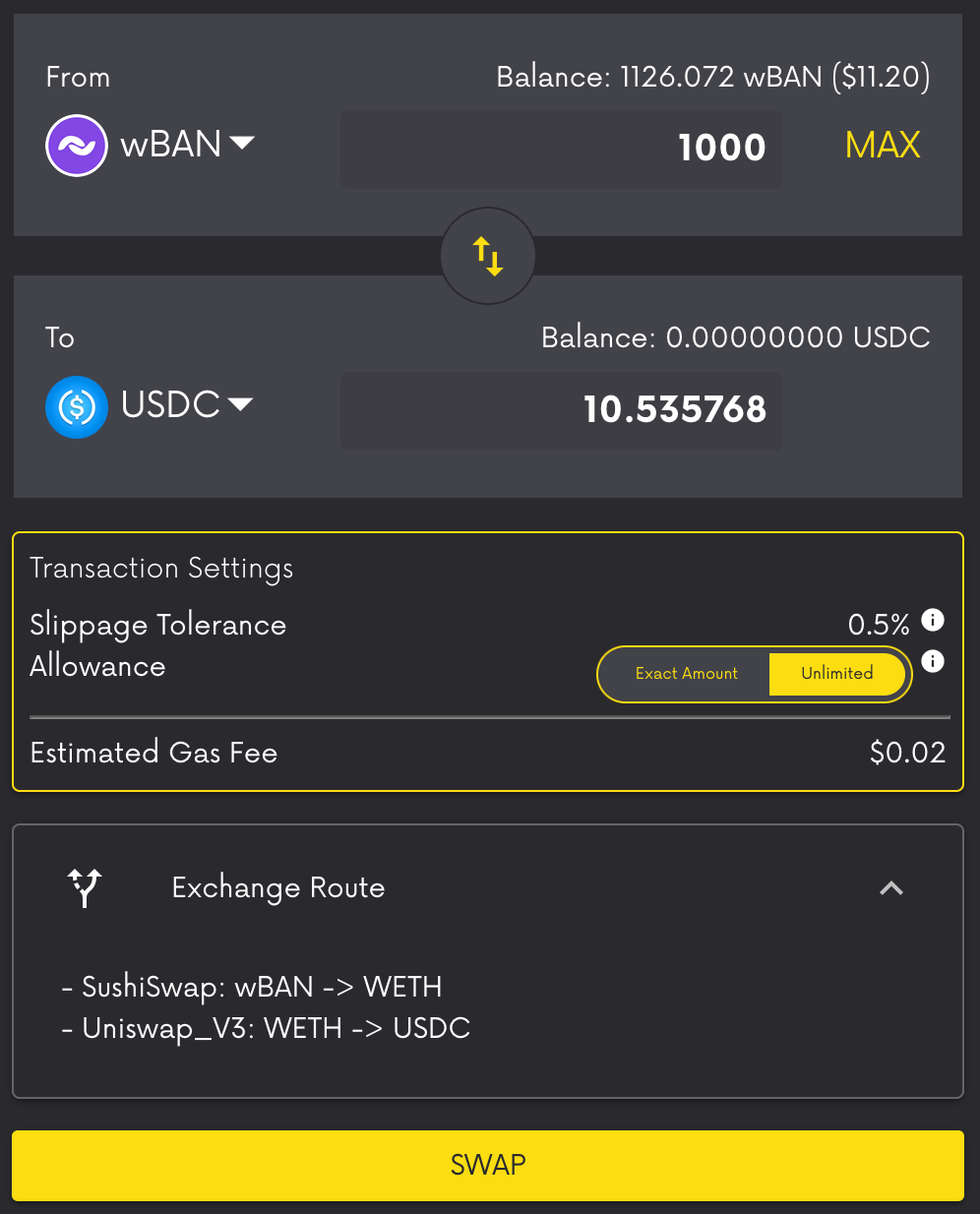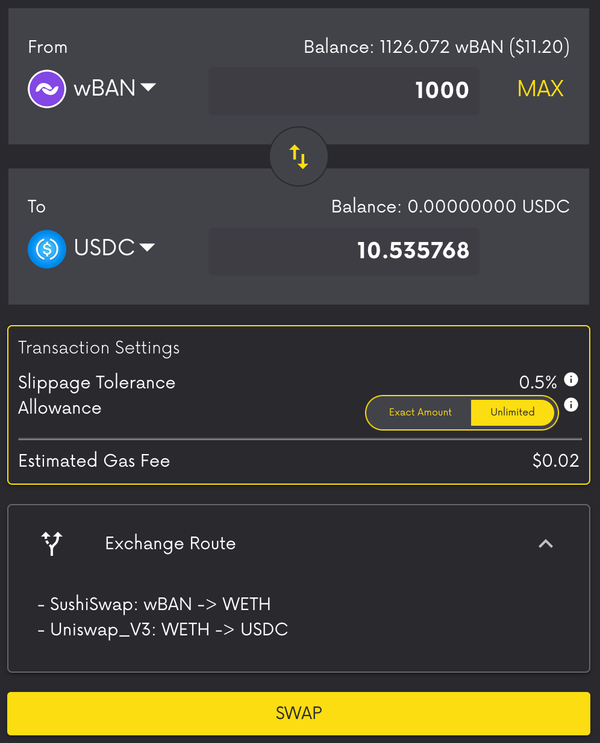 Swap straight from wBAN dApp
Version 1.4 of wBAN app has been released.
The main new feature of this release is to enable swaps from a wBAN screen.
No need to go to a DEX after you (un)wrap your (w)BAN!
The Swap button on the main screen brings you to this screen: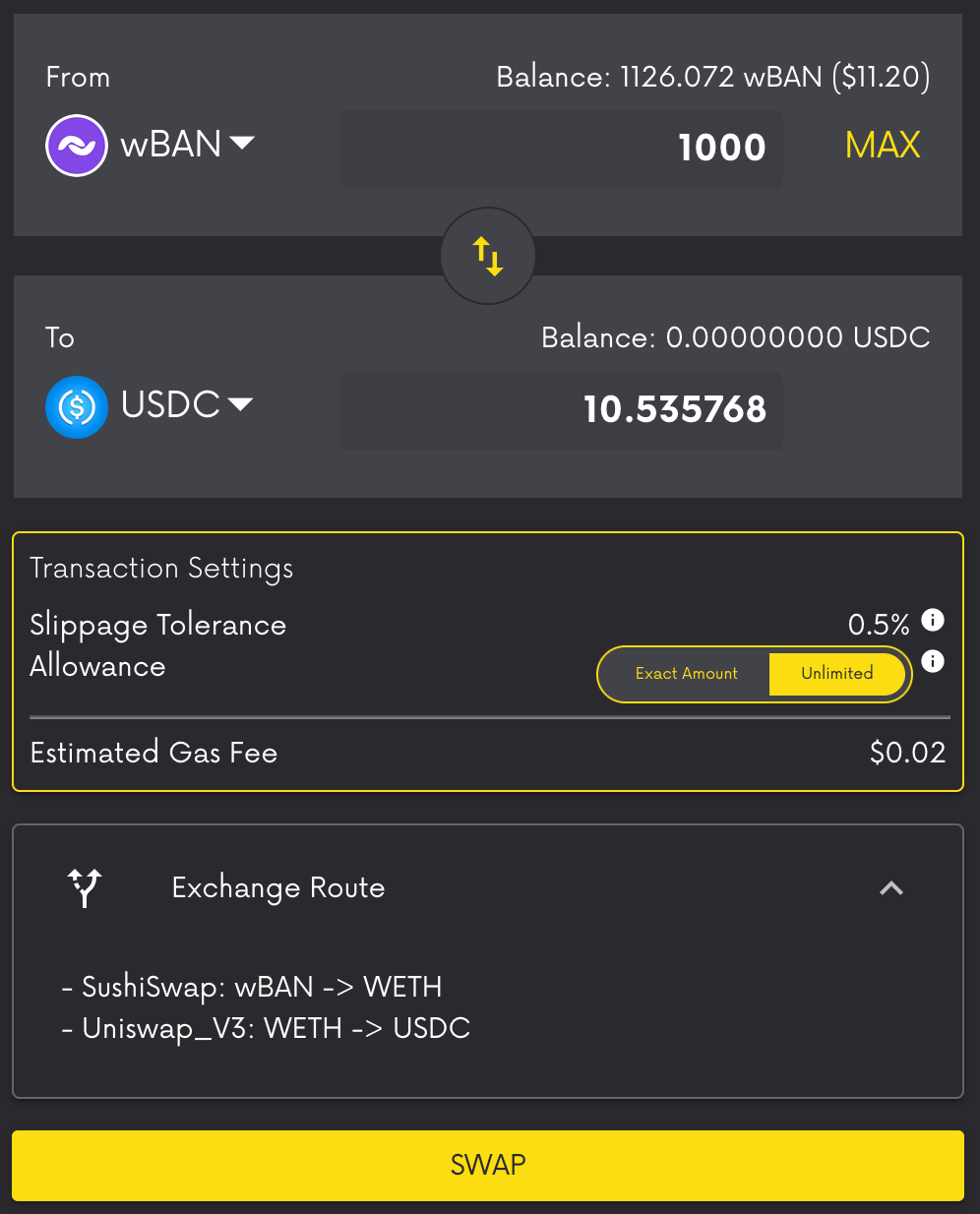 As you can see from the above screenshot, the app is able to automatically deal with "complex swap routes" involving multiple DEX in order to maximize your final output amount (USDC in this example).
[Polygon] SushiSwap wBAN-wETH
The last batches of Polygon LP rewards on the Sushiswap wBAN — wETH pool have distributed a whopping 350k wBAN every 4 weeks since the start of 2022. And it's not over yet! The Banano DeFi team has decided to continue incentivizing liquidity and will distribute another 350k from February 26 to March 26, 2022.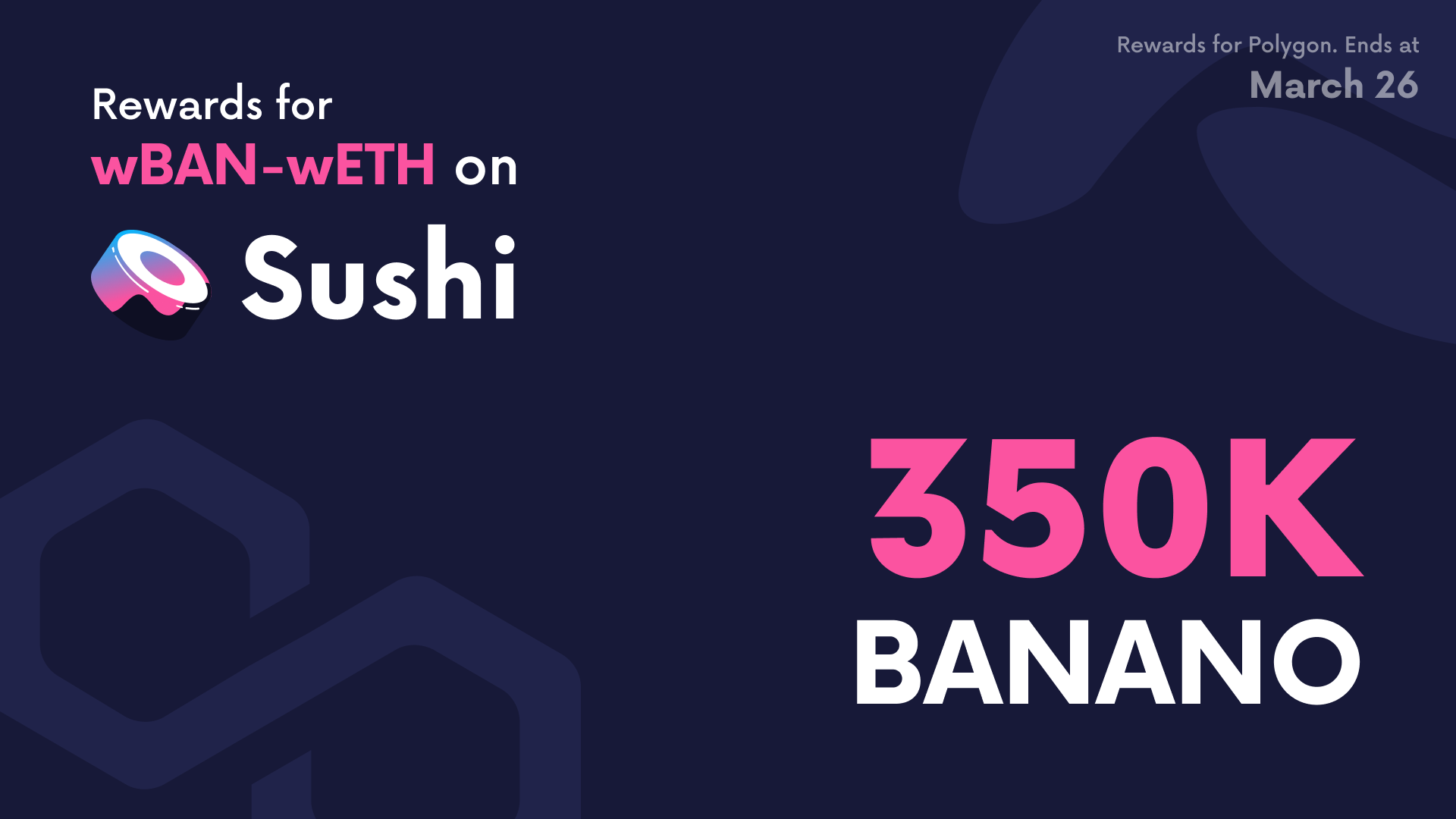 In order to be able to swap wBAN from/to other crypto, there is a need for liquidity providers. Since liquidity providers are taking risks (in the form of impermanent loss), some farms are running to provide rewards proportional to the liquidity they provide. "Benis" is the smart-contract in charge of distributing those rewards.
Credits
This article has been written by Wrap That Potassium with editorial help from Kron (Kron#0582 on Discord).
---
What is wBAN?
wBAN is short for Wrapped Banano. The main idea is that you wrap your Banano as wBAN tokens, and unwrap wBAN tokens back to Banano crypto. This allows you to use a representation of Banano on other blockchain networks! wBAN is currently available on the Binance Smart Chain and Polygon. See wBAN FAQ for more details.
wBAN was created to connect Banano to the wider smart-contracts / DeFi ecosystem. We love seeing monkeys learning and participating in DeFi, and we welcome new users coming onboard Banano!
---
What the Fork is BANANO?
For those of you who don't know BANANO yet, it's obviously perfect to just read our animated, meme-rich and interactive Yellowpaper! BANANO is a cryptocurrency (forked from NANO in April 2018) powered by DAG technology — here to disrupt the meme economy. Yes, BANANO has memes! And also feeless and near-instant transactions, a highly active community, and active technical development! The BANANO community doesn't take themselves too seriously, but we're here for the long run and we enjoy what we do. On top of this, BANANO is super easy to use and puts an emphasis on free and fair distribution, gamification and crypto education.
See current BANANO price and market data at Coingecko or Coinmarketcap. All current trading pairs and exchanges here.
Join the Banano Republic!
BANANO ($BAN) is a fee-less, instant, rich in potassium cryptocurrency powered by DAG technology disrupting the meme economy.
Official Website: banano.cc
Help getting started: banano.how
Community News: Daily Peel
Yellowpaper | Wiki
Join our social channels for updates & giveaways:
Discord | Twitter | Reddit | Youtube | Telegram | BBS
Medium | Publish0x | Github | BitcoinTalk | Instagram | Facebook | TikTok
Overviews:
BANANO News | BANANO links