Wrapped BANANO (wBAN) is now Live on Fantom and SpookySwap!
wBAN is launching on Fantom with 1.2 million total Banano rewards for wBAN/FTM and wBAN/USDC pairs on SpookySwap!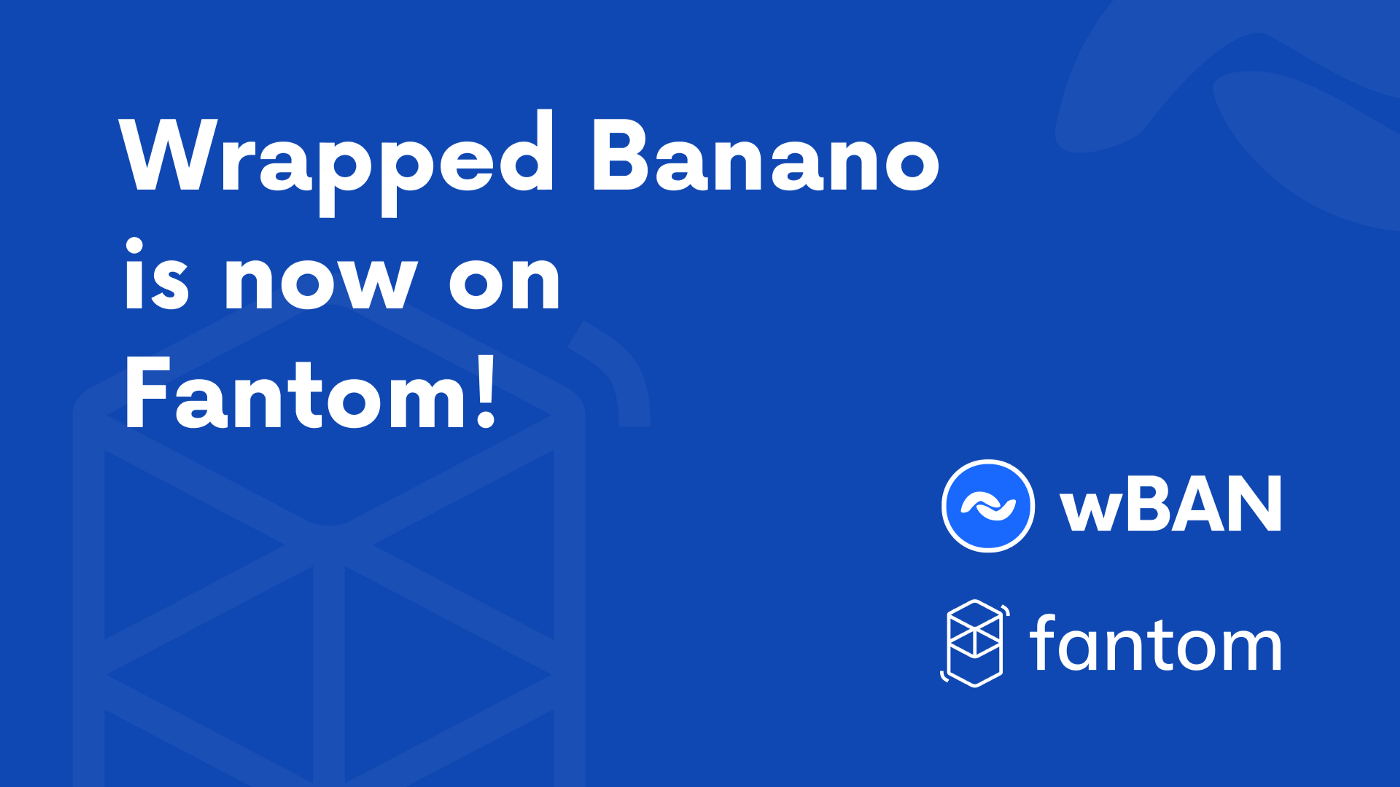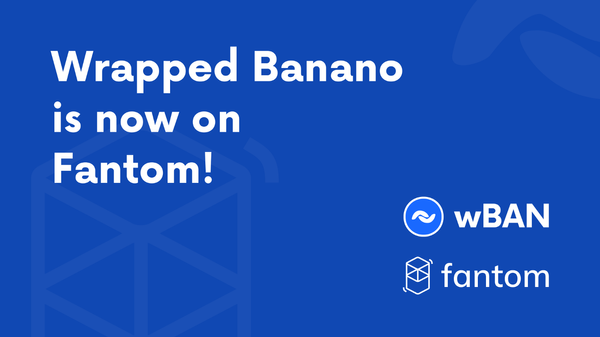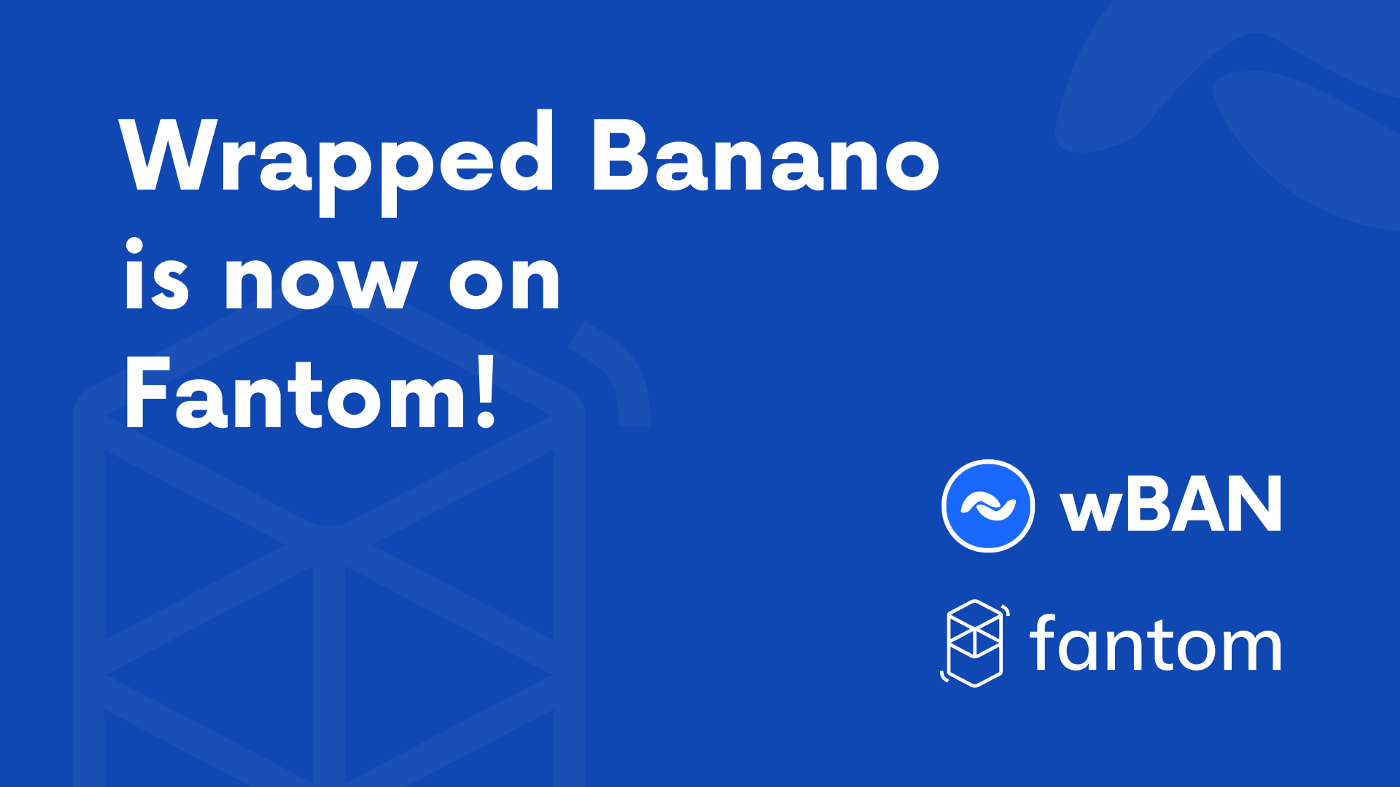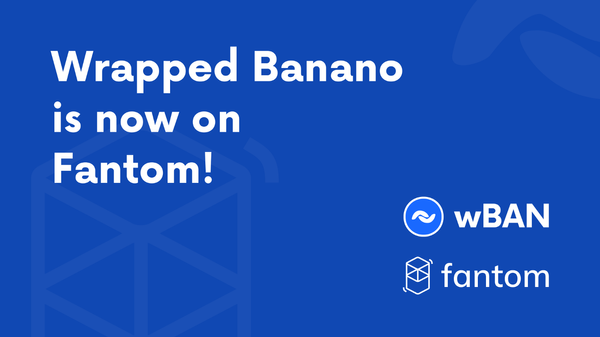 What does this mean?
You are now able to wrap BAN into wBAN, on the Fantom blockchain.
You can find the bridge at https://fantom.banano.cc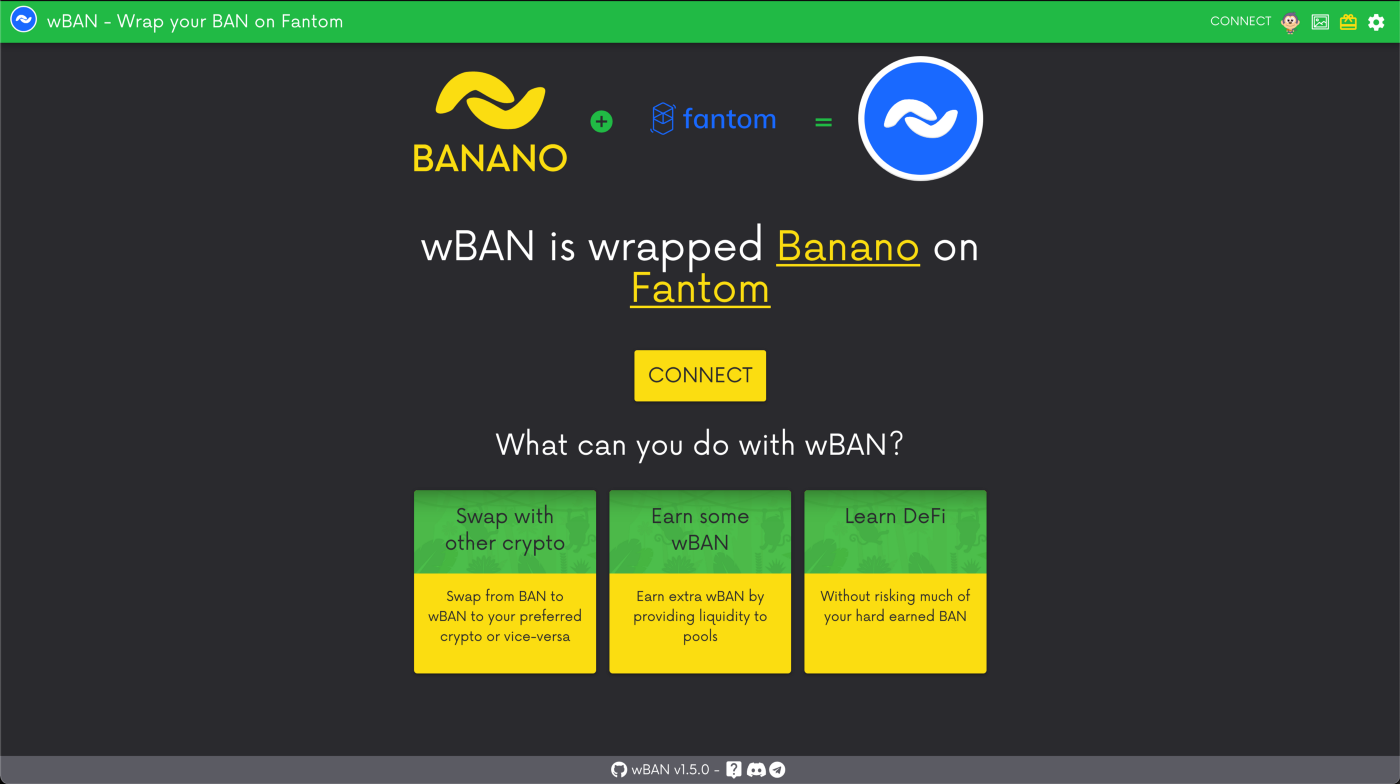 SpookySwap DEX Partnership
Since wBAN relies on an exchange (or DEX) in order to incentivize liquidity providers, we scouted the Fantom ecosystem for a DEX partner which would be a good match for the Banano community.
The goal was to find a DEX who is a major player in the Fantom ecosystem and has an assumed penchant for memes.
It wasn't that hard to find such a good candidate, so without any further ado, let's celebrate our partnership with SpookySwap.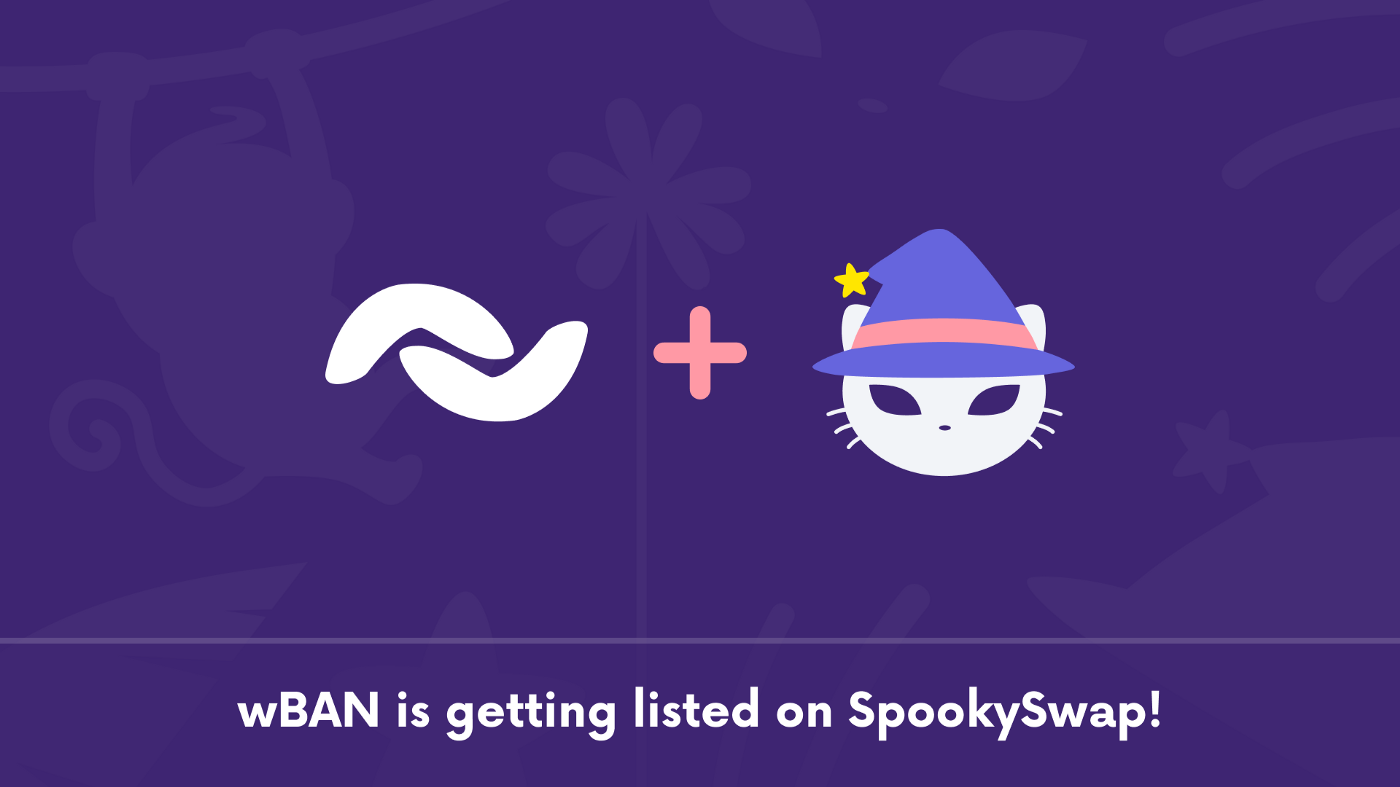 There is more!
Two liquidity pools have been bootstrapped on SpookySwap: wBAN-USDC and wBAN-FTM.
Through the Wrapped Banano dApp, you have the opportunity to stake your liquidity pool tokens from these pools into the wBAN-USDC and wBAN-FTM farms, rewarding you with wBAN!
Benis is generous!
In order to be able to swap wBAN from/to other crypto, there is a need for liquidity providers. Since liquidity providers are taking risks (in the form of impermanent loss), some farms are running to provide rewards proportional to the liquidity they provide. "Benis" is the smart-contract in charge of distributing those rewards.
Benis, our smart-contract in charge of all our farms, starting from today will be giving away 1.2M BAN until April 2, 3PM UTC!
Each farm will get half of those rewards (same multipliers), so 600k wBAN per farm.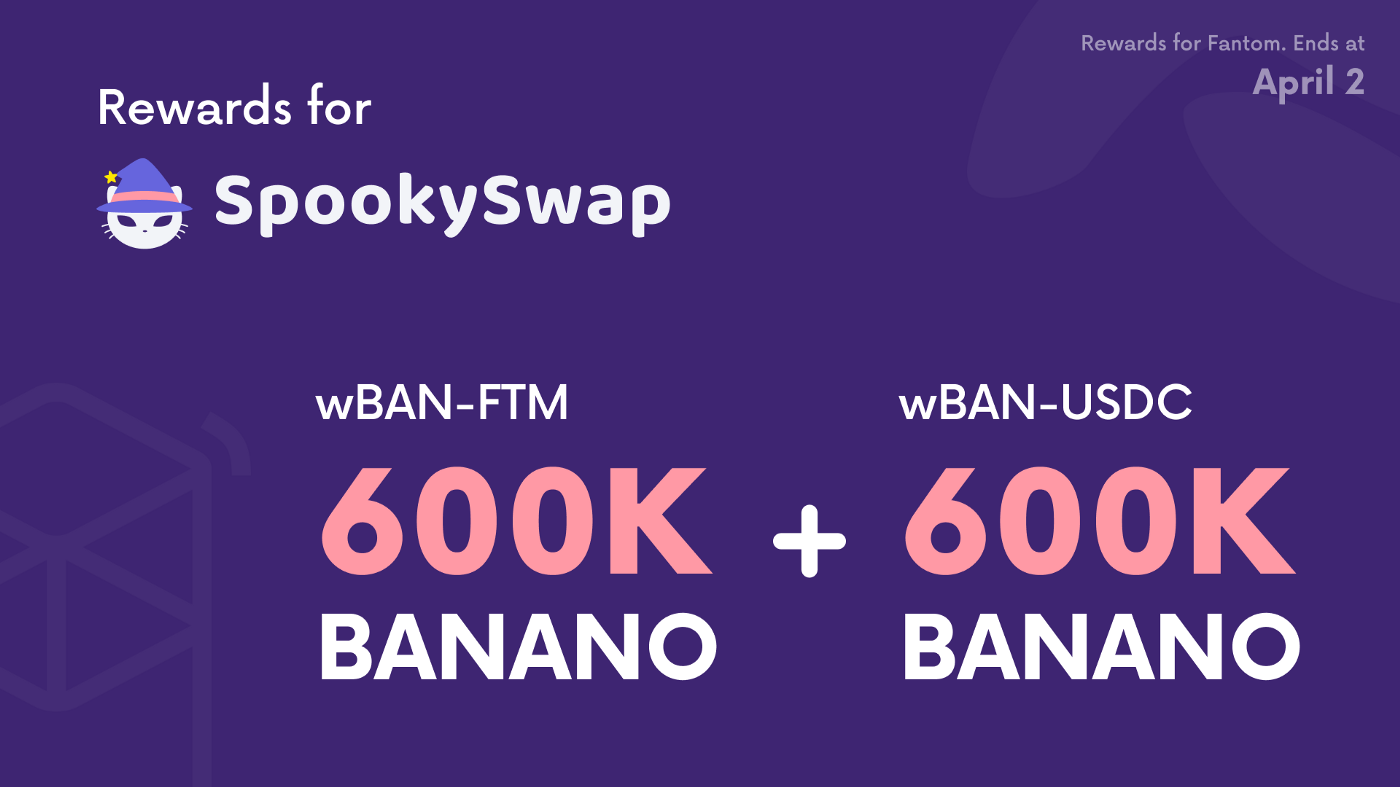 This time, we would like the community to help us decide which of these two farms should be incentivized more.
Both liquidity pools will be monitored and based on how monkeys interact with them, one of the farms would keep most of the rewards while the other would be reduced.
One of the primary factor looked upon will be volume.
How to begin your Fantom journey?
You will need some FTM crypto to pay the transaction fees.
If your CEX enables withdrawals of FTM on the Fantom network, it would be a straightforward solution.
Otherwise, you can rely on cross-chain bridges allowing you to move your tokens from one blockchain to Fantom and vice-versa.
SpookySwap provides such a bridge enabling moves of multiple tokens.
On BSC, you could swap some tokens to FTM and then bridge them to Fantom. If you plan to provide liquidity in wBAN-USDC, you could then swap some FTM to USDC, from wBAN swap page or SpookySwap.
On Polygon, you could bridge USDC to Fantom but then you would still need some FTM. SpookySwap provides a FTM faucet giving just enough to make a swap from USDC -> FTM to purchase some for transaction fees.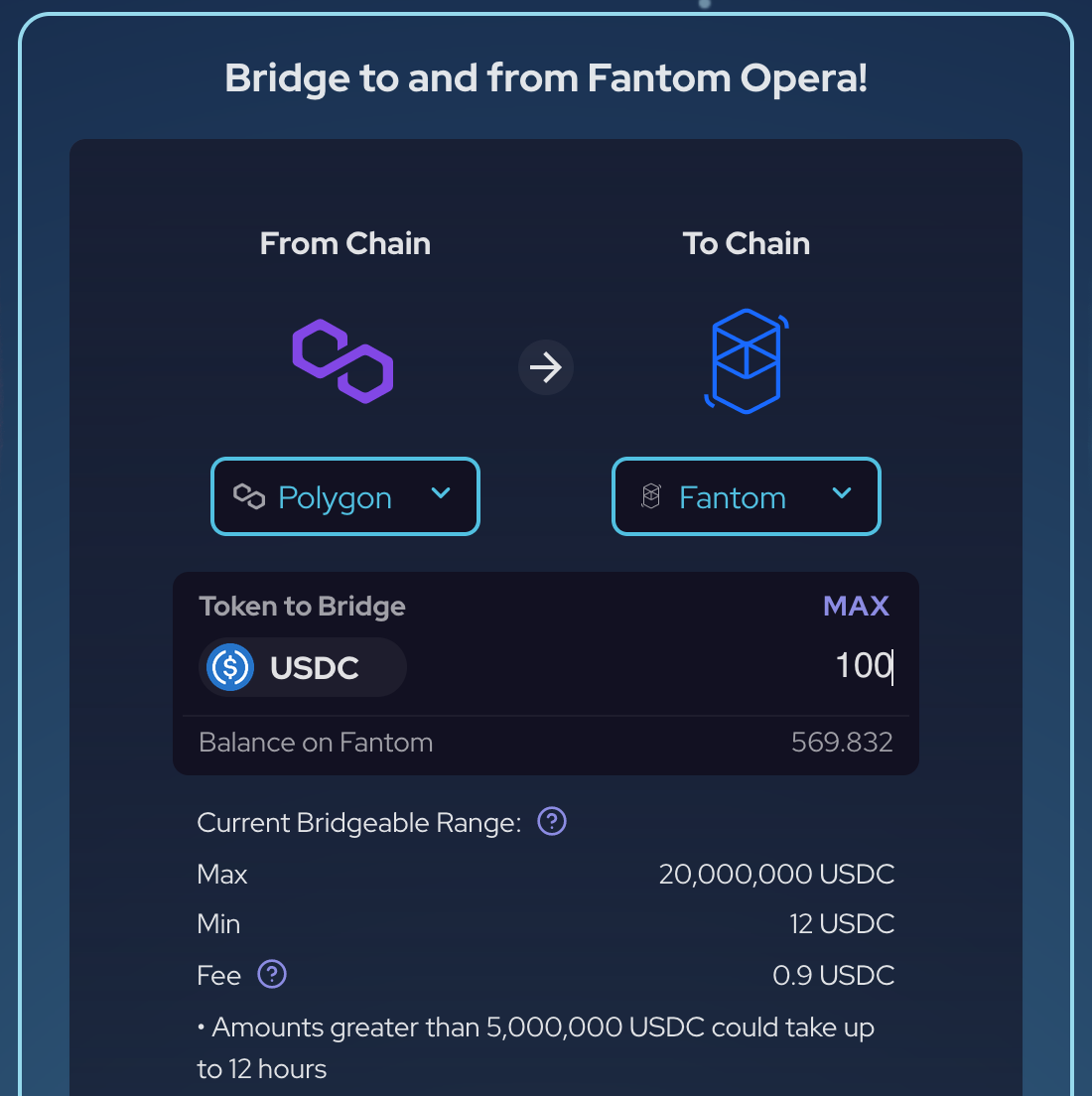 Example of a cross-chain bridge of some USDC from Polygon to Fantom
If you have difficulties getting some FTM, go to the #wrapped-banano channel on the Banano Discord server and kindly ask for monkeys willing to trade BAN to FTM.
Credits
This article has been written by Wrap That Potassium with editorial help from Kron (Kron#0582 on Discord) and illustrations from Yekta.
---
What is wBAN?
wBAN is short for Wrapped Banano. The main idea is that you wrap your Banano as wBAN tokens, and unwrap wBAN tokens back to Banano crypto. This allows you to use a representation of Banano on other blockchain networks! wBAN is currently available on the Binance Smart Chain, Polygon and now Fantom. See wBAN FAQ for more details.
wBAN was created to connect Banano to the wider smart-contracts / DeFi ecosystem. We love seeing monkeys learning and participating in DeFi, and we welcome new users coming onboard Banano!
---
What the Fork is BANANO?
For those of you who don't know BANANO yet, it's obviously perfect to just read our animated, meme-rich and interactive Yellowpaper! BANANO is a cryptocurrency (forked from NANO in April 2018) powered by DAG technology — here to disrupt the meme economy. Yes, BANANO has memes! And also feeless and near-instant transactions, a highly active community, and active technical development! The BANANO community doesn't take themselves too seriously, but we're here for the long run and we enjoy what we do. On top of this, BANANO is super easy to use and puts an emphasis on free and fair distribution, gamification and crypto education.
See current BANANO price and market data at Coingecko or Coinmarketcap. All current trading pairs and exchanges here.
Join the Banano Republic!
BANANO ($BAN) is a fee-less, instant, rich in potassium cryptocurrency powered by DAG technology disrupting the meme economy.
Official Website: banano.cc
Help getting started: banano.how
Community News: Daily Peel
Yellowpaper | Wiki
Join our social channels for updates & giveaways:
Discord | Twitter | Reddit | Youtube | Telegram | BBS
Medium | Publish0x | Github | BitcoinTalk | Instagram | Facebook | TikTok
Overviews:
BANANO News | BANANO links