Watch & Play: TriggerHaven's Weekly Twitch BANANO Faucet
BANANO is a feeless, near-instant, DAG cryptocurrency that is distributed through fun-and-games faucets and regular events! This time…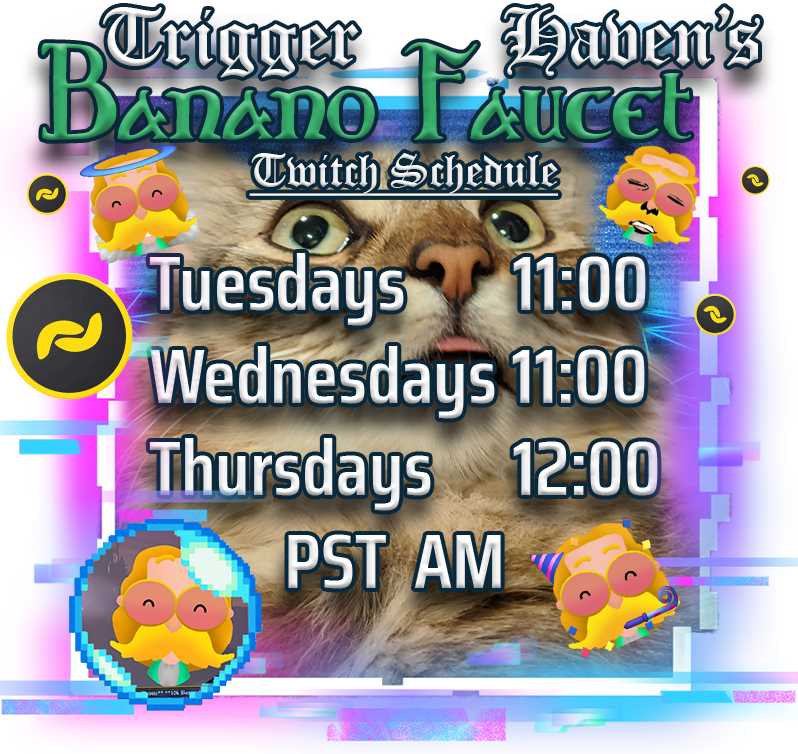 BANANO is a feeless, near-instant, DAG cryptocurrency that is distributed through fun-and-games faucets and regular events! This time, we're announcing Trigger Haven's Banano Faucet at Twitch! Join for weekly games and fun events, and of course Free $BAN!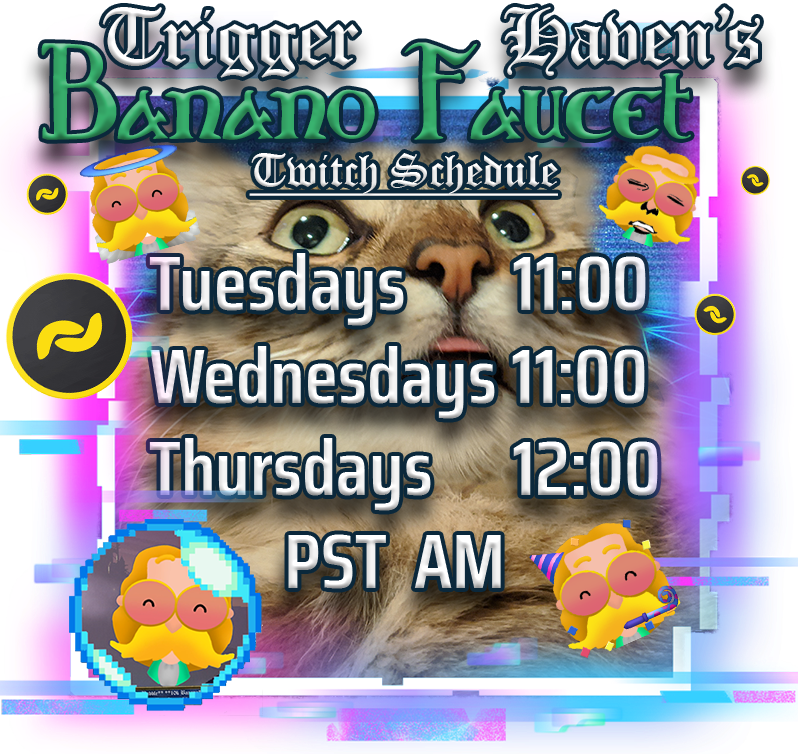 Trigger Haven's BANANO Faucet at Twitch
BANANO and Gaming go hand in hand, and what better way to utilize $BANANO's instant transaction speeds than live entertainment? Come join our wizard TriggerHaven, in Weekly Banano Events: Stream-Start Marble Races, Chat Games and Faucets, Wheel of Banano Spins, Bubble Stakes, and more! Be part of a fun live community and win some Banano for your stash!
You'll find the Twitch Stream at https://twitch.tv/triggerhaven
How to Get Started
New to Twitch? No problem! Just register and join Trigger Haven's channel. On his stream you can participate in regular faucets just by registering your BANANO Wallet with the Twitch Chat Bot. While the stream is live, you can register with the with the following command:
$setbanaddress ban_123etc (←paste your actual wallet address here instead)
Once you're in, all you need to do is participate to win prizes. Ask in the Twitch chat if you have more questions, or at Trigger Haven's Discord Server.
Here's the Weekly Schedule
Tuesdays from 11AM
Wednesdays from 11AM
Thursdays from 12PM
(All times PST)
As you watch and play, you earn loyalty points called "Trigs." You can use these Trigs as currency for my chat bot games and to redeem for prizes, like a spin on the Wheel of Banano where you can earn up to 2000 $BANANO! This is the best way to earn Banano consistently. Periodically, Trigs are reset to 0 for everyone in order to keep it fair, so be sure to use those Trigs!
Get TriggerHaven Updates here:
Trigger Haven Twitch Channel
Trigger Haven Discord
TriggerHaven at Twitter
What the Fork is BANANO?
For those of you who don't know BANANO yet, it's obviously perfect to just read our brand-new animated, meme-rich and interactive Yellowpaper!
BANANO is a cryptocurrency (forked from NANO in April 2018) powered by DAG technology — here to distrupt the meme economy. Yes, BANANO has memes! And also feeless and near-instant transactions, a highly active community, and active technical development! The BANANO community doesn't take themselves too seriously, but we're here for the long run and we enjoy what we do. A concise explanation can also be found here at Bitcointalk, or on our official website, and you'll find help getting started at banano.how.
See current BANANO price and market data at Coingecko. All current trading pairs and exchanges here.
On top of this, BANANO is super easy to use and puts an emphasis on free and fair distribution and crypto education. Just try our slick mobile wallet called Kalium and get your first free $BANANO from one of our faucets within minutes!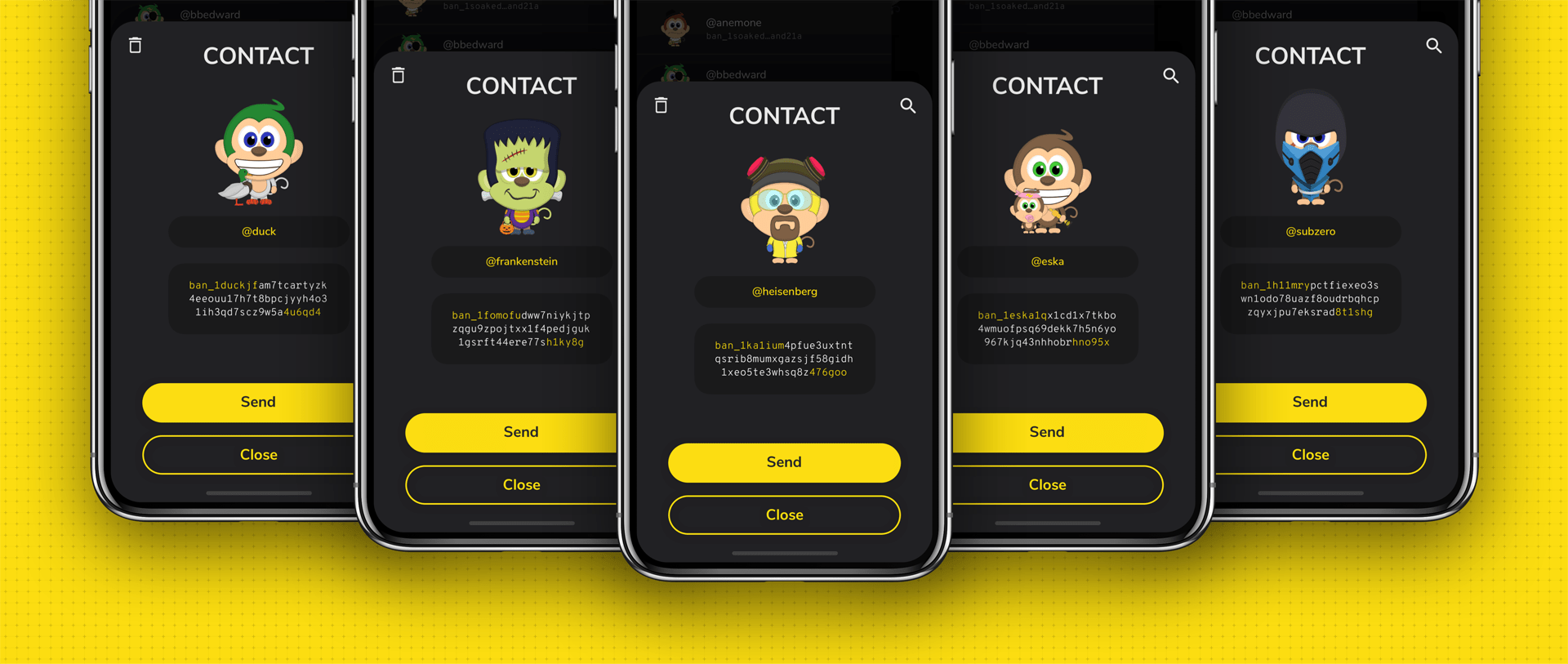 Join the Banano Republic!
BANANO ($BAN) is a fee-less, instant, rich in potassium cryptocurrency powered by DAG technology disrupting the meme economy.
Official Website: banano.cc
Yellowpaper: https://banano.cc/yellowpaper/
Help getting started: banano.how
Join our social channels for updates & giveaways:
Discord | Reddit |Telegram
Medium | Steemit | Publish0x | Uptrennd
Twitter | Instagram | Facebook
Youtube | Github | BitcoinTalk
Overviews:
BANANO News | BANANO links | BANANO events