Monkey Love: A BANANO Musical Production (Karaoke + 50k BANANO prize pool)
Backed by next generation DAG tech and potassium, BANANO is a cryptocurrency getting into your wallet fast, feelessly, and with loads of…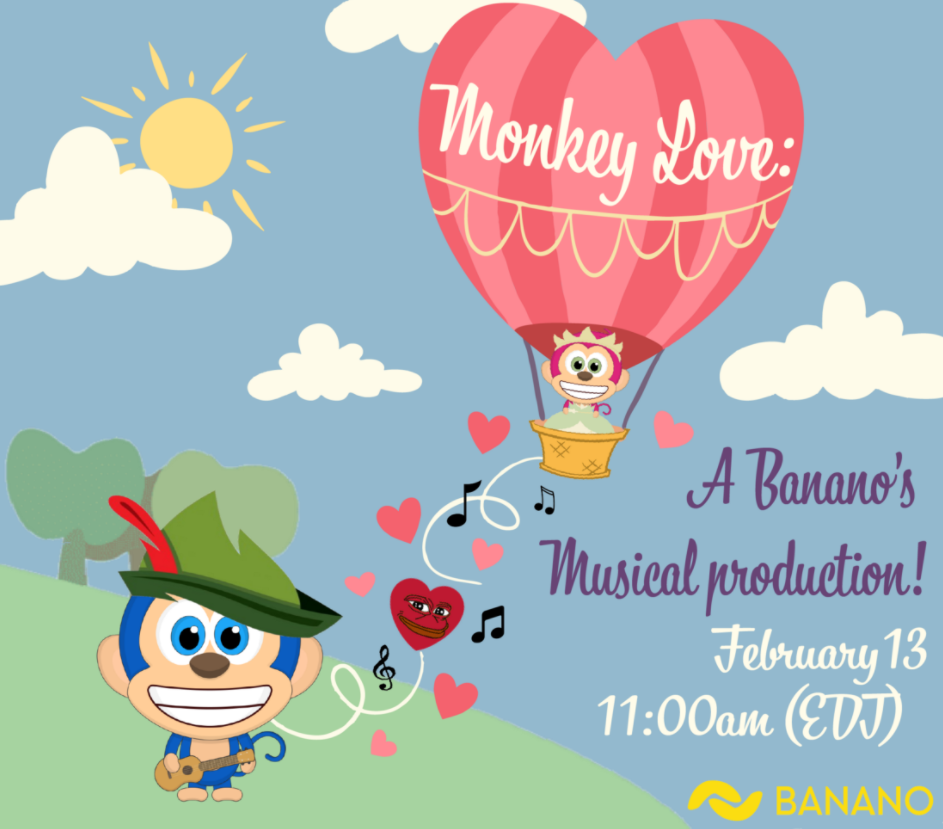 Backed by next generation DAG tech and potassium, BANANO is a cryptocurrency getting into your wallet fast, feelessly, and with loads of fun. BANANO is distributed for free to everyone. Its easy-to-use technology onboards normies and crypto-noobs without the usual hassle by combining a fun attitude with gamification, and then educate them to handle crypto in general in a responsible way.
In BANANO we value our active, welcoming and overall amazing community, and the most romantic festivity of all is a great time to come together for a fun music event and share BANANO with our users from all over the world. Learn more below!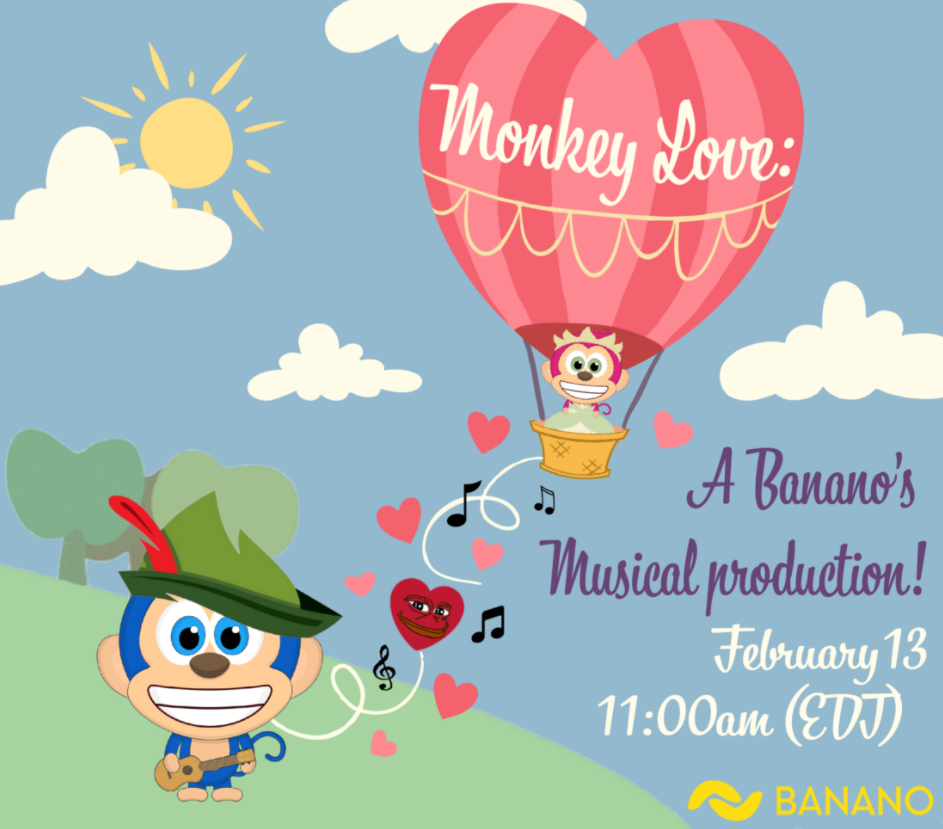 Monkey Love: A BANANO Musical Production!
Love is in the air! And in the… Internet? Times have sure changed, and together with them the ways to share and connect to others! Whether you have experienced love from a distance or not, in BANANO we'd be delighted to invite you to this year's Valentine's Day Karaoke! A special event to share with your online friends, a huge crypto family and who knows, maybe you'll find your monkey love ♥
How can you join?
If you would like to sing, all you have to do is to fill this form.
And then attend to the karaoke voice channel in the BANANO Discord Server this February 13 starting at 11AM (EDT).
Otherwise you're welcome to join and listen to the live performances and catch some free BANANO at the same time!
Prizes:
50000 BAN to be distributed in Splits and Bonuses between the participants!
Now head over to the BANANO Discord Server and join us! We have BANANO giveaways and rains going on there all the time!
Don't know Discord? No worries, it's easy to join it, get step-by-step help here. If you have further questions after joining, ask in the channel #the-jungle.
What the Fork is BANANO?
For those of you who don't know BANANO yet, it's obviously perfect to just read our animated, meme-rich and interactive Yellowpaper! BANANO is a cryptocurrency (forked from NANO in April 2018) powered by DAG technology — here to distrupt the meme economy. Yes, BANANO has memes! And also feeless and near-instant transactions, a highly active community, and active technical development! The BANANO community doesn't take themselves too seriously, but we're here for the long run and we enjoy what we do. On top of this, BANANO is super easy to use and puts an emphasis on free and fair distribution, gamification and crypto education.
See current BANANO price and market data at Coingecko or Coinmarketcap. All current trading pairs and exchanges here.
Join the Banano Republic!
BANANO ($BAN) is a fee-less, instant, rich in potassium cryptocurrency powered by DAG technology disrupting the meme economy.
Official Website: banano.cc
Yellowpaper: banano.cc/yellowpaper
Help getting started: banano.how
Community News: The Daily Peel
Join our social channels for updates & giveaways:
Discord | Twitter | Telegram | Reddit | Youtube
Publish0x | Uptrennd | LBRY | Medium | Hive
Github | BitcoinTalk | Instagram | Facebook | TikTok
Overviews:
BANANO News | BANANO links