Kalium iOS Beta released, TestFlight invitations being sent out now!
Kalium, BANANO's ingeniously slick mobile wallet was already released for Android quite some time ago. Now it's finally also coming to…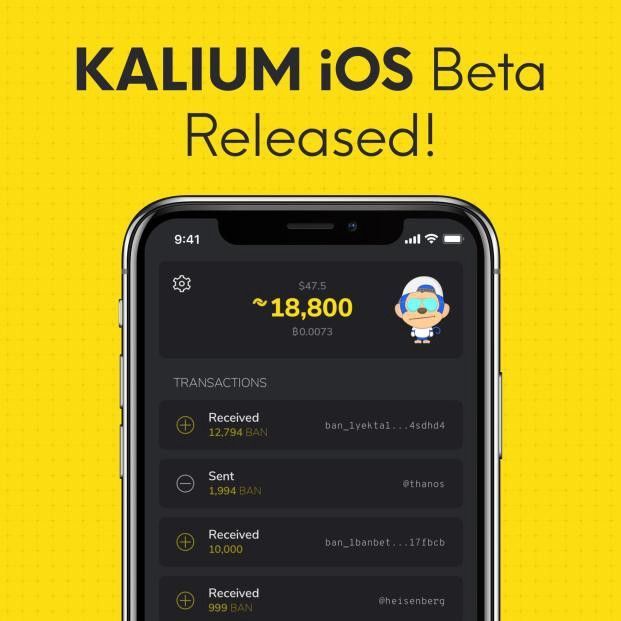 Kalium, BANANO's ingeniously slick mobile wallet was already released for Android quite some time ago. Now it's finally also coming to iOS/iPhone!
Just few days after the registration for iOS TestFlight started, we've now sent out the first invitations. If you haven't signed up for it yet, you can still do so at https://testflight.banano.cc/.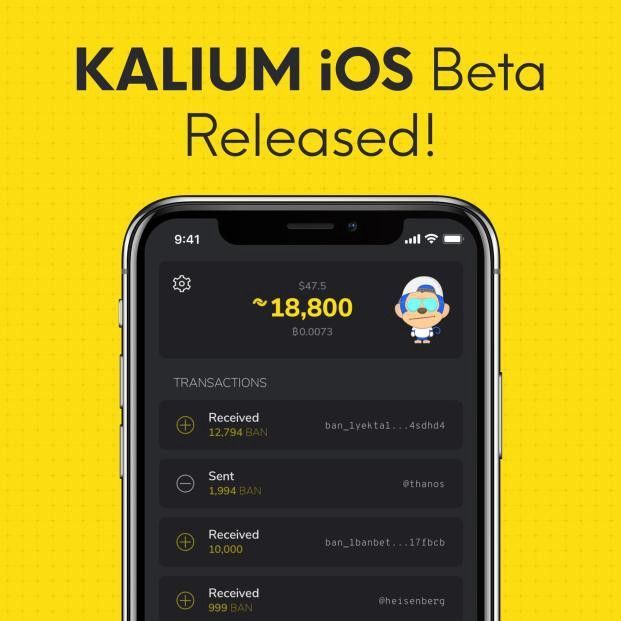 Our ingenious devs bbedward and yekta have worked hard on this and finally have created a product that already is pretty amazing, and surely ready to get this TestFlight party started.
Features
Send/Receive BANANO securely, of course
View complete transaction history
View transaction details on creeper
Export monkeyQR and address as a PNG image for sharing (like kalium-android)
Full monKey integration
Fully featured contacts/address book (export/import uses the file extension ".txt", kalium-android uses ".json". However, the format is identical — so if you want to import contacts from kalium-android you simply need to change the extension from ".json" to ".txt")
Change your representative
20+ currency conversions
Biometric support (FaceID+TouchID)
QR scanning
Deep link support (banano: + ban: URI support)
Coming Soon (to future TestFlight builds)
Paper wallet loader
Translations (25+, just like kalium-android)
Push notifications
SVG monKeys (currently they are all PNGs, due to some issues that we are close to resolving)
Minor improvements server-side and client-side to better handle timeouts and various error responses (for example, due to a poor internet connection)
Technical Details
This release of Kalium has been built completely from the ground up, with Flutter. Flutter is a cross-platform mobile framework that's backed by Google, version 1.0 was just released in December.
Flutter has many benefits — such as being cross platform (both iOS and Android) compatible, and it has native performance and a native user-experience (flutter is AOT-compiled on both iOS and Android).
More technical details related to this build will be released later, but it's important to quickly mention:
Seeds are generated using a cryptographically secure source of randomness. Meaning, it's perfectly safe to generate seeds with KaliumF, and seeds are generated offline.
Just like kalium-android, private keys and seeds are never transmitted to the server. All blocks are signed on the device itself.
Sensitive information such as your PIN and seed, are securely stored on the device in iOS' keychain.
Full announcement here at r/banano.
Join the Banano republic!
$BANANO is a feeless, instant, rich in potassium cryptocurrency powered by DAG technology disrupting the meme economy.
Medium
Discord
Reddit
Twitter
Instagram
Facebook
Telegram
Youtube
Github
banano.cc (official Website)
banano.how (help getting started)