Introducing the Story2Image Faucet — Earn BANANO for Being Creative!
Backed by next generation DAG tech and potassium, BANANO is a cryptocurrency getting into your wallet fast, feelessly, and with loads of…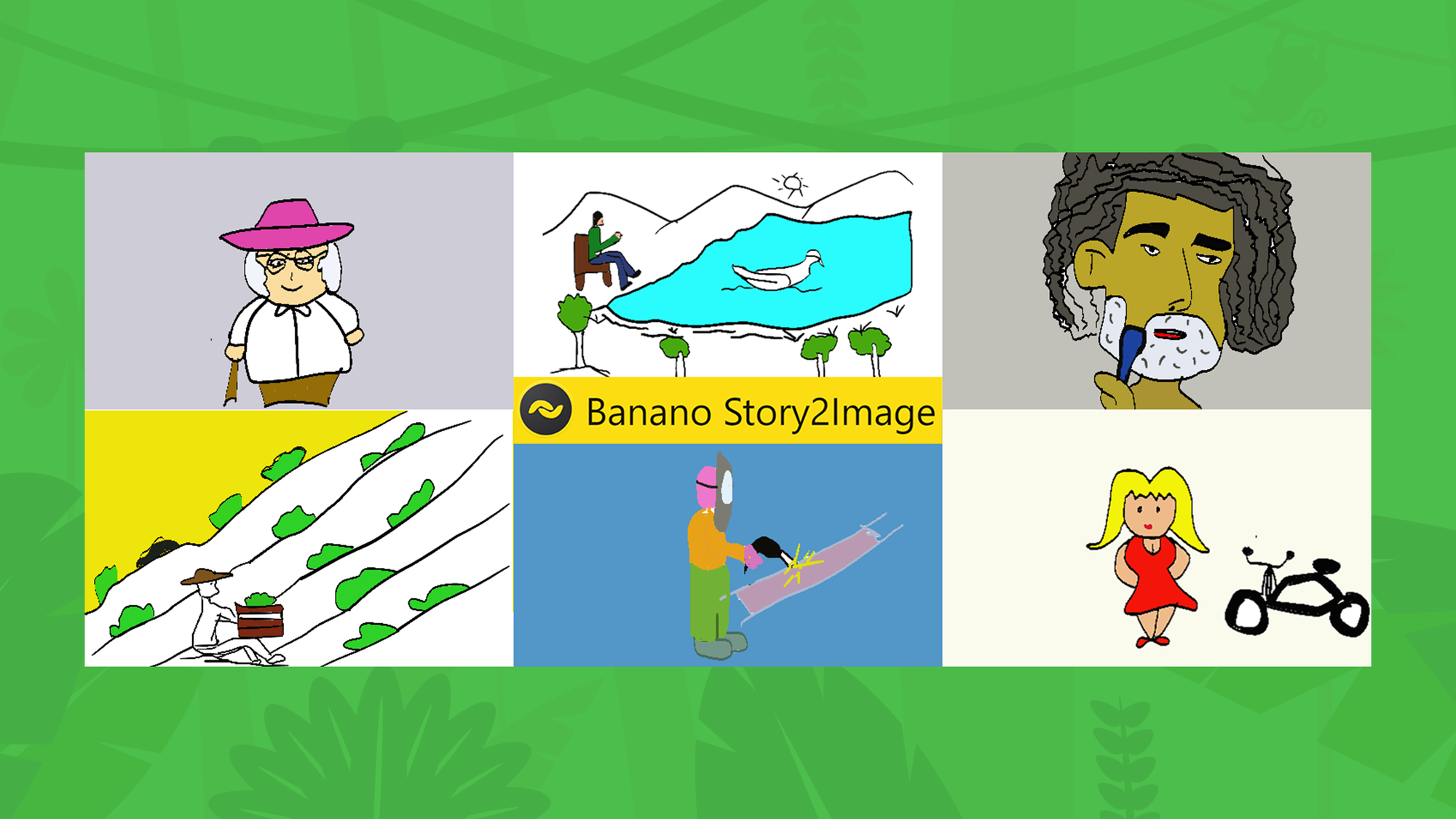 Backed by next generation DAG tech and potassium, BANANO is a cryptocurrency getting into your wallet fast, feelessly, and with loads of fun. BANANO is distributed for free through airdrops, faucets, games and fun events. BANANO's easy-to-use technology onboards normies and crypto-noobs without the usual hassle, and then educates them to handle crypto in general in a responsible way.
For our ongoing free BANANO distribution, we're not just having some boring captcha faucets, but are rather trying new faucet game concepts since the very beginning. Now, we're coming up with a new BANANO faucet rewarding not only your time but also your creativity: The Story2Image BANANO Faucet! Read more below!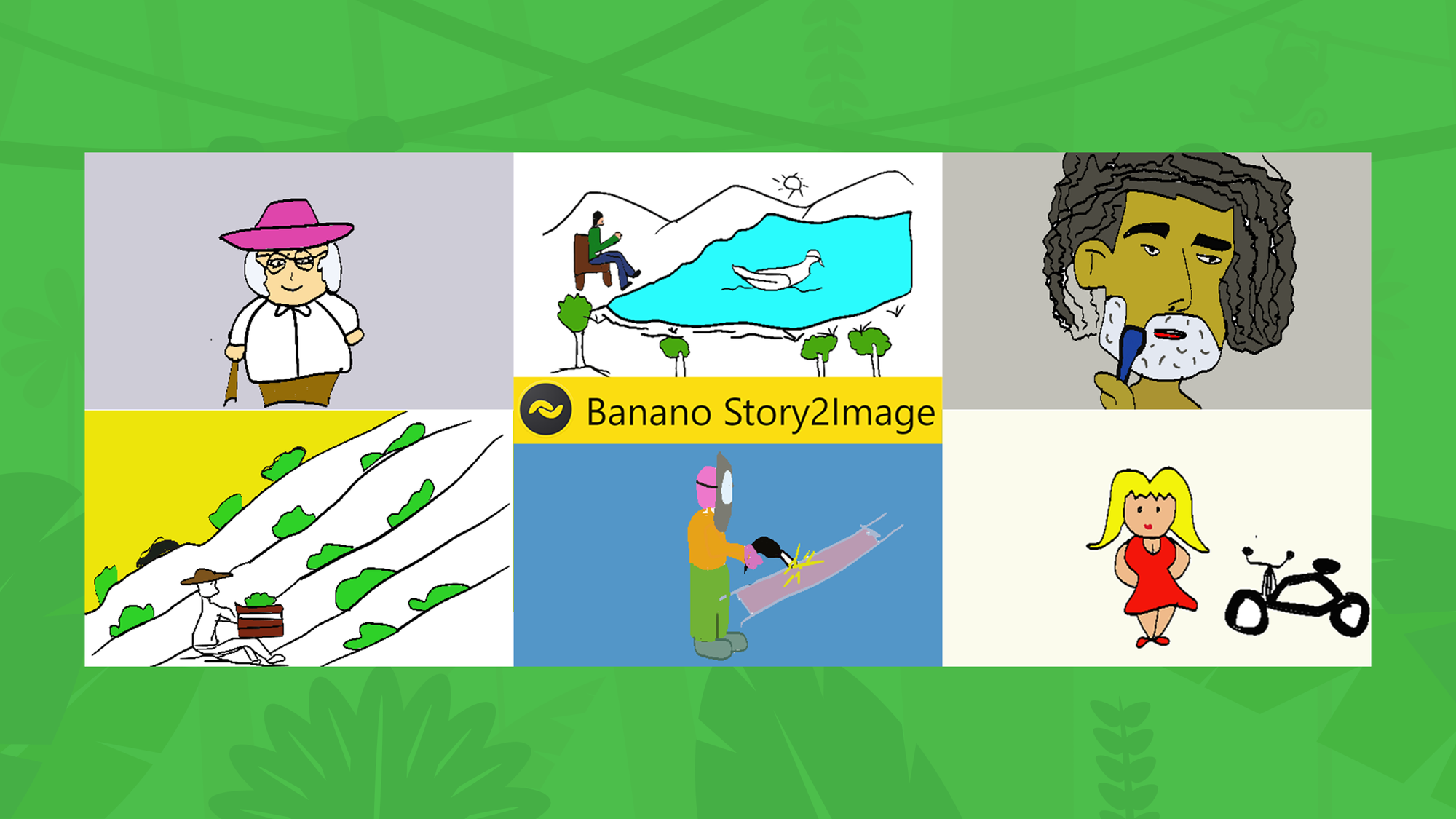 Story2Image Faucet Round 1 (Open Beta) Announcement
Today, we are happy to announce a new faucet we'll now open for a public test run. This means you can help testing it, and make it even better. Everyone who collects points in this faucet round will get rewards in BANANO, however there might be mishaps like server issues, bugs, or other things that need to be fixed or improved. But that's what a test run is for. Thanks for your help in advance❤!
How To Play (Brief Version)
This round of the Story2Image BANANO faucet will start on Saturday, August 22, 10:00 am CEST (convert your time zone here).
It will only run 48 hours and might even end before that— so be quick and check it out.
Register with a BANANO address (if you have no $BAN address yet, create one in just 2 minutes. Check wallet options at banano.cc, and find help getting started at banano.how)
Direct links to wallets: Kalium (mobile wallet) | Vault (web wallet)
Make sure to save your seed/private key when creating a wallet, and keep it safe!
Follow instructions, don't spam or try to cheat, and try to collect as many points as possible. Detailed How-To-Play further below.
Shortly after the round has ended, we will convert your collected points for this round at a ratio of 10 points=1 BANANO and send it to your address. We need to check all data carefully, which means that might take few days. We'll make it as fast as possible.
The point ratio might be adjusted based on overall participation. In this round, if there is lots of spam we might lower the payout, if there is little spam and many beautiful art creations we likely will increase the payout, i.e. the points to BANANO ratio.
More detailed How To Play and more information below.
You'll see that this faucet is trying to be a cryptocurrency faucet that's not as boring as traditional captchas but rather make the claiming process as much fun as possible without compromising the required anti-bot measurements.
Cryptocurrency Faucet Development — Some Background
Developing a cryptocurrency faucet is a challenging task. Nowadays we have to consider many parameters in order to develop a faucet that fits the needs of our community — which is making the claiming process easy, fun, but still make the faucet secured against cheaters and botters (who we know will always try really hard). Thats why we searched for a faucet task that can't be automated by computer programs (bots, scripts, etc.) yet and is still easy & enjoyable for humans. Indeed, nowadays almost everything can be automated. You want to write an article about a specific topic? You want identify objects in images? Or you want to create some music? No problem with modern, sophisticated so called 'neural networks'. While being around since the late 1960s, neural networks have evolved and became very easy for cheaters & botters to integrate into their automation programs. With modern CPUs/GPUs it's a matter of minutes to 'train' those neural network based little programs for very specific and complex tasks. Thanks to latest software this is even possible for people who don't understand the technical background at all. Of course it is unacceptable to distribute considerable amounts of BANANO to cheaters/botters, since they ultimately would become whales and constantly dump the price and damage the ecosystem. BANANO is about fair and free distribution to real people. Being mindful about potential exploits, we decided to develop a faucet that requires more human skills and creativity than just solving captchas, or identifying images — The Story2Image BANANO Faucet!
Story2Image Faucet: Detailed How-To-Play
We wanted to make the faucet as accessible for everyone as possible, that's why we decided to make it Browser based. It should run in Chrome (Chromium), Brave, Firefox and any other modern browser. The main context of the faucet is very easy to understand:
You will get a simple image description (1–3 sentences) that you have to draw. No worries if you are not a gifted artist, key here is to show some effort and prove you're human.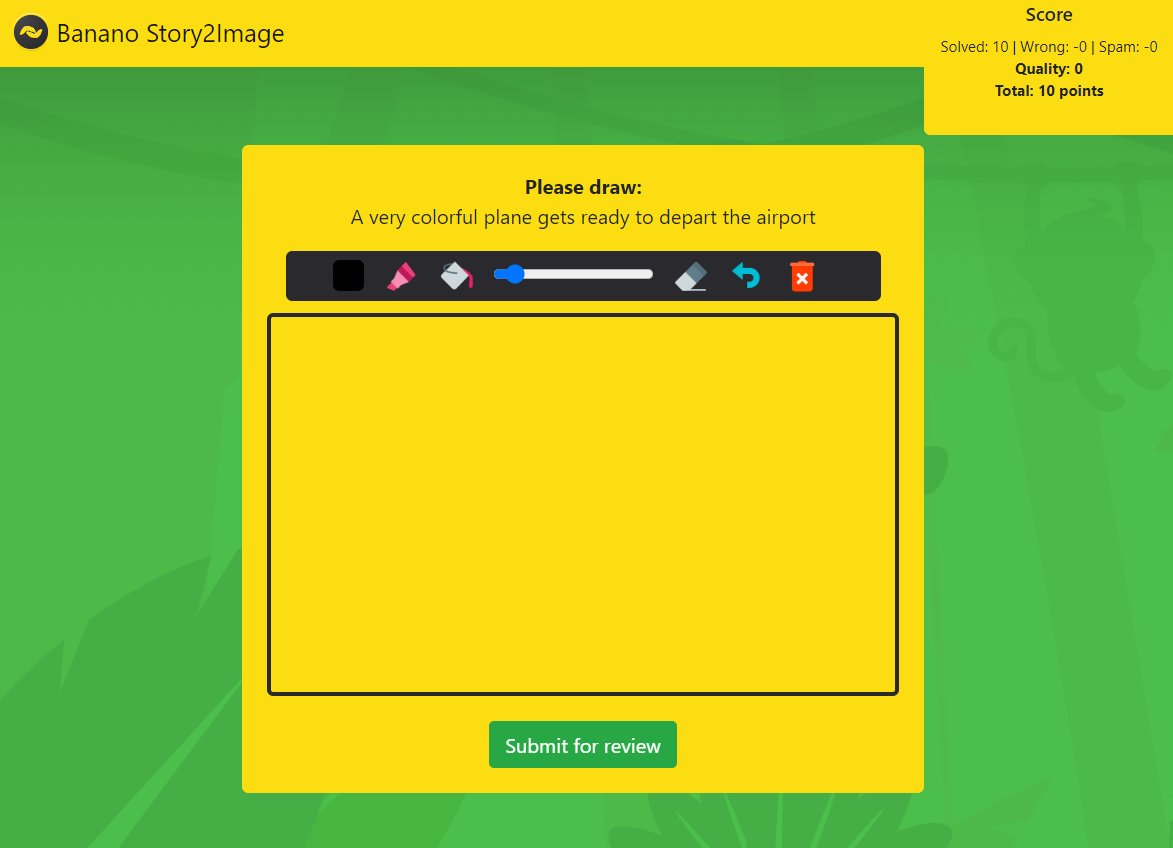 After you have drawn and submitted your image you will next get to see some images that were already drawn by others.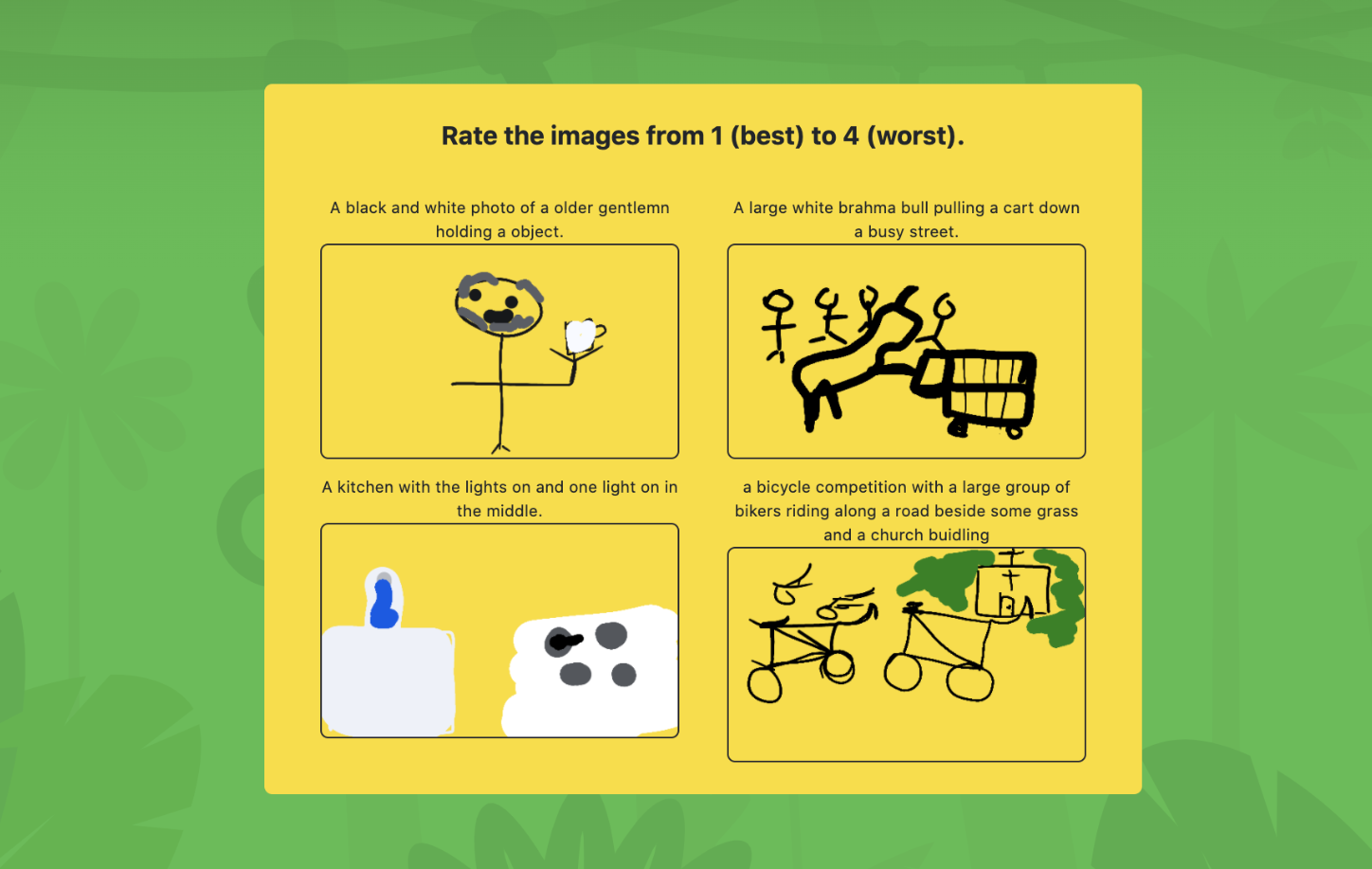 Simply rate those images from 1 (best) to 4 (worst). This will help our rating algorithm and allows us to give more points (and more BANANO) to users who submit good drawings. Check the video below to see the whole process:
Next, you will be prompted to select the correct description for two given images drawn by others. Please note that here you also have the opportunity to report spam if the image is inappropriate or if you can't find a matching description. The whole quiz process is shown in the video below:
Summary
Draw an image from the given description. Please note that you will get banned immediately for spam, there is no way to recover your earnings.
Rate the images that the faucet presents to you from 1 (best) to 4 (worst).
Solve the 2 quizzes correctly to collect your points, which then will be converted to BANANO and sent to you after the round has ended.
Please note that this first run will be experimental, therefore your points balance may be adjusted at the end after images were reviewed by the team.
Optional: Referral Program
You can earn even more BANANO by inviting other users to the BANANO Story2Image faucet! You will get 5% from all BANANO each invited user earns. Feel free to share the faucet on social media or other platforms (but don't spam please!). As more people participate, the more fun it will be!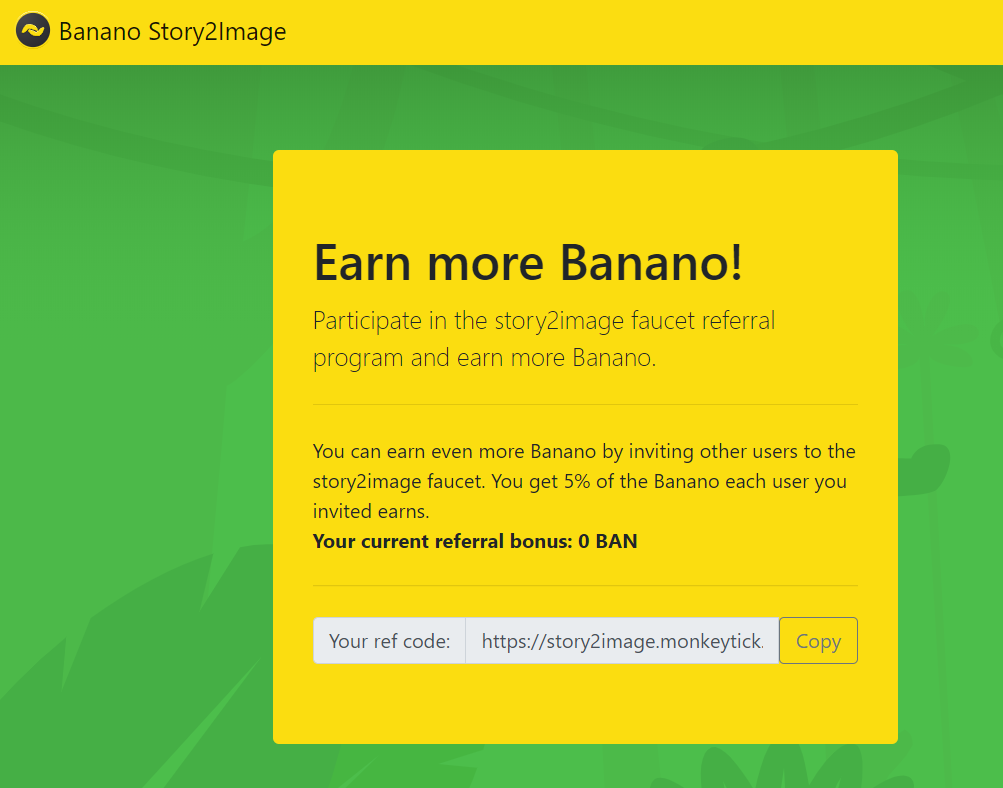 If you have any questions, issues, need support, or want to discuss with others or reach the faucet creator David_99 go to the channel #story2image-faucet at the BANANO Discord Chat server.
Want to Earn even more BANANO?
On top of our other faucets, we still have some other airdrops and giveaways going just now:
Official BananoJob #9: BANANO Airdrop to all Publish0x users
Official BananoJob #8: BANANO Airdrop at Twitter
Official BananoJob #7: BANANO Airdrop to all LBRY users
Disclaimer & Credits
Any mention of a third party platform, product, service or website in this article does not imply any endorsement by the BANANO team. All information is provided to the author's best knowledge at the time of writing, will likely not be updated and thus might be outdated when this article is read in the future. The Story2Image Faucet was developed by David_99 with help and feedback from several BANANO community members. This article was written by David_99 and bantano.
What the Fork is BANANO?
For those of you who don't know BANANO yet, it's obviously perfect to just read our animated, meme-rich and interactive Yellowpaper! BANANO is a cryptocurrency (forked from NANO in April 2018) powered by DAG technology — here to distrupt the meme economy. Yes, BANANO has memes! And also feeless and near-instant transactions, a highly active community, and active technical development! The BANANO community doesn't take themselves too seriously, but we're here for the long run and we enjoy what we do. On top of this, BANANO is super easy to use and puts an emphasis on free and fair distribution, gamification and crypto education.
See current BANANO price and market data at Coingecko or Coinmarketcap. All current trading pairs and exchanges here.
Join the Banano Republic!
BANANO ($BAN) is a fee-less, instant, rich in potassium cryptocurrency powered by DAG technology disrupting the meme economy.
Official Website: banano.cc
Yellowpaper: banano.cc/yellowpaper
Help getting started: banano.how
Join our social channels for updates & giveaways:
Discord | Twitter | Telegram | Reddit | Youtube
Publish0x | Uptrennd | LBRY | Medium | Hive
Github | BitcoinTalk | Instagram | Facebook | TikTok
Overviews:
BANANO News | BANANO links | BANANO events