Free BANANO NFTs: cryptomonKeys Update #4: Committed to Charity
BANANO is a DAG-based cryptocurrency with easy-to-use apps, distributed entirely for free through airdrops, faucets, and games. All…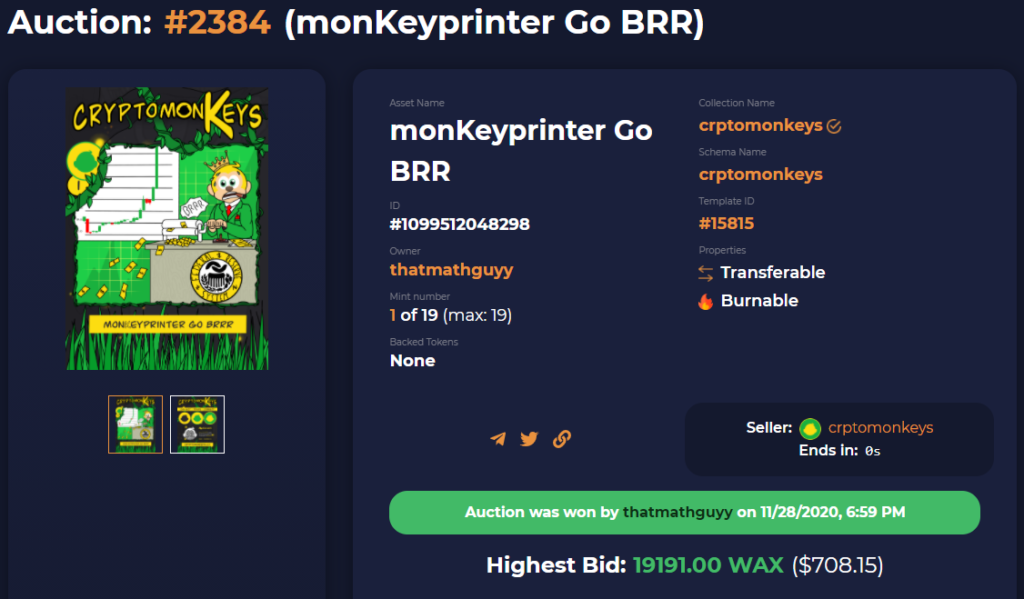 BANANO is a DAG-based cryptocurrency with easy-to-use apps, distributed entirely for free through airdrops, faucets, and games. All happening in a fun, community-driven, meme-rich, and educational atmosphere.
The BANANO community project cryptomonKeys just started recently. It's all about distributing NFTs/digital trading cards for free, and the positive feedback and excitement by the community were merely awesome so far. Today it's time for another brief community update with a focus on cryptomonKeys and charity!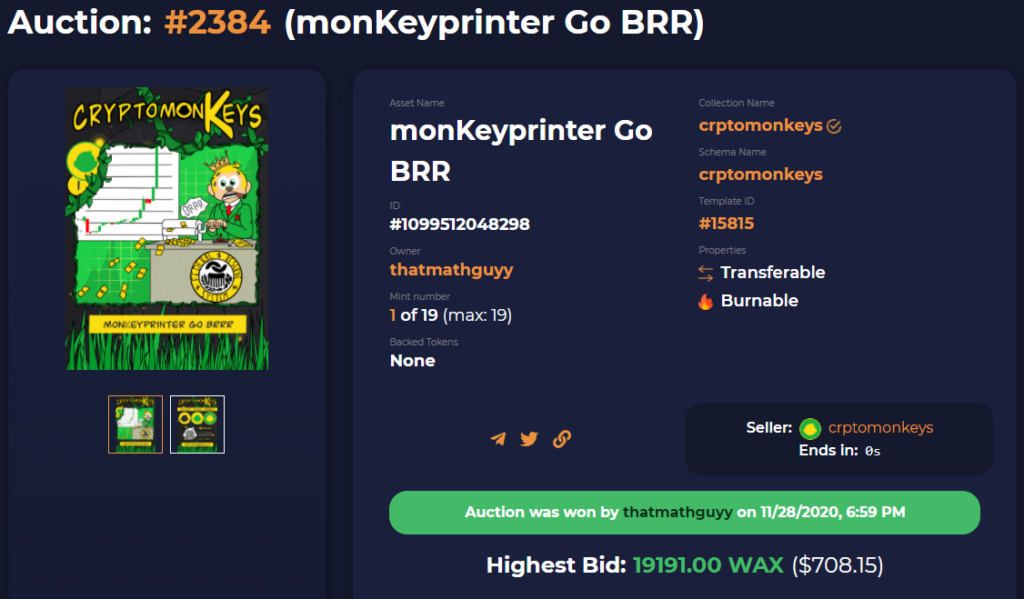 Committed to Charity!
We recently mentioned our commitment to charity in the last update within our FAQ already. As summarized there, we not only generally distribute cryptomonKeys NFTs for free, we also committed to donate a fraction (19%) of the market fee we receive from secondary market trading to charity. Donations will be calculated and sent every few months, first one will happen soon.
In addition, we decided to auction off a maximum of 1 cryptomonKey cards every 19 days and donate 81% of the proceeds from those auctions to charitable organizations. The first of these charity auctions has just concluded few days ago, and the winning bid reached an astonishing amount of 19191 WAX (equivalent to 708 USD at the time)!
Where will donations go to?
Donations for now will be donated to UpliftNation / UpliftDAO which is an upcoming charitable blockchain project founded by Michael Blu (also founder of uplift.art which is another project combining NFT art and charity on the WAX blockchain).
Proceeds from the first charity auction have been sent to them already:
Donation (81% of Winning Bid minus marketplace and market fees):
14146 WAX equaling $545 at the time of writing.
Donated to: Uplift Nation / UpliftDAO (Transaction)
More information about Uplift Nation also in this video:
All the details summarized:
Charity Auction #1:
cryptomonKey #1 (monKeyprinter Go BRRR) Mint #1
Start date: Nov 20, 2020 | End date: Nov 28, 2020
Winning Bid: 19191.00 WAX ($708)
Donation (81% of Winning Bid minus marketplace and market fees): 14146 WAX
Donated to: UpliftNation / UpliftDAO (Transaction)
Join cryptomonKeys!
We have giveaways and events running regularly on all platforms! Join/follow us to not miss any — and thanks for sharing with your friends!
Website | Discord | Twitter | Instagram | Telegram
More at Telegram: news channel | card feed channel | Spanish group
Trade cryptomonKeys at AtomicHub: live trading offers | sale history
Collection stats at: AtomicHub | Waxplorer | CryptoSlam
Join the Banano Republic!
BANANO ($BAN) is a fee-less, instant, rich in potassium cryptocurrency powered by DAG technology disrupting the meme economy.
Official Website: banano.cc
Yellowpaper: banano.cc/yellowpaper
Help getting started: banano.how
Community News: The Daily Peel
Join our social channels for updates & giveaways:
Discord | Twitter | Telegram | Reddit | Youtube
Publish0x | Uptrennd | LBRY | Medium | Hive
Github | BitcoinTalk | Instagram | Facebook | TikTok
Overviews:
BANANO News | BANANO links | BANANO events