Free BANANO NFTs! cryptomonKeys Update #2: Halloween Design Contest Results and Card 19 Reveal
BANANO is a DAG-based cryptocurrency with easy-to-use apps, distributed entirely for free through airdrops, faucets, and games. All…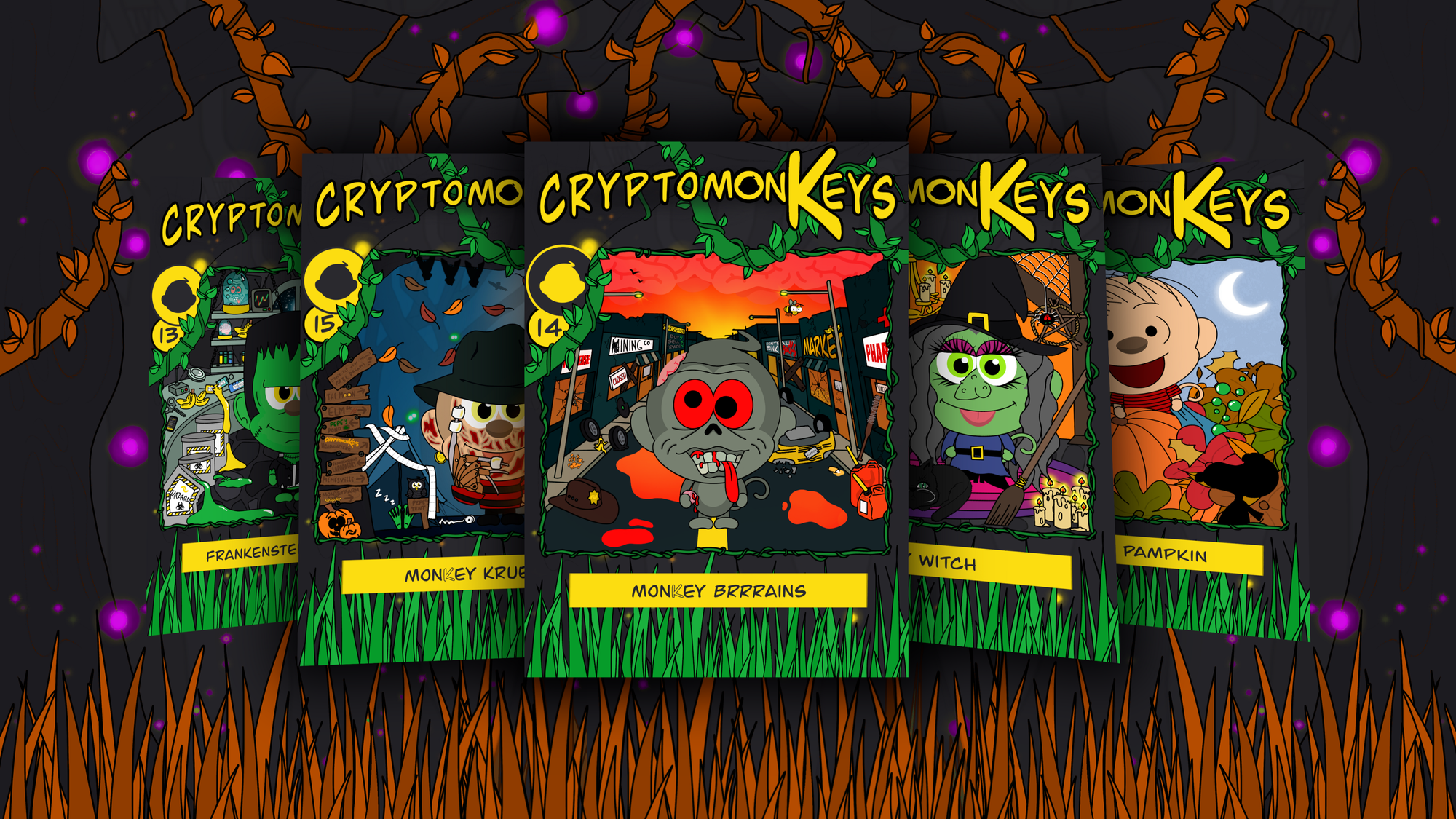 BANANO is a DAG-based cryptocurrency with easy-to-use apps, distributed entirely for free through airdrops, faucets, and games. All happening in a fun, community-driven, meme-rich, and educational atmosphere.
The recently launched BANANO community project cryptomonKeys distributes BANANO-themed NFTs/trading cards for free through events and airdrops, and after lots of overwhelmingly positive feedback and huge interest by the community, here's another cryptomonKeys update:
The Halloween monKey Design Contest (original announcement here) with BANANO and cryptomonKeys as prizes was a huge success with lots of great submissions. Today, we finally have the contest results!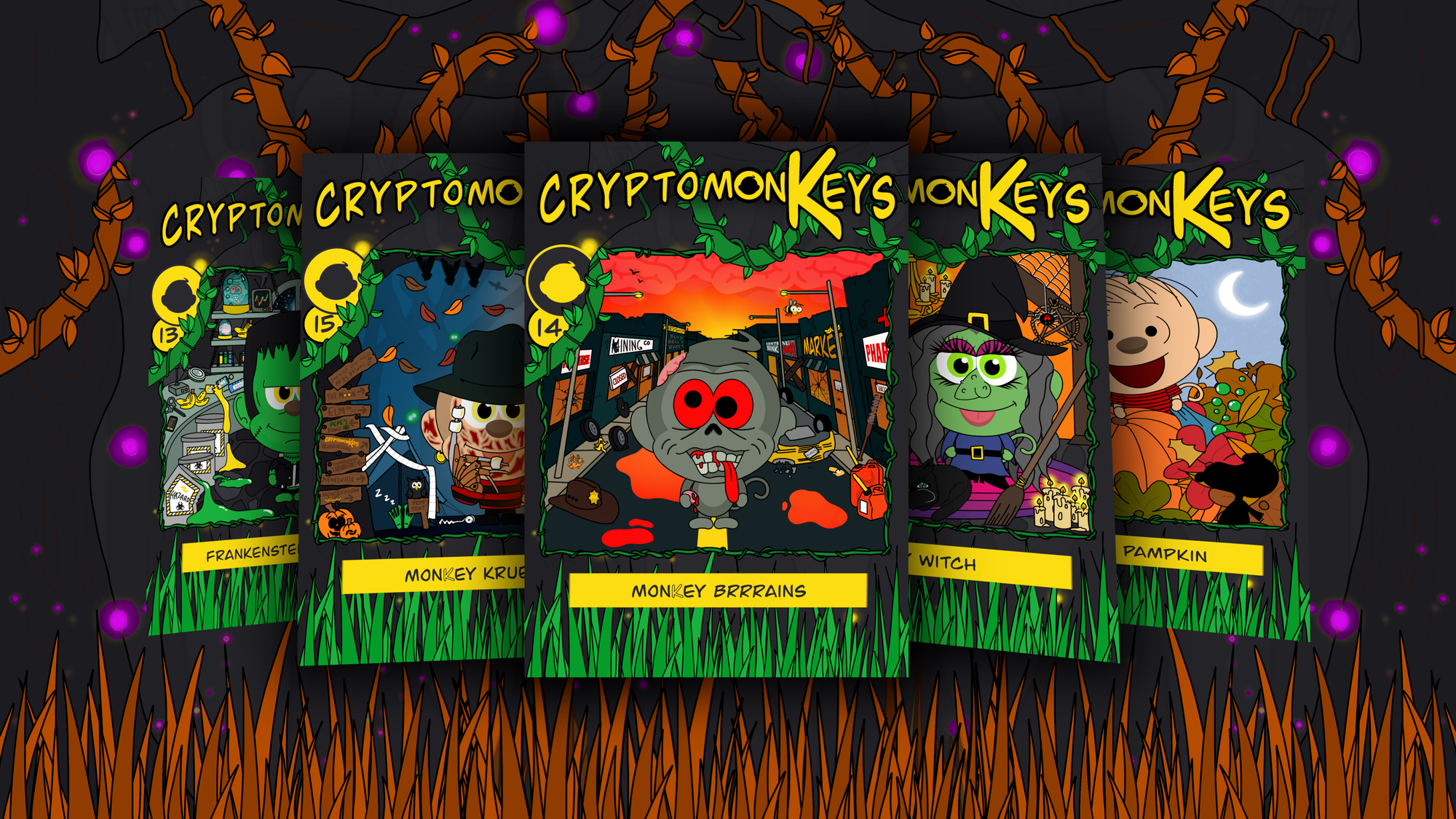 Halloween monKey Design Contest Results!
There were lots of great (and sometimes crazy) card reveal events and NFT and BANANO airdrop parties during the Halloween season in both the cryptomonKeys discord chat server and telegram group. For the Halloween Design Contest, we got lots of awesome submissions and it was not easy to pick winners ❤. Here we go: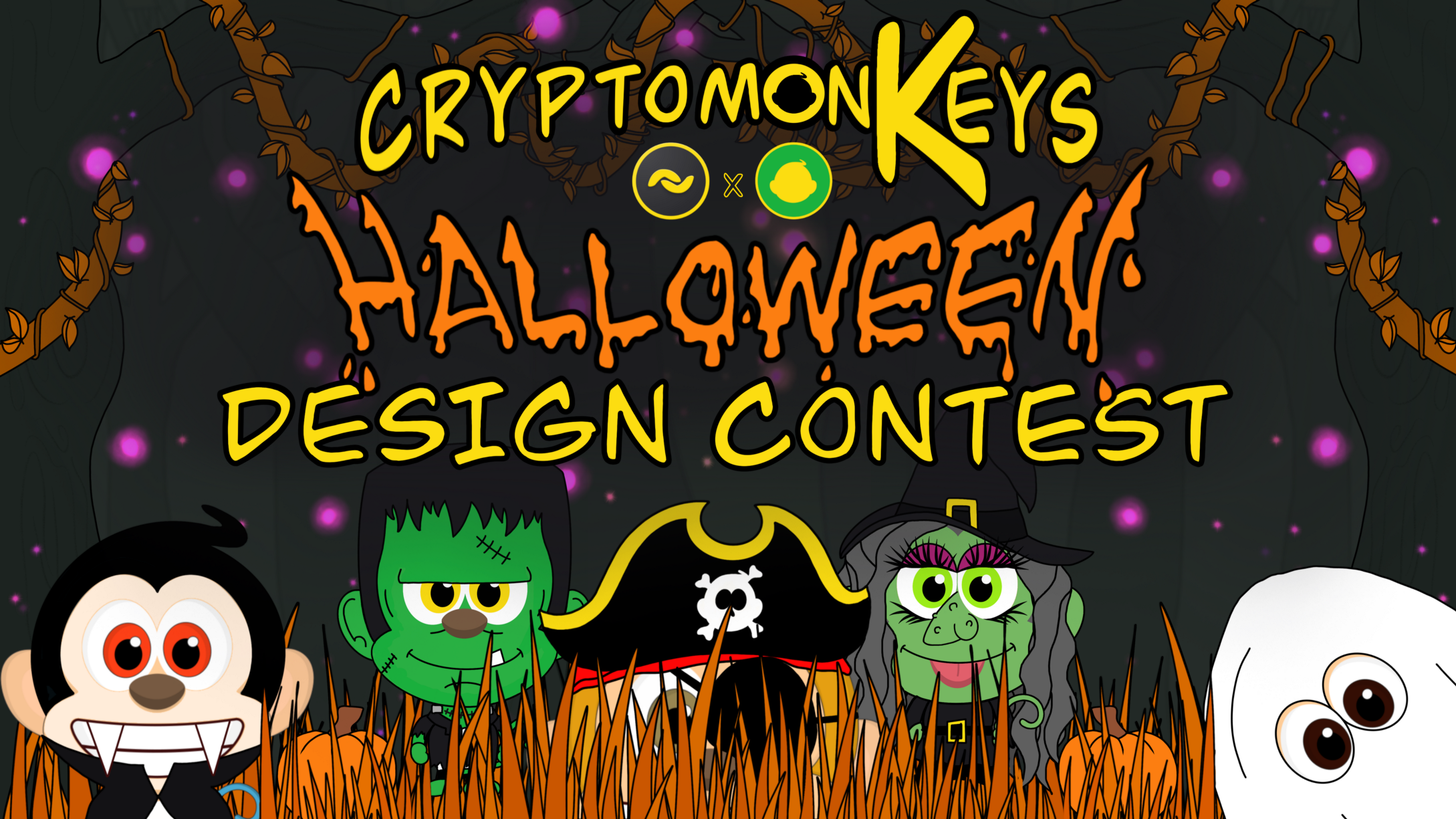 Halloween monKey Design Contest — The Winners
First place: MARSHMONKEYMAN by BeardlessDuck (dh4qw.wam)
Prize: 20k BANANO + 1 Legendary + 2 Epic + 2 Rare cryptomonKeys!
(also check out the card 19 reveal further below, it was created based on this awesome submission!)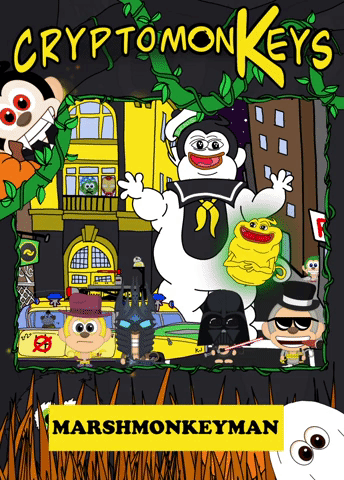 Second place: Toxic monKeystein by jaywood (3ngqu.wam)
Prize: 10k BANANO + 1 Legendary + 1 Epic + 1 Rare cryptomonKey!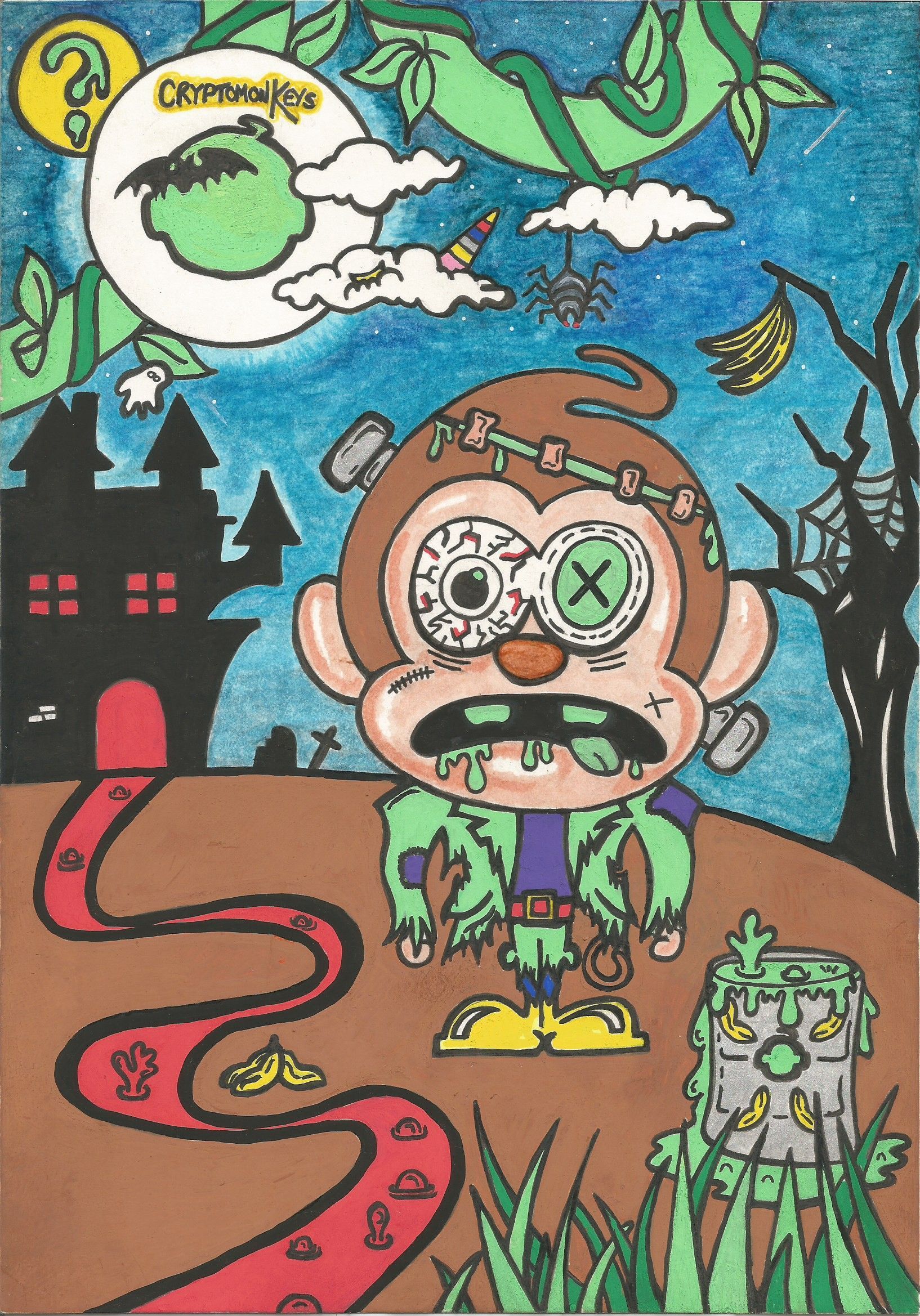 3rd to 12th place won 5k BANANO + 1 Epic + 1 Rare cryptomonKey:
3rd place: Good Night Halloween by Rexona_Teens-Koé (hp2qw.wam)
(Note: Independently of contest ranking, we chose this card to become real after some modifications, see card 18 here).
4th place: The Gremlin monKey by Frena91 (u55qw.wam)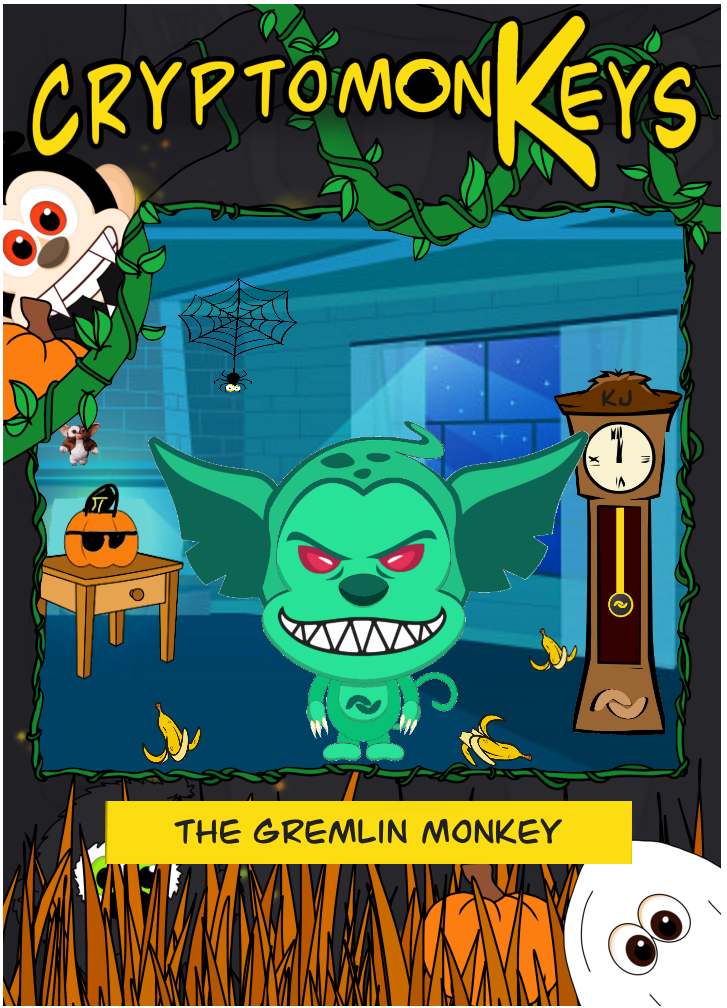 5th-6th place:
Cursed monKey by VirtuGrana (g.aqw.wam)
(Note: Independently of contest ranking, we chose this card to become real after some modifications, see card 16 here)
The Laboratorium by joinity (txyaw.wam)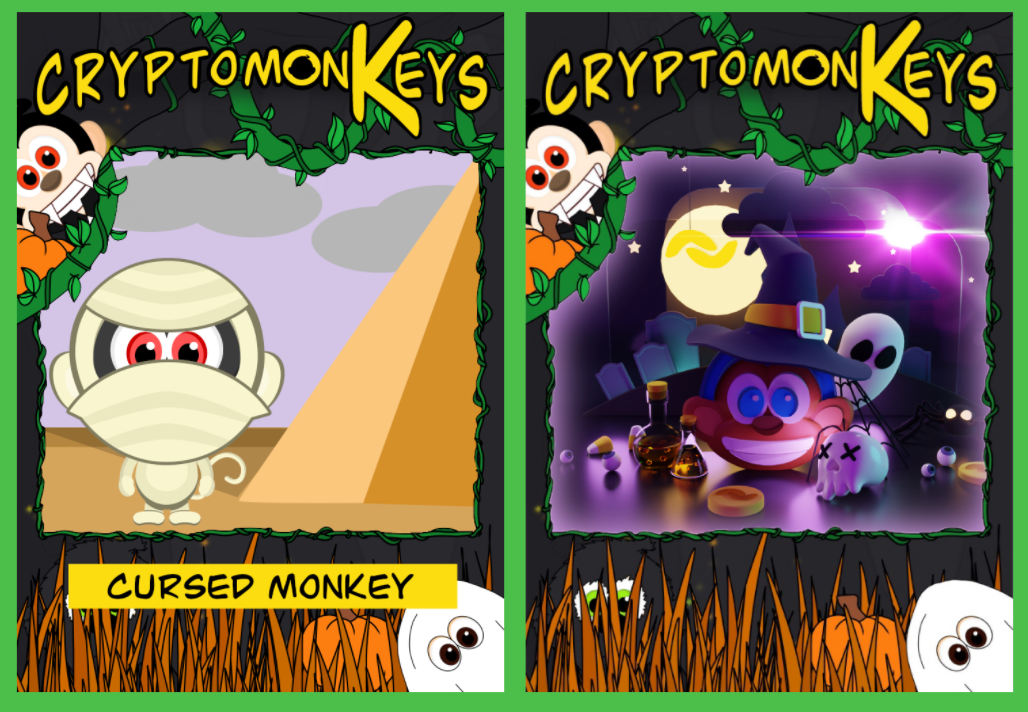 7th-9th place
Potter monKey by bb-8 (odyaw.wam)
NecromonKey by Phantoad (zxyaw.wam)
Trick or Treat by maffs (thatmathguyy)
10th-12th place:
Heeeere's monKey by rah (tlaaw.wam)
Nightmare before Banalloween by guillew (1hwaw.wam)
The FUD Swamp Thing by CF (wd2aw.wam)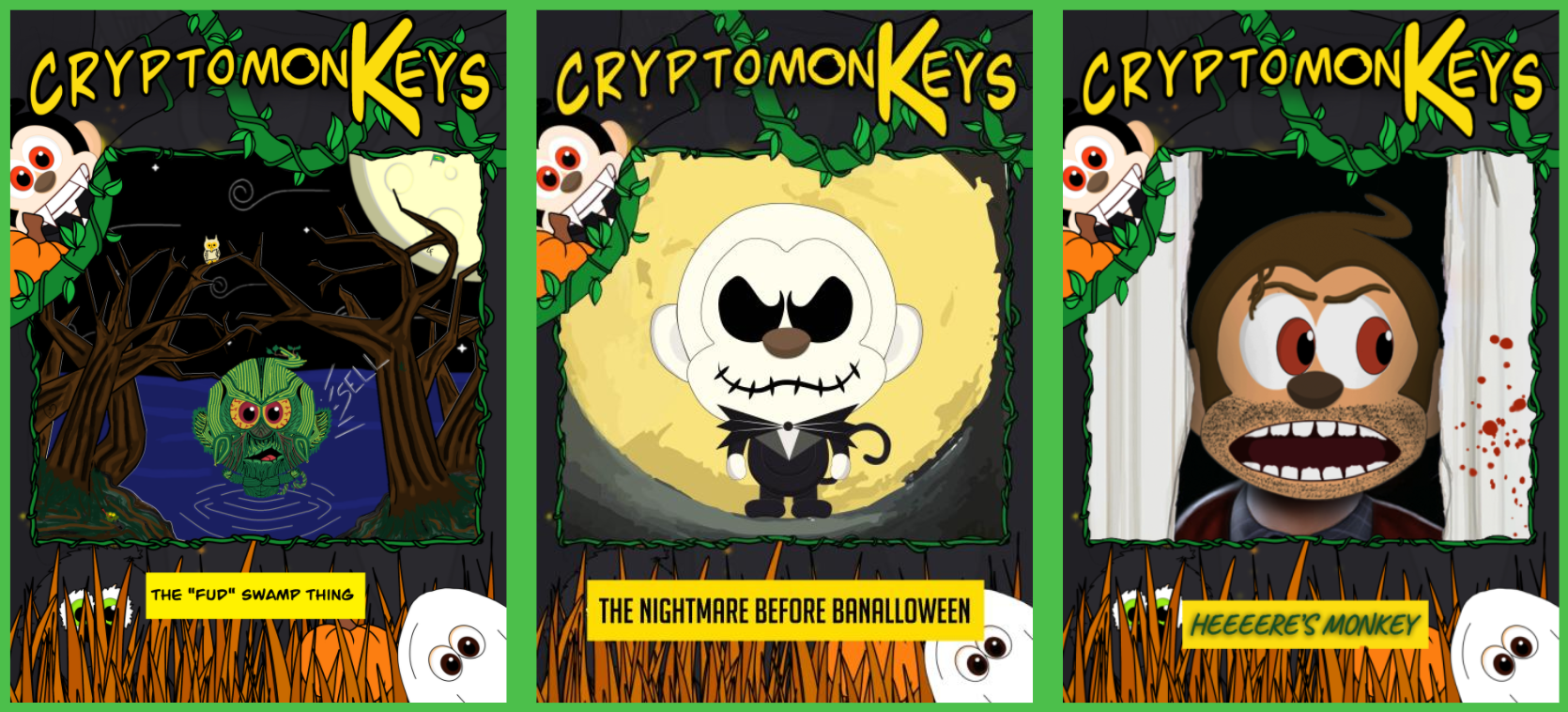 13th to 19th place won 3k BANANO + 1 Rare cryptomonKey:
13th-14th place:
Boo by Cappex (sx2aw.wam)
monKeywise by Lady-Idra (4haaw.wam)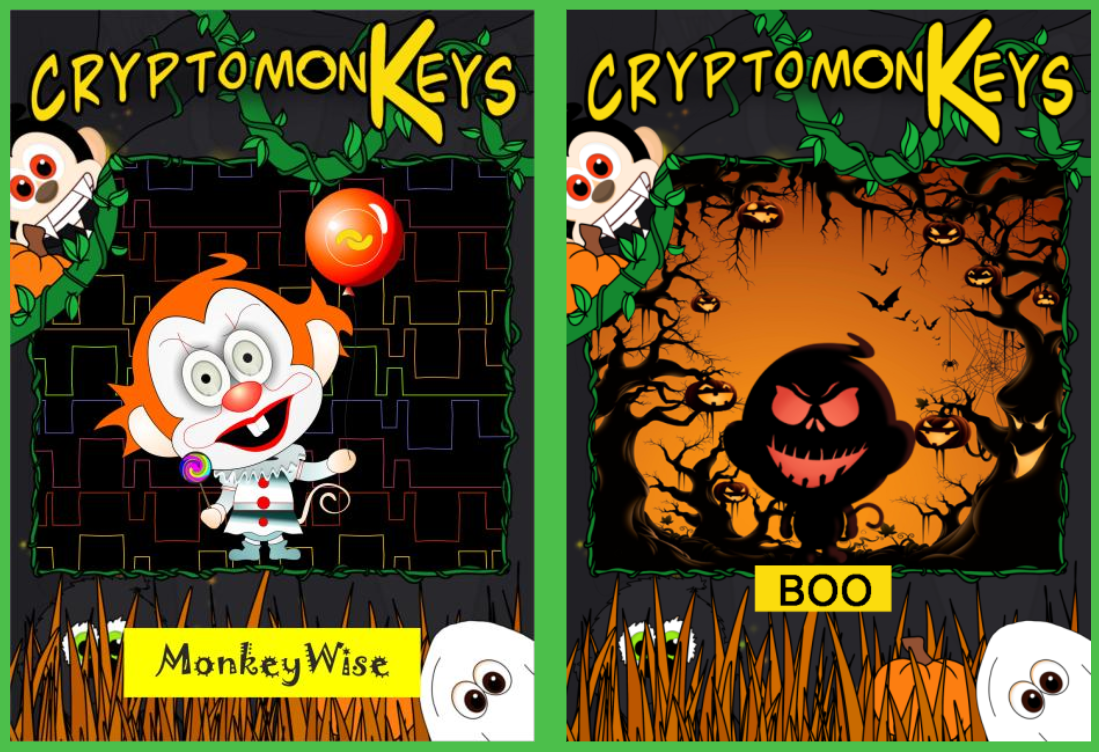 15th place: The Sacrifice by Vagante (tt2aw.wam)
(Note: Independently of contest ranking, we chose this card to become real after some modifications, see card 17 here)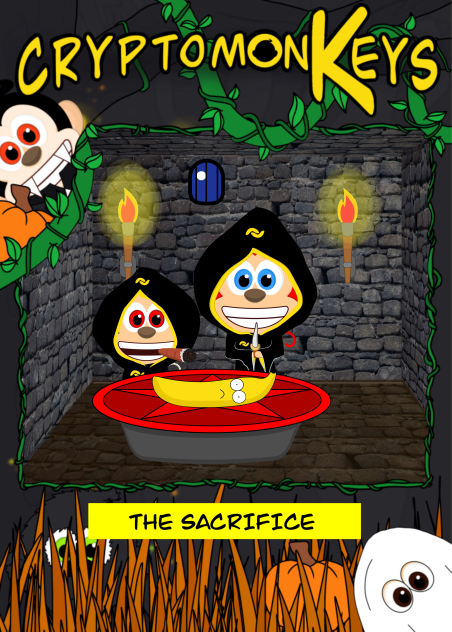 16th-18th place:
Oops!!! monKey by Blane-[NO_DM_SUPPORT] (appaq.wam)
The #Trickortreat Abuser by Dng_mle (y14aw.wam)
Benis-or-Treat by Snappadoodle (j53aw.wam)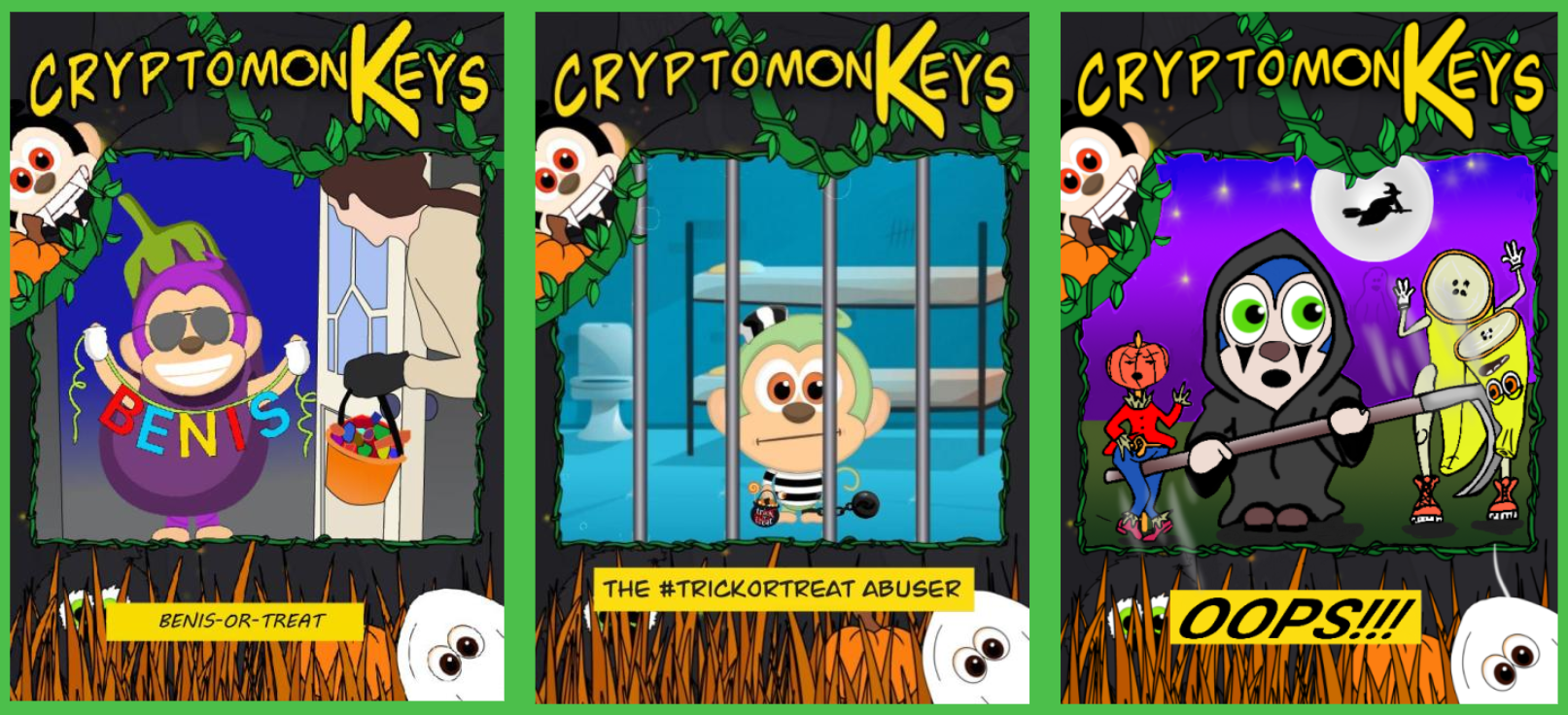 19th place: mikemonKey by Sky (ox3aw.wam)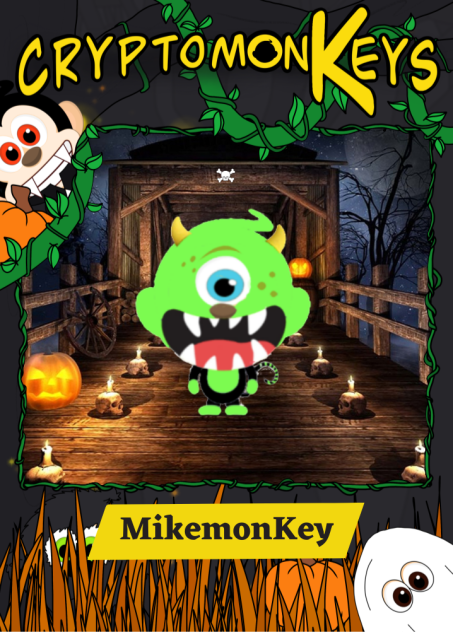 Thanks to all delibarate judges, and congrats to all winners! Prizes will be sent shortly. Stay tuned, the next contest will come for sure!
Card 19 Reveal: The FUDbusters are here!
The number 19 has a special place in the BANANO ecosystem including cryptomonKeys, meaning that card 19 of course has to be something special. And it is! As you can see below, it's not only been created based on above's contest winning submission, it's also a Legendary card, and it's animated!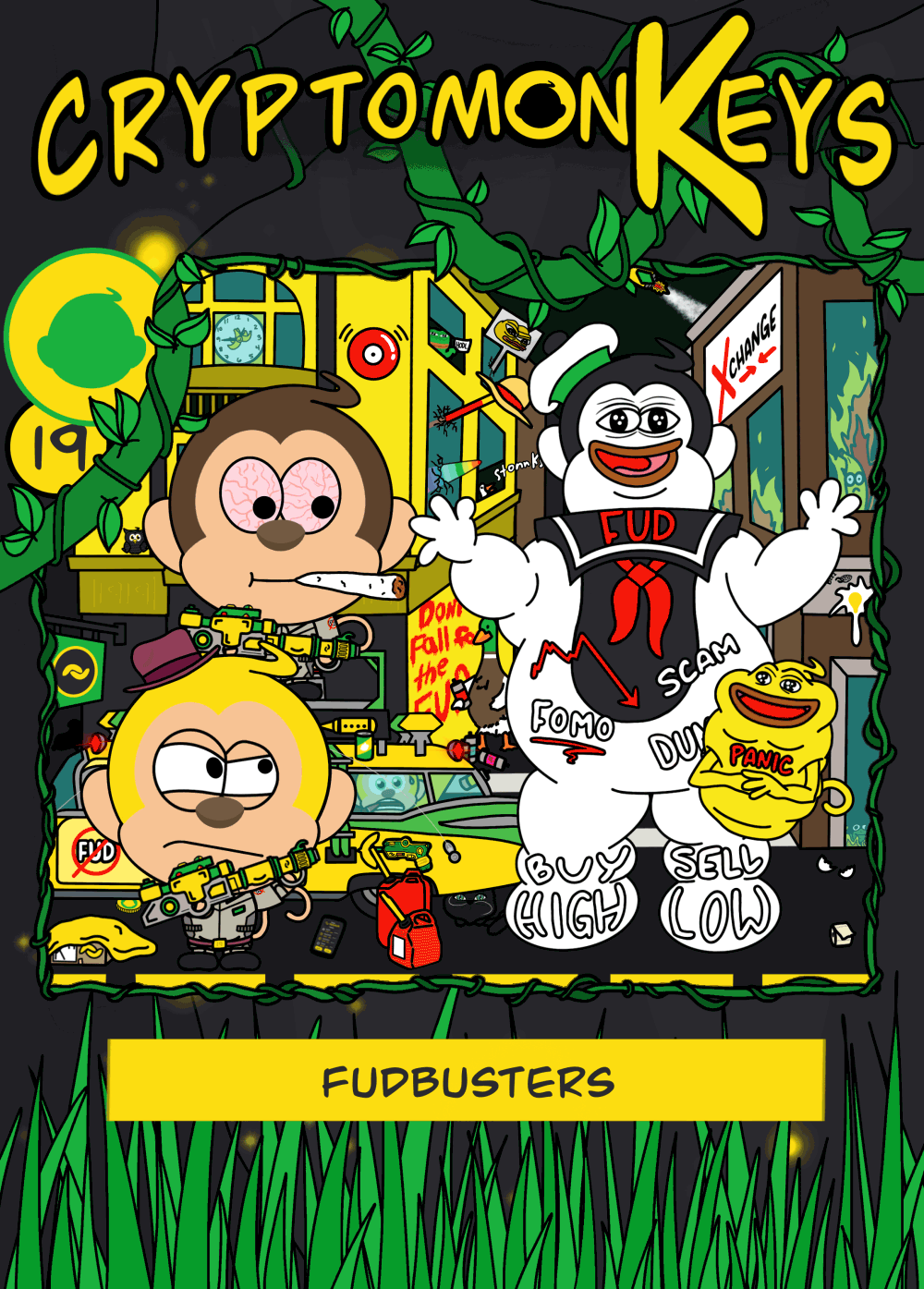 This card will be minted and distributed shortly, follow the cryptomonKeys Website, Discord or Telegram for updates!
Finally, these events/giveaways are still running (ending Nov 19):
Card 14 Twitter Giveaway
What If You Were President? BANANO and NFT prizes!
…and many more events and monKeydrops happening all over social media:
Join and collect cryptomonKeys!

CryptomonKeys is a freely distributed, community-driven, meme-rich digital trading card series based on NFT technology, here to disrupt the meme economy.
Website | Discord | Twitter | Telegram | Instagram
Trade cryptomonKeys at AtomicHub: live trading offers | sale history
Disclaimer & Credits
Any mention of a third party platform, product, service or website in this article does not imply an endorsement by the BANANO core team. All information is provided to the author's best knowledge at the time of writing, will likely not be updated and thus might be outdated when this article is read in the future. CryptomonKeys is a community project created by two BANANO core team members, SoggyApplePie and bantano. CryptomonKeys is building on the BANANO MonKey concept (visual account representatives) created and developed by Yekta and bbedward from the BANANO core team. This article was written by bantano.
What the Fork is BANANO?
For those of you who don't know BANANO yet, it's obviously perfect to just read our animated, meme-rich and interactive Yellowpaper! BANANO is a cryptocurrency (forked from NANO in April 2018) powered by DAG technology — here to distrupt the meme economy. Yes, BANANO has memes! And also feeless and near-instant transactions, a highly active community, and active technical development! The BANANO community doesn't take themselves too seriously, but we're here for the long run and we enjoy what we do. On top of this, BANANO is super easy to use and puts an emphasis on free and fair distribution, gamification and crypto education.
See current BANANO price and market data at Coingecko or Coinmarketcap. All current trading pairs and exchanges here.
Join the Banano Republic!
BANANO ($BAN) is a fee-less, instant, rich in potassium cryptocurrency powered by DAG technology disrupting the meme economy.
Official Website: banano.cc
Yellowpaper: banano.cc/yellowpaper
Help getting started: banano.how
Community News: The Daily Peel
Join our social channels for updates & giveaways:
Discord | Twitter | Telegram | Reddit | Youtube
Publish0x | Uptrennd | LBRY | Medium | Hive
Github | BitcoinTalk | Instagram | Facebook | TikTok
Overviews:
BANANO News | BANANO links | BANANO events