Free BANANO NFTs! cryptomonKeys Update #1: Recap, TG Airdrop & monKeyfarm!
BANANO is a DAG-based cryptocurrency with easy-to-use apps, distributed entirely for free through airdrops, faucets, and games. All…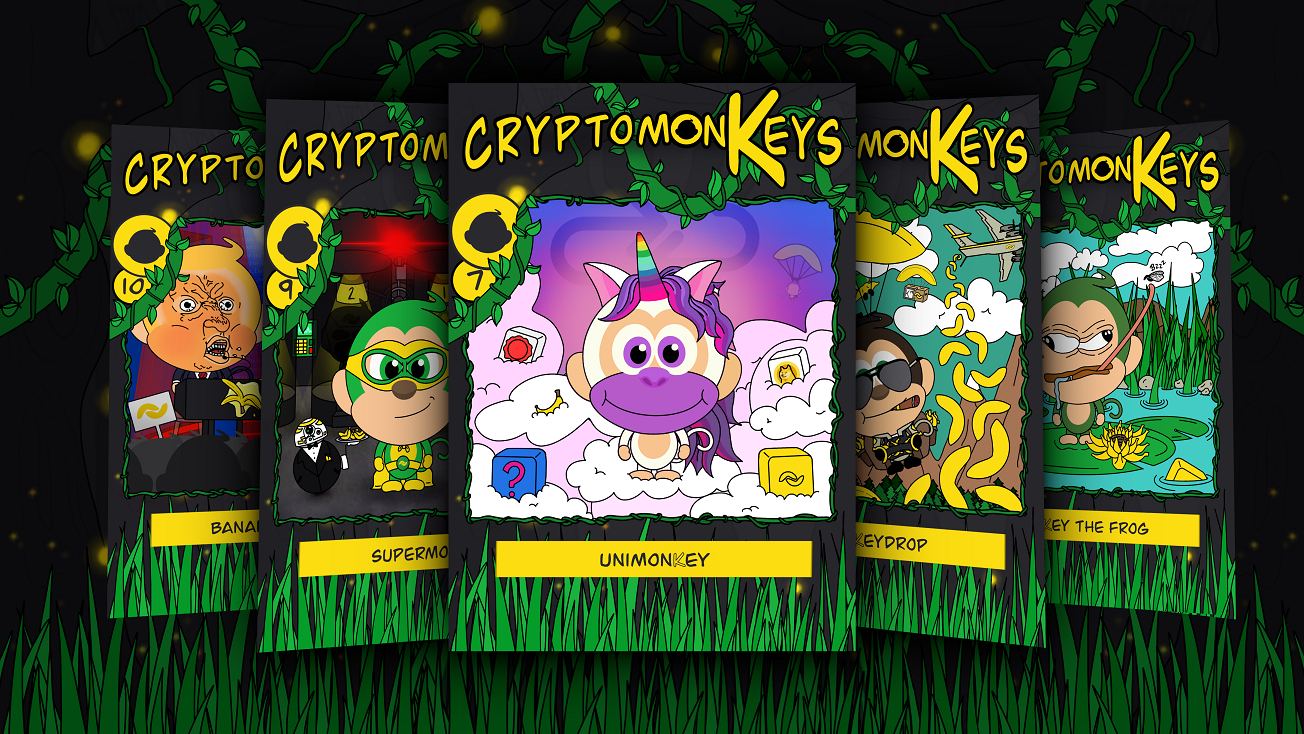 BANANO is a DAG-based cryptocurrency with easy-to-use apps, distributed entirely for free through airdrops, faucets, and games. All happening in a fun, community-driven, meme-rich, and educational atmosphere.
The BANANO community project cryptomonKeys (FREE BANANO NFTs!) just started 1 month ago, by distributing all NFTs/cards for free! Meanwhile some very rare (legendary!) cards have already been traded for $200+ on secondary markets! The positive feedback from everyone and the atmosphere of excitement in the community were overwhelmingly awesome, and now it's time for a first proper community update. Check it out below, and read to the end for some YUGE news and an overview of currently active giveaways!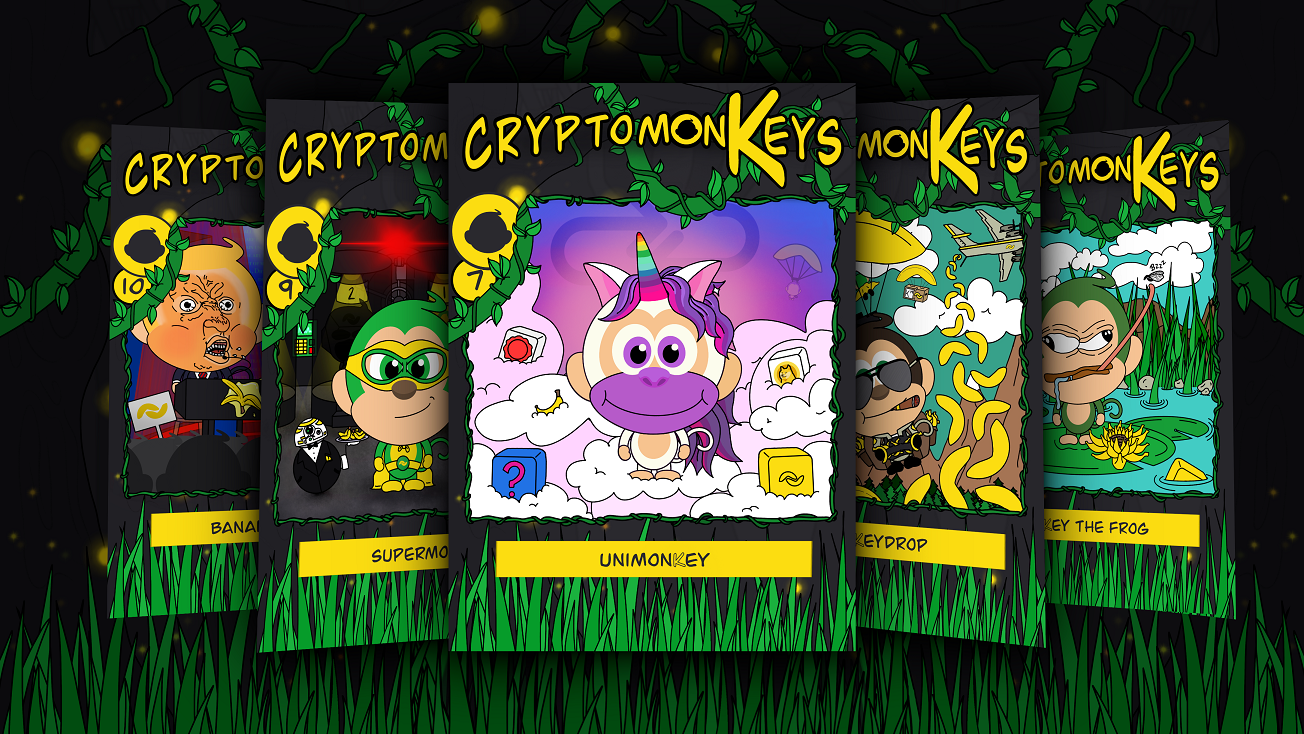 cryptomonKeys Community Update #1
It's crazy how much has happened in just one month! It all started as a community project in the BANANO ecosphere, aiming to connect BANANO with its memes, artwork and creative community to the NFT world. CryptomonKeys were born: MonKey-themed collectible cards, minted as Non Fungible Tokens (NFTs) on the WAX blockchain, one by one. To make it as easy as possible for everyone to get started with NFTs, we (SoggyApplePie and bantano) decided to distribute cryptomonKeys for free to the community, in an educational and fun atmosphere. We did lots of things other than more established, commercial projects, and everything we decided so far was aiming to create the collectible trading cards we would like to collect ourselves.
We can already say this is so much fun that we'll of course continue with this and implement lots of new upcoming ideas over time ❤. This was just the beginning, and we'll have more regular updates from now on! So here's what happened in the 1 month since the launch:
Recap of cryptomonKeys month #1:
Sep 19th, 2020: Original announcement and launch of cryptomonKeys as BANANO community project (check this out if you want to learn more about card features and project details). Reveal of the first 3 cards and first giveaways in the cryptomonKeys Discord Chat Server. In the days after that, we also had lots of giveaways and small airdrops at Twitter, Telegram, and Instagram, and released more cards! It was great to see so many people joining and starting to collect from the very beginning!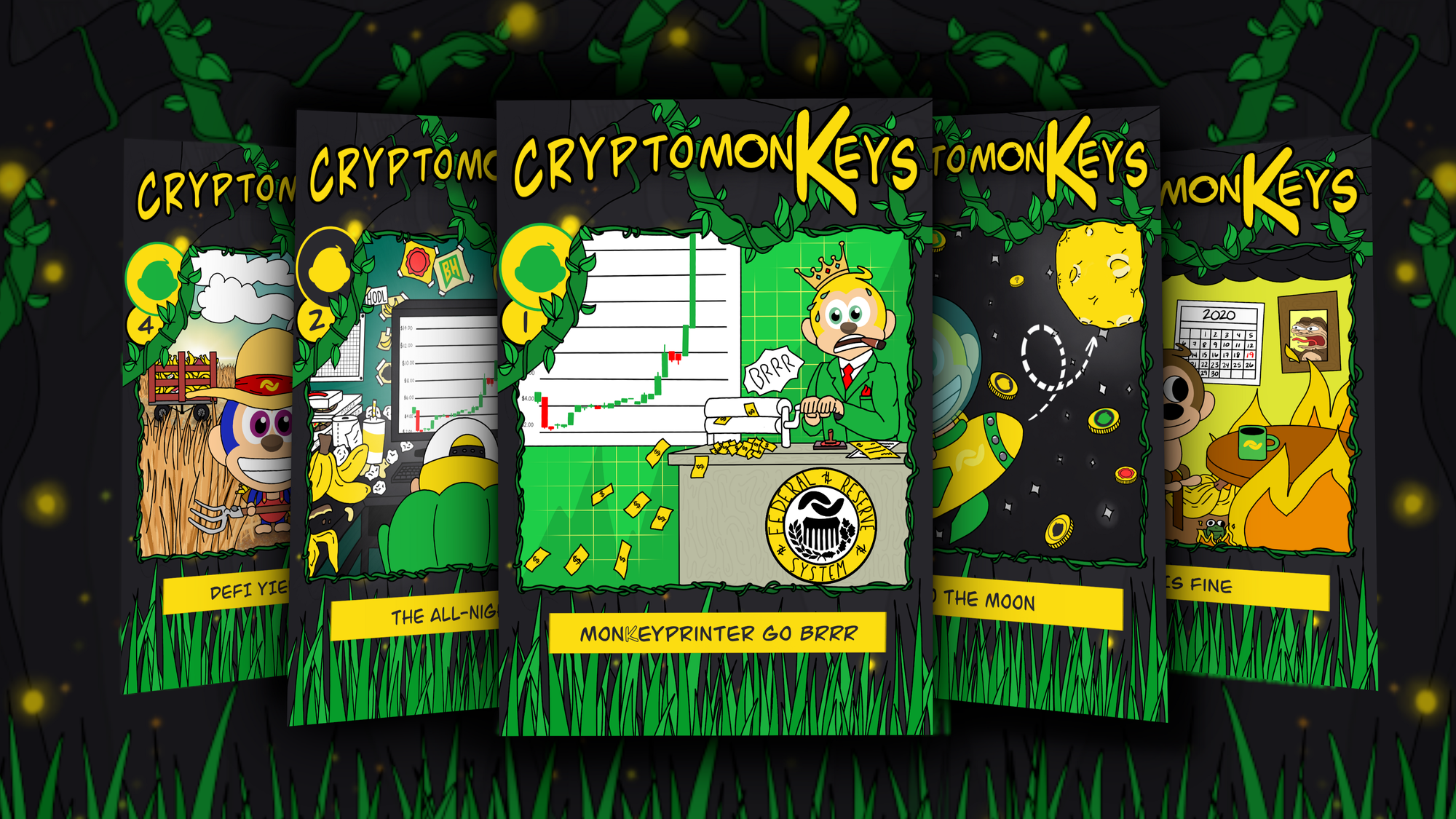 Sep 29th, 2020: Airdrop of Card 6 (monKey The Frog) to the top 300 ranked GoPepe collectors.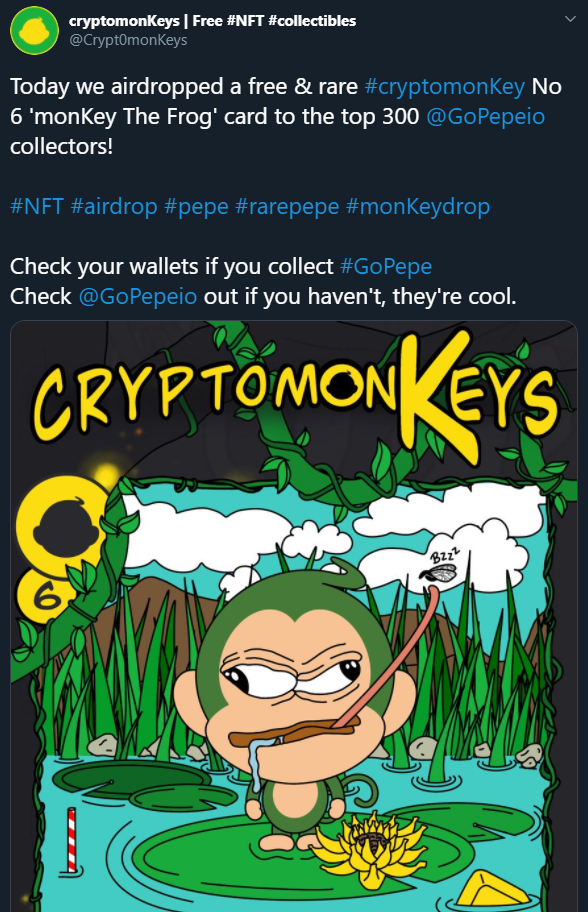 Sep 30, 2020: cryptomonKeys and BANANO rewards were sent out to all winners of our initial announcement Publish0x giveaway: 5 Legendary Cards (monKeyprinter Go BRRR) plus 10019 BANANO were sent to the winners. On top of that, we airdropped either Card 7 or 8 randomly to ALL 625 participants! And shortly after, we revealed more new cards!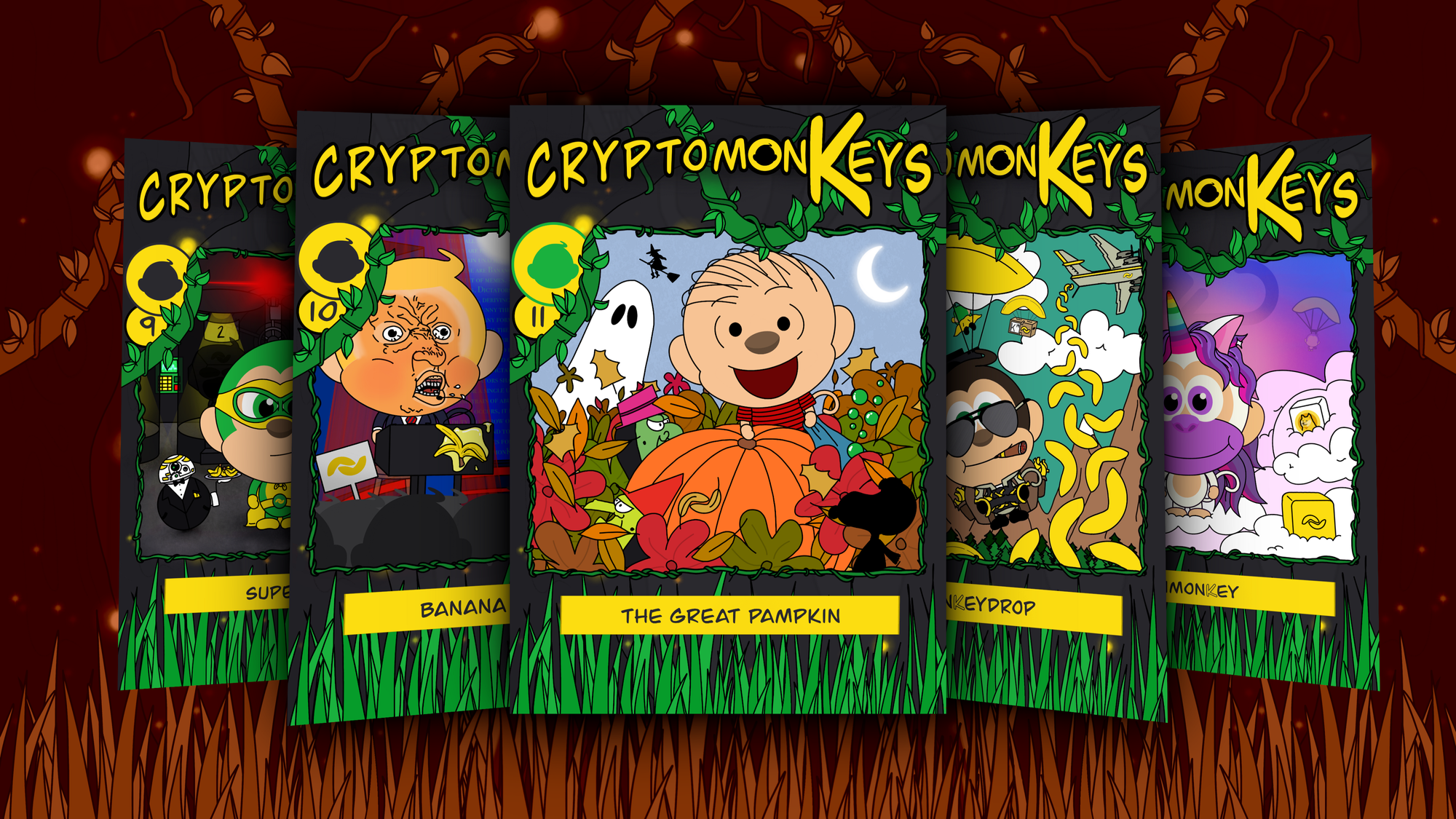 Oct 7, 2020: Card 10 (Banana Republic) was airdropped via a timed claimlink at AtomicHub, and we celebrated the event with a huge claim party with additional card giveaways and BANANO rains at the cryptomonKeys Discord Server. Claiming was first come, first serve, and 391 cards were claimed in just 14 minutes! Here are some community members talking about the party the day after: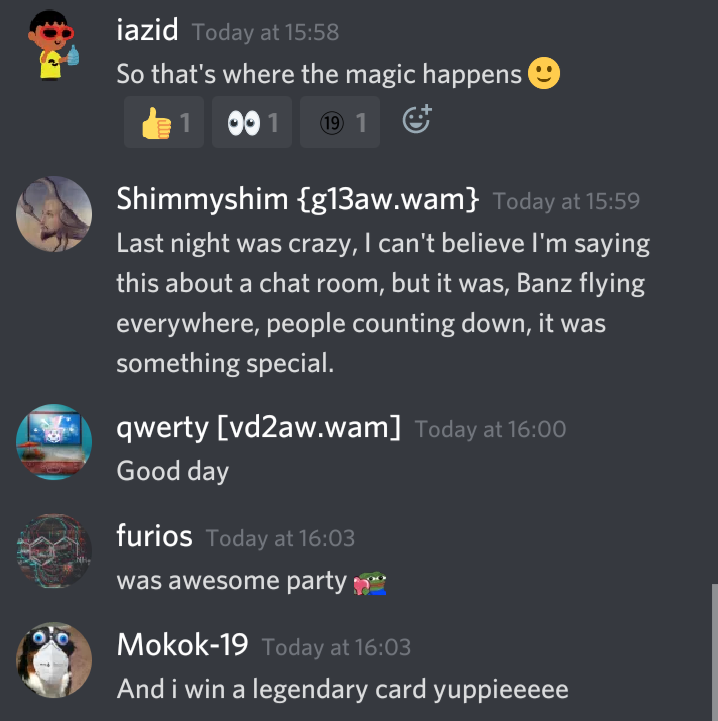 Oct 13th, 2020: We airdropped Card No 12 (Nifty Witch) to all 'Nifty Wizards' (all 169 holders of a Wizard Birth Rune) as a sign of appreciation for the great stuff being done by the NiftyWizards team in terms of gamifying WAX NFTs in their Telegram RPG. In addition, everyone could easily claim this card at the cryptomonKeys discord server and another 533 mints of this card were sent out with the help of Anders/anyobservation.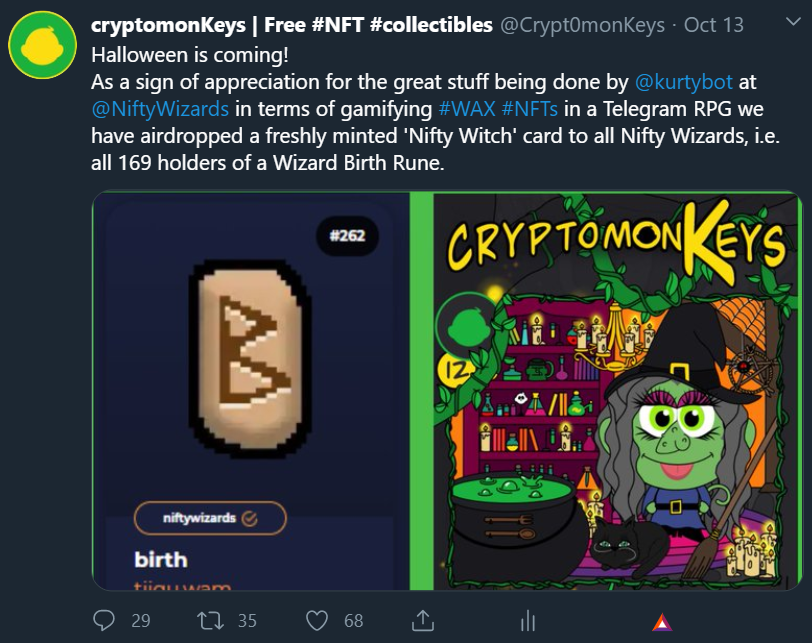 Oct 18, 2020: CryptomonKey No 9 — 'supermonKey' — was included in the TheNiftyBox — a subscription box for #NFTs created by Joel Comm and Travis Wright from the Bad Crypto Podcast/The Nifty Show!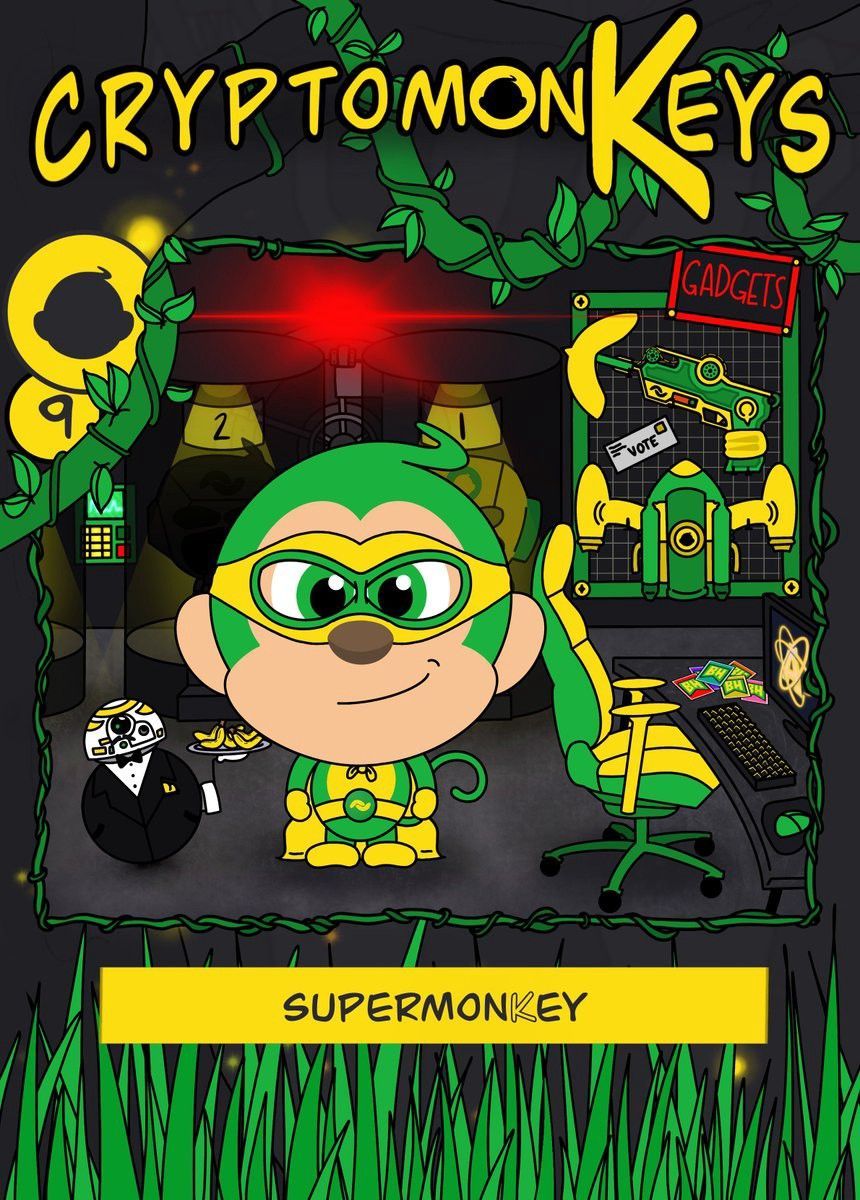 Oct 18, 2020: CryptomonKeys is supposed to become more and more community-driven! With Halloween around the corner, we announced a Halloween monKey Design Contest with BANANO and cryptomonKeys as prizes! Your creation might even become an NFT! This event is still ongoing, check it out here:
Twitter announcement and giveaway
Publish0x announcement and another giveaway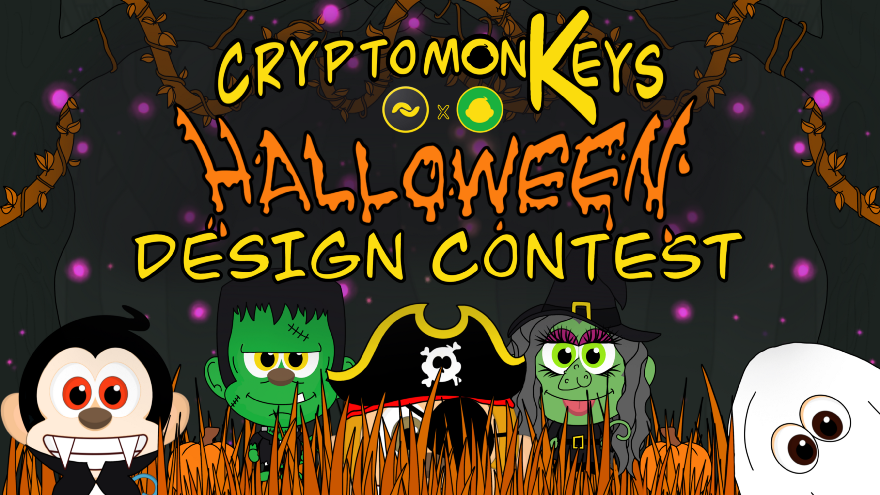 Other great stuff that happened last month:
CryptomonKeys was featured on The Bad Crypto Podcast, and we did giveaways in collaboration with LiteLiger, anyobservation, NFT Hype, CryptoOwenWilson and our bro Kenn Brosak. We also sponsored prizes for the first GodsUnchained Welcome Tournament and the BANANO Halloween Emoji Contest.
CryptomonKeys can be traded at AtomicHub/AtomicMarket and have been listed on play2earn, CryptoSlam and Waxplorer.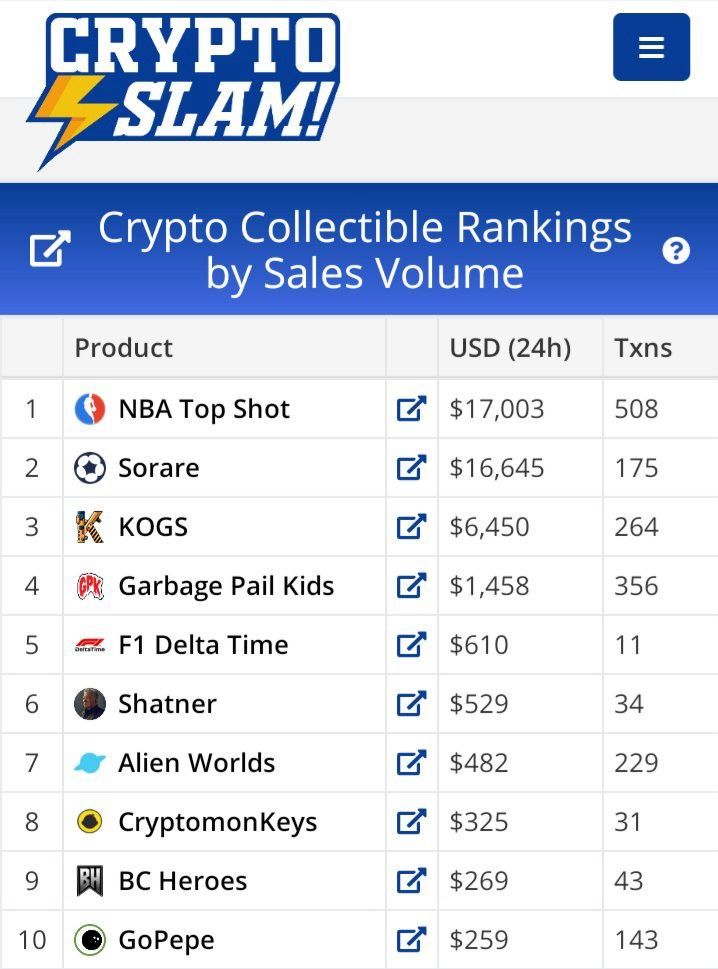 Some numbers after one month of cryptomonKeys:
Card motives released: 12 (Website | AtomicHub | Waxplorer | CryptoSlam)
Total Cards minted: 4696
Cards distributed: 3652 (78% distributed)
Number of accounts holding at least one cryptomonKey NFT: 1610
Distribution Details by card: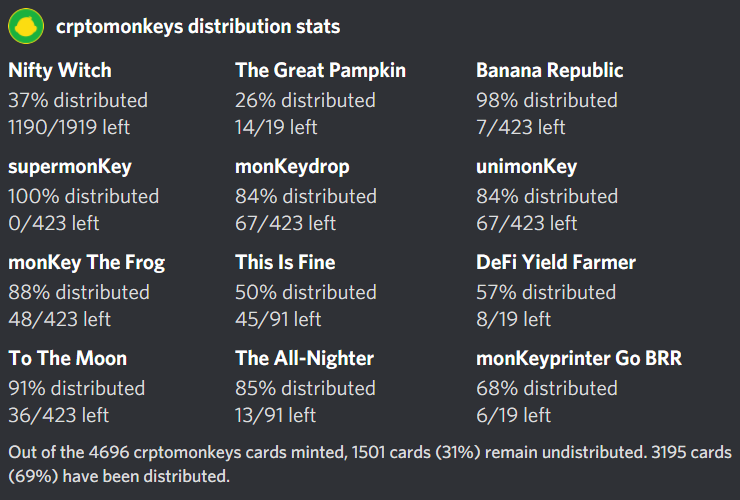 Month 1 market stats:
Number of trades between users: 383
Total trading volume: 53,305 WAX ($2,026)
Highest sales on secondary markets:
Card 4 (Legendary) sold for 6000 WAX (~$223)
Card 1 (Legendary) sold for 5000 WAX (~$186)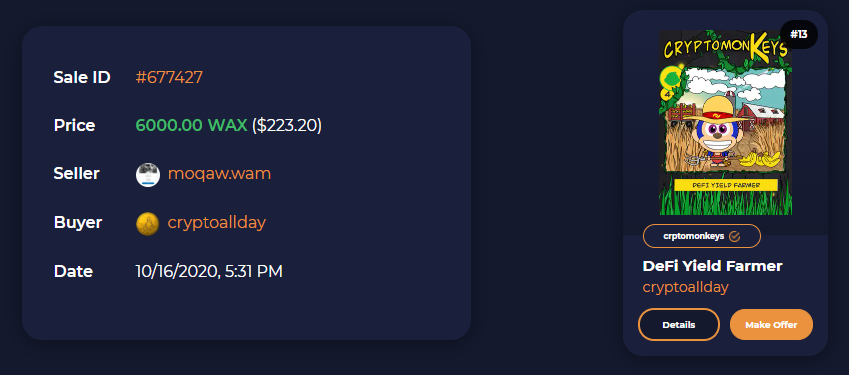 Join cryptomonKeys!
We have giveaways and events running regularly on all platforms! Join/follow us to not miss any — and thanks for sharing with your friends!
Discord: 1182
Twitter: 1140
Telegram: 531
Instagram: 318
(numbers are current follower counts)
Website
Trade cryptomonKeys at AtomicHub: live trading offers | sale history
Collection stats at: AtomicHub | Waxplorer | CryptoSlam
Outlook
The cryptomonKeys community grew so fast that we are a little behind with providing further details on how things will go further. We'll have a more detailed update including answers to all frequently asked questions very soon!
Here's what we can already say: We have loads of ideas how to make distribution more interactive and fun, and how to gamify this more. All this will unfold over time. Two announcements ahead:
Upcoming Telegram Exclusive Airdrop
Make sure to join our telegram group to not miss a new card reveal and airdrop happening this Thursday! This airdrop will be exclusive to our community at Telegram.
How to claim:

That's it, now you will earn DUST simply by chatting in our Telegram group. One message earns one DUST. Yeah, you even might find some new friends!
You can check your balance by sending a DM with /balance to the bot anytime.
Make sure you earn at least 9 DUST as soon as possible, you will need it to claim the airdrop!
The airdrop of our new cryptomonKeys card No 13 will happen tomorrow, Thursday, October 22 — stay tuned for announcements with further instructions!
On top of all this, we additionally will have trivias and giveaways with free cryptomonKeys cards and BANANO as prizes running regularly for the next few days — keep your eyes open for announcements by our moderators!
If you have questions anytime, speak up in the group! Ideally check the pinned post first!
No go and join the cryptomonKeys telegram group and get started, good luck and have fun!
Telegram group | News Channel | Card Reveal Channel
Also, here's the second upcoming big news!
Introducing the monKeyfarm concept!
We'll be shortly introducing monKeyfarm! The basic concept: Holders of cryptomonKeys cards (and especially holders of one of the first 19 legacy cards) will have the chance to receive new card drops (monKeydrops) automatically for each new card revealed, ever! The chances to receive monKeydrops will be higher when you hold more different cards, and the chances will also be higher for holders of more rare cards. While detailed tokenomics will be released soon, we roughly aim to drop an average of 19% of all new cards this way to reward the early adopters and passionate collectors! Be aware this information is early stage and might be subject to changes, but the recommendation is to make sure you collect legacy cryptomonKeys cards now!
And for those of you who wonder: Most No 1 mints for cards that are not yet distributed will be randomly distributed to legacy card holders as well, starting next week! Stay tuned, this is gonna be fun!
Ah, and of course here's yet another way to get a free legendary cryptomonKey:
Giveaway: Win a legendary cryptomonKey!
One lucky winner will win a legendary cryptomonKey No 1: monKeyprinter go BRRR card and 5000 BANANO! This is not only the first card, but also one of the rarest: Only 19 will ever exist!
Simply post your BANANO address together with your WAX address as one comment below this corresponding Publish0x post! Winner will be randomly selected, giveaway ends on October 31.
If you have no BANANO address yet, learn how to get one within a minute here easily. If you have no WAX address yet, get one here.
Even more active cryptomonKeys giveaways:
Card 7 Twitter Giveaway
Card 8 Twitter Giveaway
Card 12 Twitter Giveaway
Halloween Contest Twitter Giveaway
Halloween Contest Publish0x Giveaway
Plus, to not miss more ways to earn free cards join our social media:
Join and collect cryptomonKeys!

CryptomonKeys is a freely distributed, community-driven, meme-rich digital trading card series based on NFT technology, here to disrupt the meme economy.
Website | Discord | Twitter | Telegram | Instagram
Trade cryptomonKeys at AtomicHub: live trading offers | sale history
Disclaimer & Credits
Any mention of a third party platform, product, service or website in this article does not imply an endorsement by the BANANO core team. All information is provided to the author's best knowledge at the time of writing, will likely not be updated and thus might be outdated when this article is read in the future. CryptomonKeys is a community project created by two BANANO core team members, SoggyApplePie and bantano. CryptomonKeys is building on the BANANO MonKey concept (visual account representatives) created and developed by Yekta and bbedward from the BANANO core team. This article was written by bantano with help from SoggyApplePie.
What the Fork is BANANO?
For those of you who don't know BANANO yet, it's obviously perfect to just read our animated, meme-rich and interactive Yellowpaper! BANANO is a cryptocurrency (forked from NANO in April 2018) powered by DAG technology — here to distrupt the meme economy. Yes, BANANO has memes! And also feeless and near-instant transactions, a highly active community, and active technical development! The BANANO community doesn't take themselves too seriously, but we're here for the long run and we enjoy what we do. On top of this, BANANO is super easy to use and puts an emphasis on free and fair distribution, gamification and crypto education.
See current BANANO price and market data at Coingecko or Coinmarketcap. All current trading pairs and exchanges here.
Join the Banano Republic!
BANANO ($BAN) is a fee-less, instant, rich in potassium cryptocurrency powered by DAG technology disrupting the meme economy.
Official Website: banano.cc
Yellowpaper: banano.cc/yellowpaper
Help getting started: banano.how
Community News: The Daily Peel
Join our social channels for updates & giveaways:
Discord | Twitter | Telegram | Reddit | Youtube
Publish0x | Uptrennd | LBRY | Medium | Hive
Github | BitcoinTalk | Instagram | Facebook | TikTok
Overviews:
BANANO News | BANANO links | BANANO events