Featured BANANO Community Project: Jungle TV (Earn BANANO and NFTs by watching videos)
Looking for a fun way to get free BANANO? You might wanna check out JungleTV!

Looking for a fun way to get free BANANO? You might wanna check out JungleTV!
BANANO is not only backed by next generation DAG tech, powered by potassium, memes, and 100% free distribution, it is especially driven by its community. That's why we're giving the BANANO community project 'JungleTV' a little shout-out today! Learn more below!

What is JungleTV?
JungleTV is a video sharing website for the BANANO community. On JungleTV, users can earn BANANO by watching YouTube videos that are added by other users to a sort of continuously evolving playlist — the queue. The videos play in sync for everyone, making the experience similar to watching TV or a livestream.
You will have to spend some BANANO to enqueue a video. The amount of BANANO required to enqueue a video is determined by factors like the amount of people watching and the length of the video, as well as the length of the queue. The Banano spent to enqueue each video is distributed among the JungleTV spectators who our fraud prevention monkeys deem sufficiently ripe.
Earn BANANO and NFTs!
As just announced recently, not only will you be able to earn BANANO and win BANANO during JungleTV events, but JungleTV will also be distributing free NFTs in collaboration with cryptomonKeys! Simply connect your BAN and WAX address via the sleek connect.cryptomonkeys.cc interface! Find out more details here. In brief, you'll have a regular chance to win NFTs if you queue videos at JungleTV!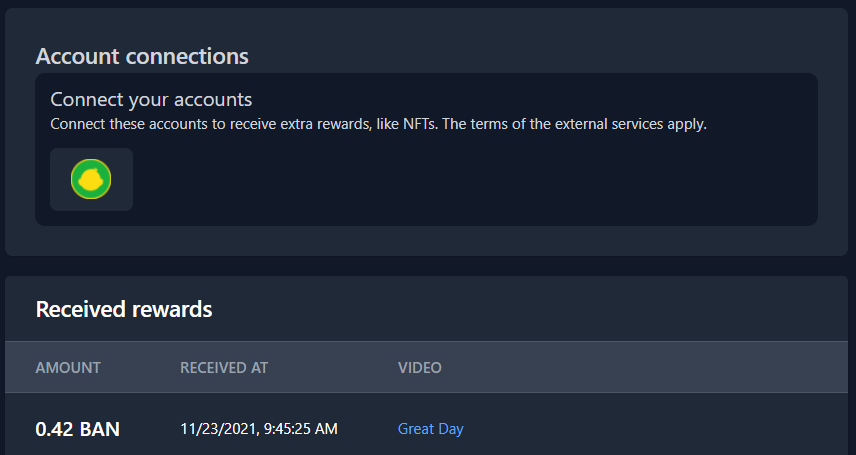 The first 105 eligible users were rewarded just today with a free monKeypack and a monKeystack! Rewards will be sent out regularly in the future. Follow JungleTV and cryptomonKeys socials for updates!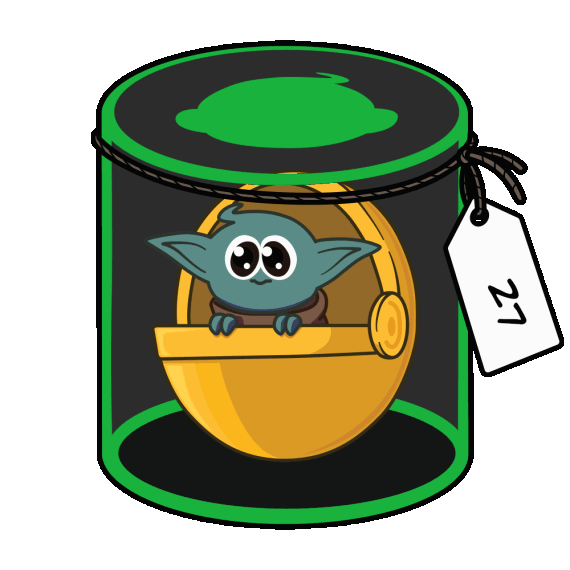 Who's behind JungleTV?
JungleTV was started back in June by gbl08ma as a "Booster" Contest entry, and it quickly became a staple of the Banano ecosystem! It's a place where you're always welcome to hang out in the chat, receive BANANO by watching videos, and share your personal YouTube favorites for everyone to see.
I'm 3meow, one of the moderators on JungleTV. With the other JTV mods and Banano community members, we have been working hard behind the scenes to bring various events and giveaways; Tunesdays; Live DJ sets; a line of JungleTV NFTs; and now, a collaboration with the cryptomonKeys team, just to name a few!
From August 1st to November 30th, JungleTV distributed a total of 1,076,700 Banano split between 6,500 unique users!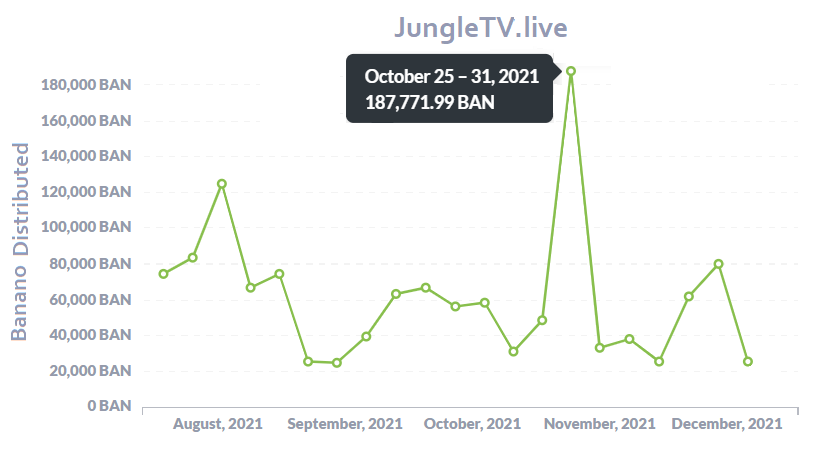 Our users have enqueued almost 35,000 videos in that time too, of which 25,000 were unique. That's a lot of variety! Of course, there are some jungle favorites, too; "Toad sings Chandelier" and "Cathy May Boom Boom Boom Way Ho" are in an age-old battle for the top spot.
Way Ho! Honorable mentions to Doja Cat, Delta P, 30m of Christmas Music (any time of the year), Hard Times, Bonbi, Degrassi, German rap, Slavic Bass, Dillinger Escape Plan, Rick Astley, and Ivo Dimchev.
Something new in the jungle every day!
Banano Discord
Interested? Learn more about JungleTV here:
JungleTV | AtomicHub | Discord | Twitter
Learn more about cryptomonKeys NFTs here:
Discord | Twitter |Website |Atomichub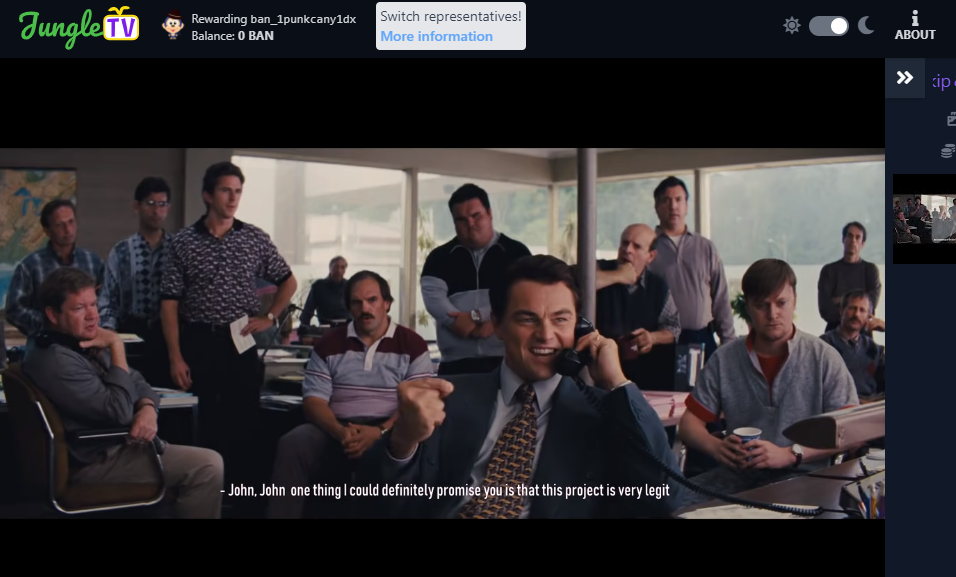 What the Fork is BANANO?
For those of you who don't know BANANO yet, it's obviously perfect to just read our animated, meme-rich and interactive Yellowpaper! BANANO is a cryptocurrency (forked from NANO in April 2018) powered by DAG technology — here to disrupt the meme economy. Yes, BANANO has memes! And also feeless and near-instant transactions, a highly active community, and active technical development! The BANANO community doesn't take themselves too seriously, but we're here for the long run and we enjoy what we do. On top of this, BANANO is super easy to use and puts an emphasis on free and fair distribution, gamification and crypto education.
See current BANANO price and market data at Coingecko or Coinmarketcap. All current trading pairs and exchanges here.
Join the Banano Republic!
BANANO ($BAN) is a fee-less, instant, rich in potassium cryptocurrency powered by DAG technology disrupting the meme economy.
Official Website: banano.cc
Help getting started: banano.how
Community News: Daily Peel
Yellowpaper | Wiki
Join our social channels for updates & giveaways:
Discord | Twitter | Reddit | Youtube | Telegram | BBS
Medium | Publish0x | Github | BitcoinTalk | Instagram | Facebook | TikTok
Overviews:
BANANO News | BANANO links