Eggcited about Easter? Join these BANANO Easter Events and Get Free Crypto!
Easter is coming soon! While real egg hunts and celebrations sadly are impacted by social distancing measures to avoid Coronavirus spread…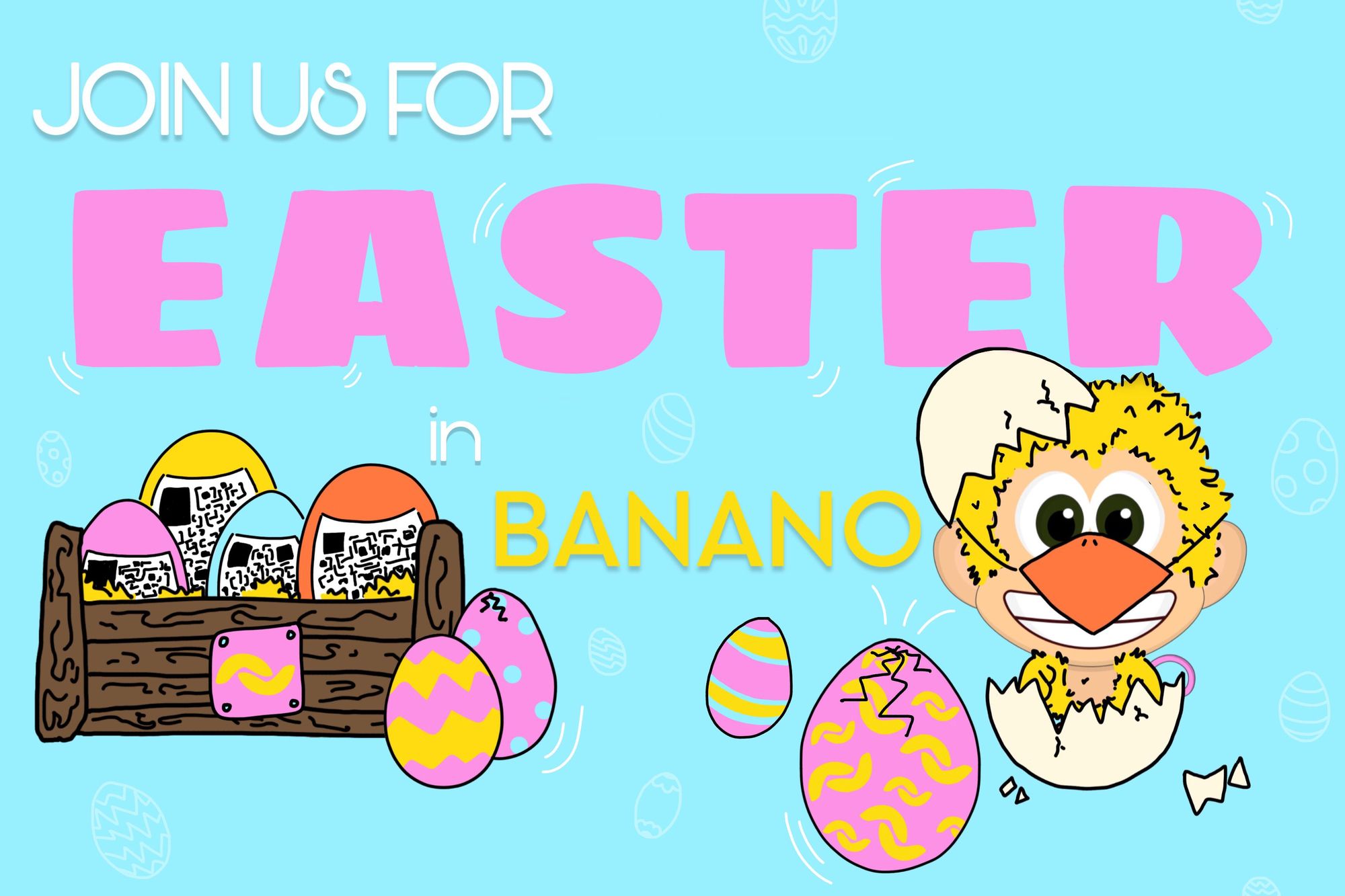 Easter is coming soon! While real egg hunts and celebrations sadly are impacted by social distancing measures to avoid Coronavirus spread, let's at least have some virtual celebrations! We're giving out free crypto coins to everyone joining our eggciting BANANO Easter Events — Check out the details below!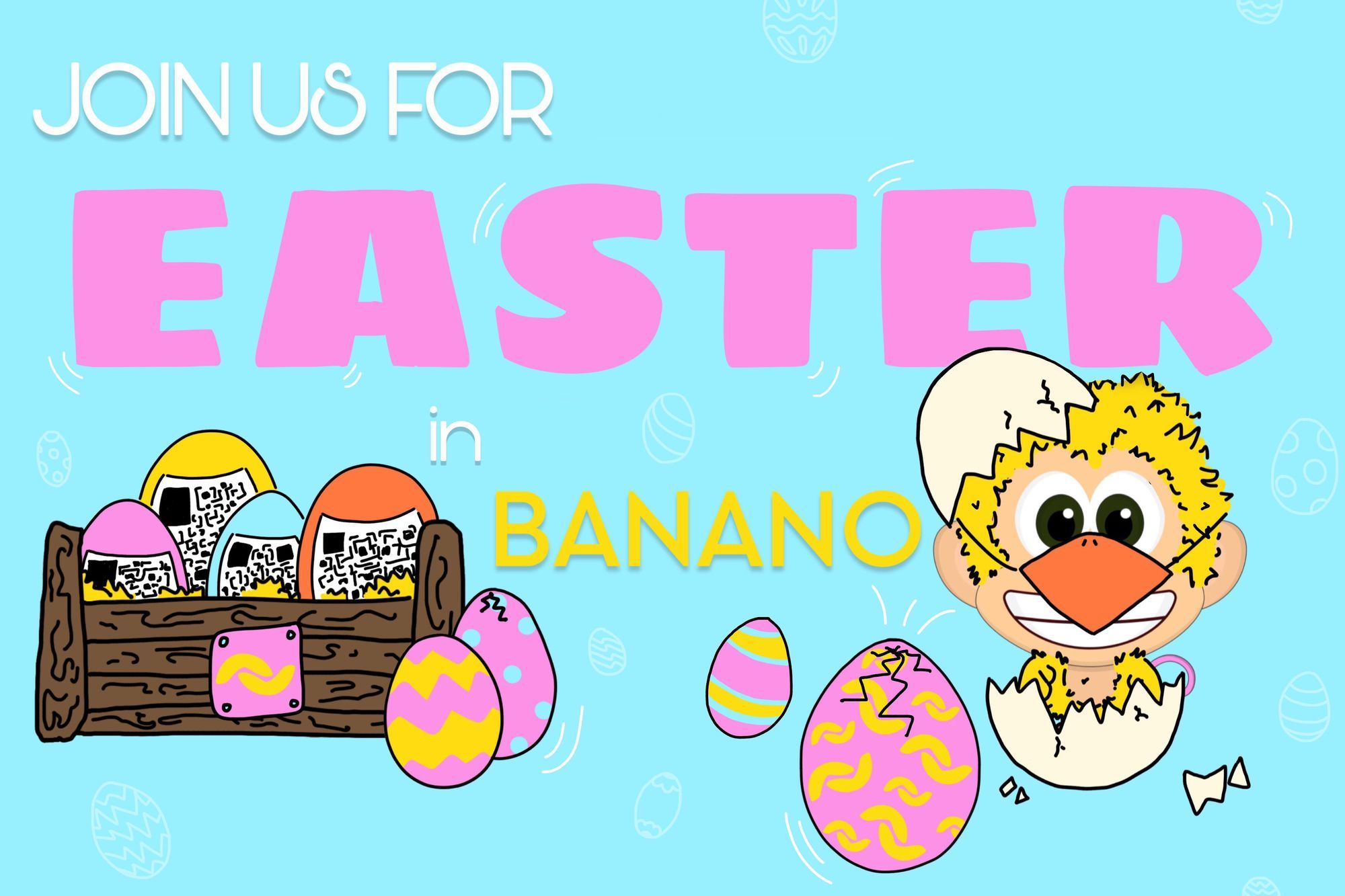 Event 1: The BANANO Easter Egg Hunt
Let's have a virtual Easter Egg Hunt! The Easter Egg Hunt is coming! The Easter Bunny has hidden lots of eggs and they are full of BANANO!
No worries, this is super easy! Follow all the BANANO social media and especially our Discord Chat Server to find Easter Eggs loaded with free BANANO crypto!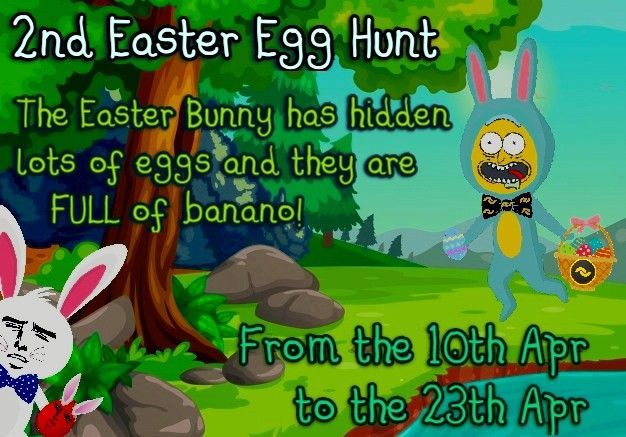 How To Participate:
Prepare yourself by installing our BANANO mobile wallet 'Kalium' on your smartphone! You'll find both android and iOS versions here: Kalium download.
Join all the main BANANO social media channels and look out for QR codes between April 10th and April 23rd (we'll post a lot everywhere, don't give up!) like this one: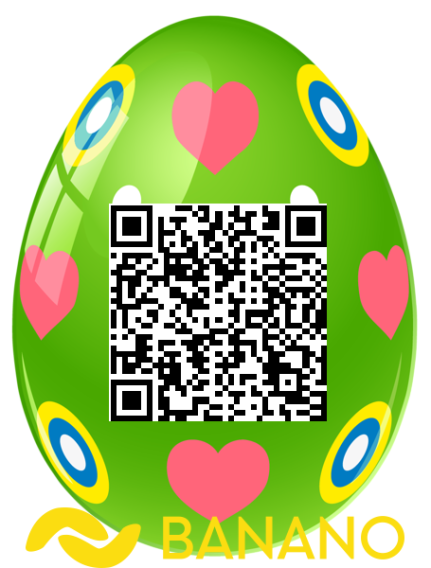 Links to our social media accounts where you'll find BANANO Easter Eggs:
Discord | Reddit |Telegram (all groups!)
Medium | Publish0x | Uptrennd
Twitter | Instagram | Facebook
Youtube | LBRY | Minds
QQ | WeChat
When you see one, choose the option 'Load from Paper Wallet' in Kalium and sweep all BANANO from that paper wallet into your personal wallet within a second. In case someone else was there before you you'll get a message stating that this wallet already has been emptied. Here's a short video showing how it works:
Happy Hunting!
Event 2: Easter Deggorating Contest!
Additionally, we have an invitation to all artists to join us, share your artwork and earn BANANO!
🌙 Create your very own Easter Egg Design! This is your chance to get creative and have some fun!
Contest Details
Contests ends April 22
All submissions must be posted in the channel #contest-submissions on the BANANO Discord Chat Server and mention the names of @Andru#1403 @Frena91#5415 and @SoggyApplePie#4501
Maximum three submissions per user
Rules for all Egg submissions:
 — You have to manually decorate a real egg
 — You can use painting, pencil crayons or any other materials
— You must take/provide example pictures of the whole process (post a maximum of 5 pictures)
 — A paper note with your discord username has to be visible on the photos provided to avoid anyone copying other people's photos from the internet
Prizes
1st Place: 10,000 BAN
2nd Place: 6,000 BAN
3rd Place: 3,000 BAN
4th-7th Place: 2,000 BAN each
Plus a 10,000 BAN Egg to split amongst all participants! That way everyone (!) will receive a prize!
We are very eggcited to seeing your Easter artwork!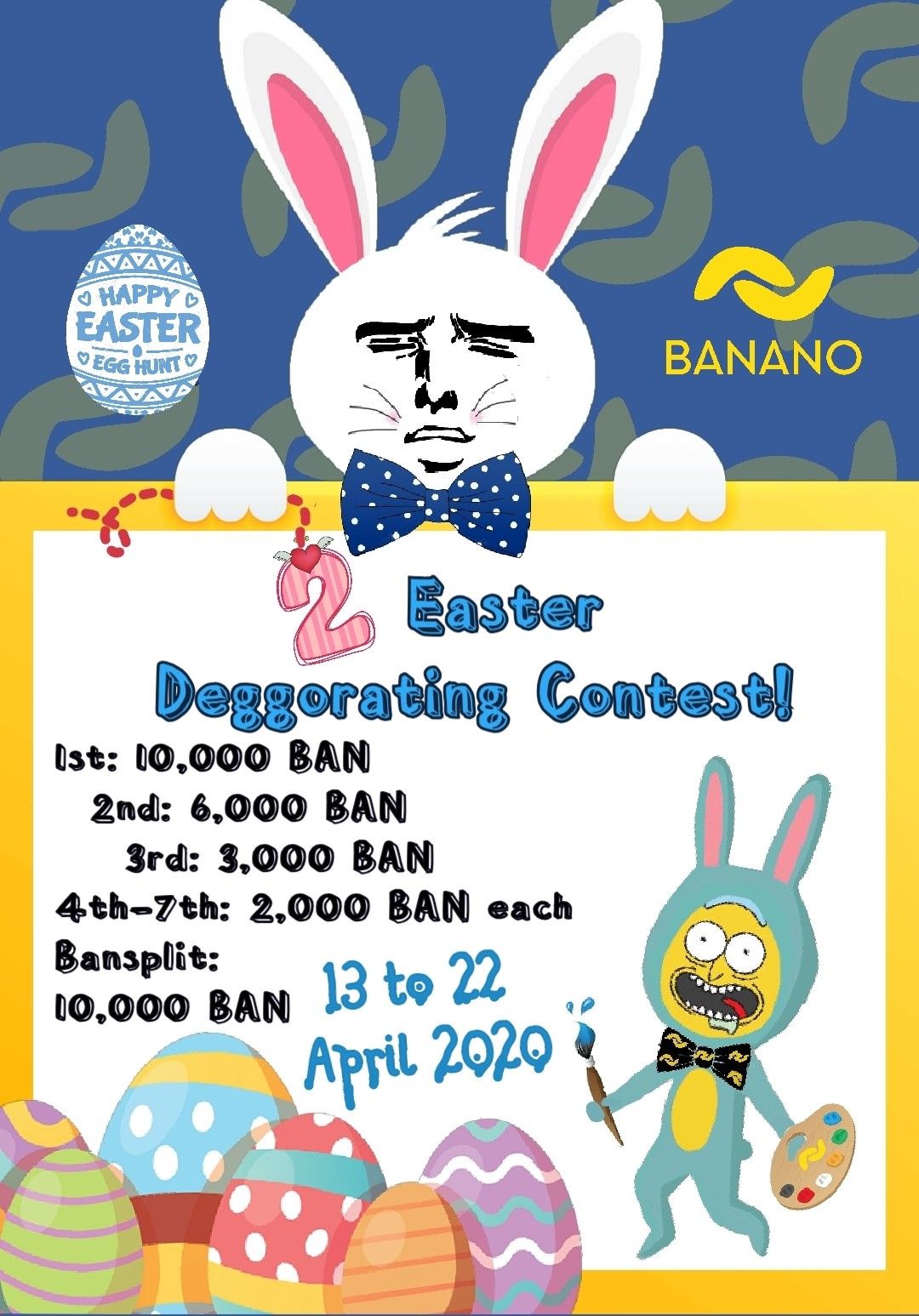 What the Fork is BANANO?
For those of you who don't know BANANO yet, it's obviously perfect to just read our brand-new animated, meme-rich and interactive Yellowpaper!
BANANO is a cryptocurrency (forked from NANO in April 2018) powered by DAG technology — here to distrupt the meme economy. Yes, BANANO has memes! And also feeless and near-instant transactions, a highly active community, and active technical development! The BANANO community doesn't take themselves too seriously, but we're here for the long run and we enjoy what we do. A concise explanation can also be found here at Bitcointalk, or on our official website, and you'll find help getting started at banano.how.
See current BANANO price and market data at Coingecko. All current trading pairs and exchanges here.
On top of this, BANANO is super easy to use and puts an emphasis on free and fair distribution and crypto education. Just try our slick mobile wallet called Kalium and get your first free $BANANO from one of our faucets within minutes!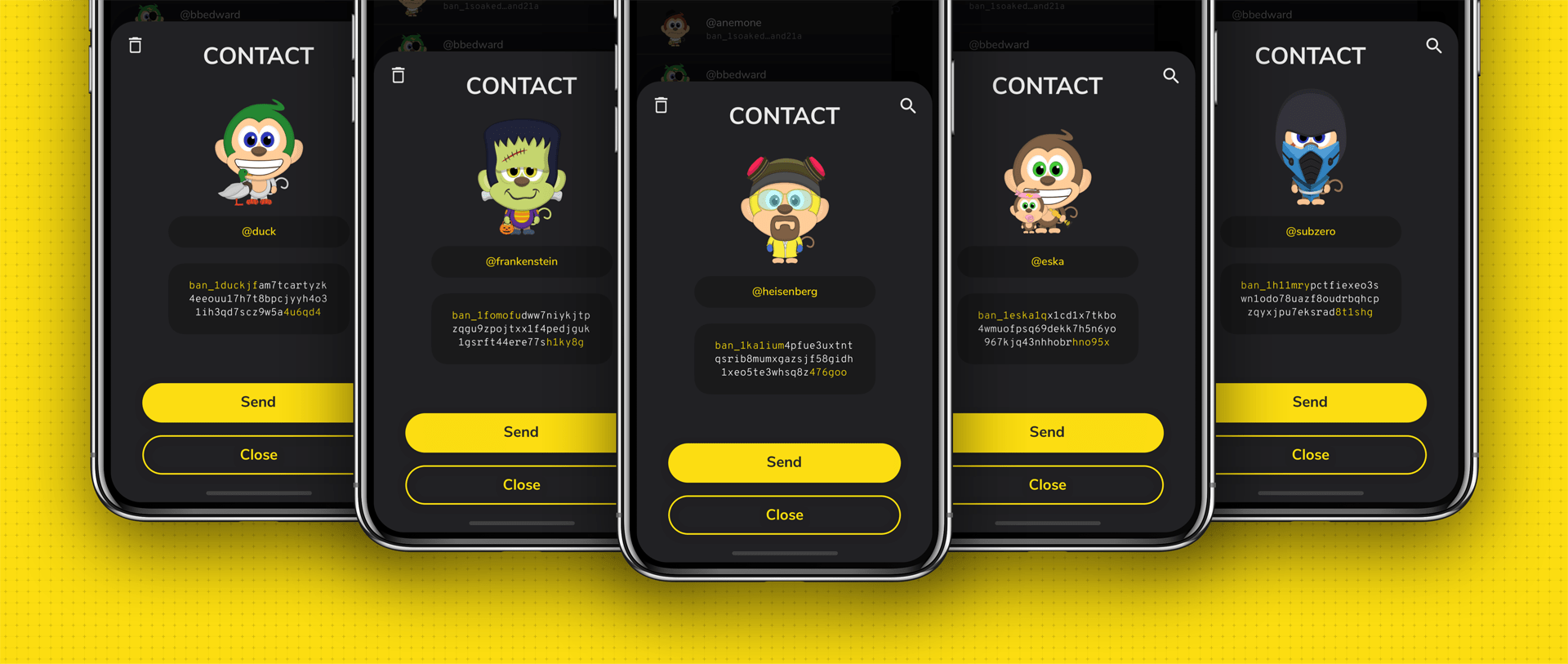 Join the Banano Republic!
BANANO ($BAN) is a fee-less, instant, rich in potassium cryptocurrency powered by DAG technology disrupting the meme economy.
Official Website: banano.cc
Yellowpaper: https://banano.cc/yellowpaper/
Help getting started: banano.how
Join our social channels for updates & giveaways:
Discord | Reddit |Telegram
Medium | Steemit | Publish0x | Uptrennd
Twitter | Instagram | Facebook
Youtube | Github | BitcoinTalk
Overviews:
BANANO News | BANANO links | BANANO events