Earning $BAN with BananoMiner? Check out BananoMiner Watch!
Backed by next generation DAG tech and potassium, BANANO is a cryptocurrency getting into your wallet fast, feelessly, and with loads of…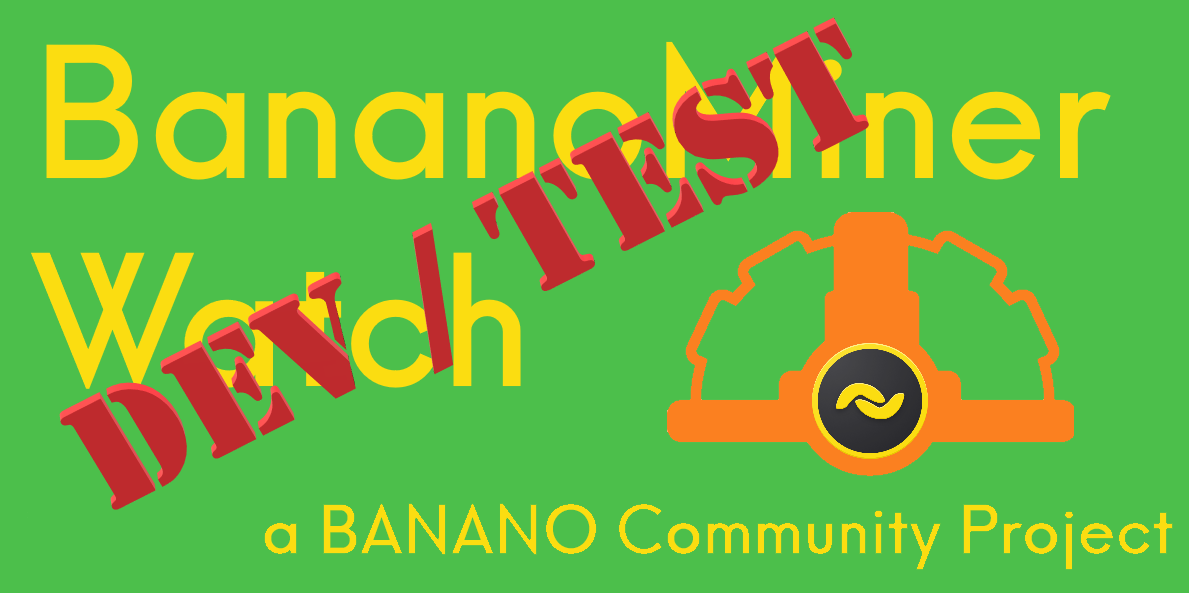 Backed by next generation DAG tech and potassium, BANANO is a cryptocurrency getting into your wallet fast, feelessly, and with loads of fun. BANANO is distributed for free through airdrops, faucets, games and fun events. BANANO's easy-to-use technology onboards normies and crypto-noobs without the usual hassle, and then educates them to handle crypto in general in a responsible way.
It's also very easy to earn BANANO daily with BananoMiner while supporting medical research including Coronavirus/COVID-19 research! Learn how to get started here.
Introducing BananoMiner Watch V1.3.1 "Bonobo"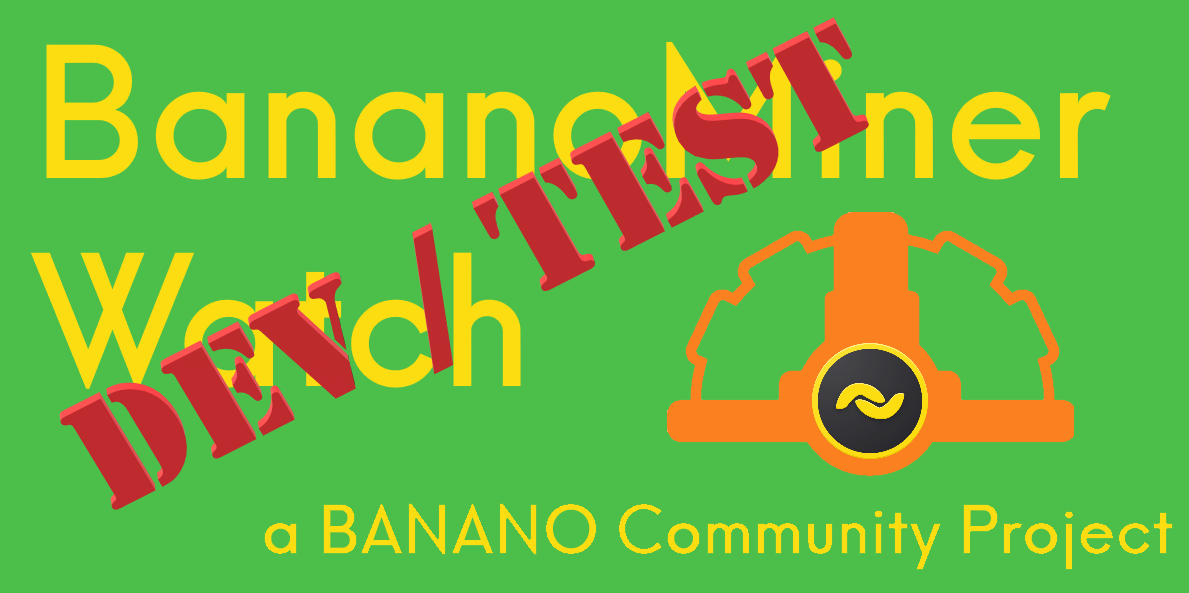 Now, several community members stepped up and created a browser plugin called 'BananoMiner Watch' which helps you track your earnings easily — especially if you're using another or several computers to earn BANANO by folding. Read below how our community member sebrock describes how that went:
The following article has previously been published at The Daily Peel — Your Source for BANANO Community news straight from the Jungle:
Today I want to tell you about the product of the collaboration of more than 20 jungle monkeys from all around the world. A truly global effort and testament to the collaborative and vivid community that Banano has. Over the last 4 weeks, we have created something really cool and useful for everyone who is donating their CPU power to the folding@home medical research programme in exchange for $BAN (Click here to learn more).
It started with a Reddit Post
But let´s rewind 4 weeks. It all started with this Reddit post by a potassium lover from Brazil who had the idea to make a browser extension to get a quick view at his stats and earnings with just one click at an icon instead of having to go to two websites and query an API that does not reply with something easily read by a human:

Intrigued by the usefulness of that I went ahead and installed this manually in my Chrome browser. It worked great (well not all numbers made sense at first and the optical appearance was not too appealing) and I reached out to André to discuss what could be improved.
He was very pleased to see the interest of many of the nerdy monkeys usually hanging out in #⛏banano-mining at the BANANO Discord Server and shortly thereafter him and I were working on improving the functionalities and look of the thing.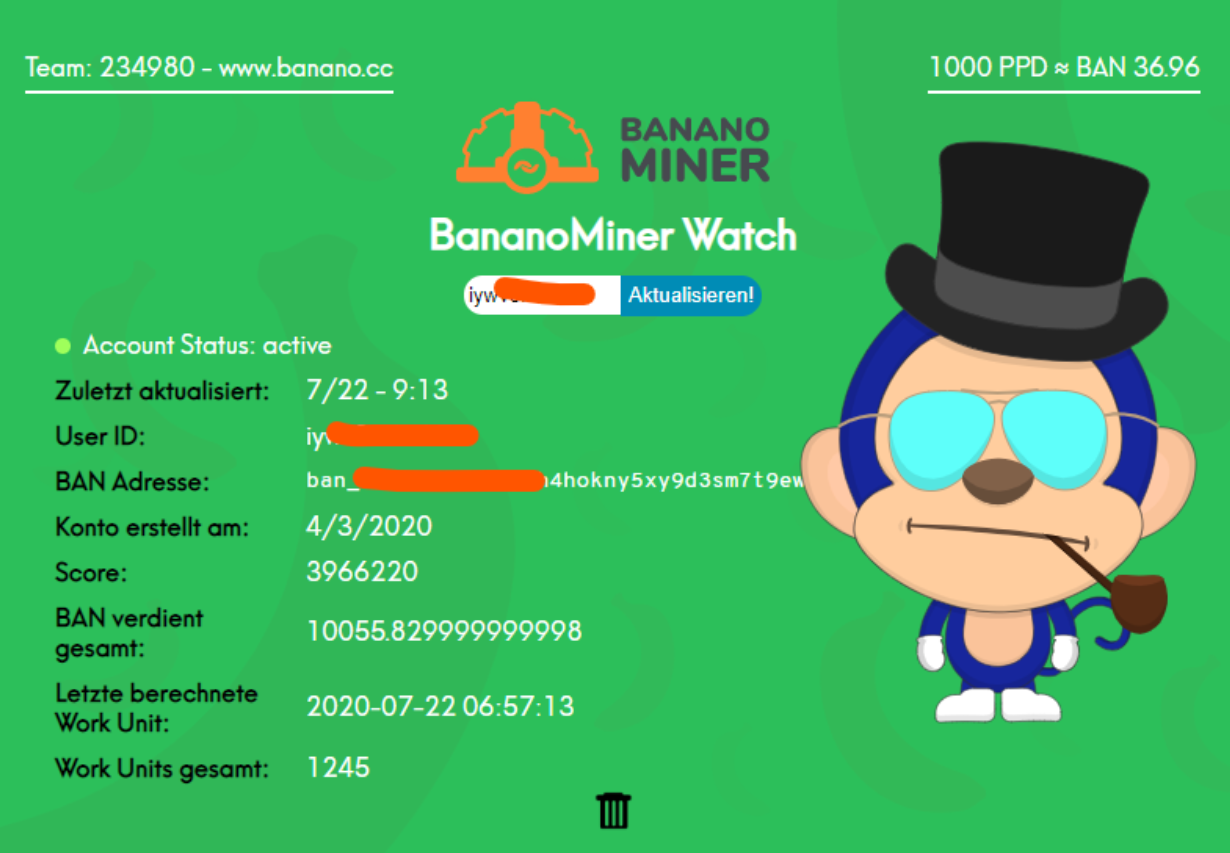 Now, you might notice that you see German words there. That´s because my browser is set to German.
14 Languages in 10 Days!
"But we are not German, we speak English, Hindi, Spanish, Chinese…" you might say now. And yes, we know. And the fact that the Banano community is spread all over the globe inspired us to call for monkeys of all languages to participate in our effort to make this available in as many languages as possible. We got great support and the translations for the first 14 languages were completed in just 10 days!
With these 14 languages we made our first submission with V1.2.1 to the Google Chrome webstore. After adding even more functionality and 4 more languages over the past three weeks, Version 1.3.1 Codename "Bonobo" has been published in the Google Chrome Webstore (click to download, also works on Brave!) on Tuesday.
BananoMiner Watch is available for download in all regions, and in 18 different languages (local identifiers in brackets):
Arabic (ar)
Danish (da)
German (de)
English — default (en)
Spanish (es)
Latin Amrican Spanish (es_419)
Persian (fa)
French (fr)
Hindi (hi)
Bahasa Indonesia (id)
Italian (it)
Japanese (ja)
Dutch (nl)
Norwegian (no)
Brazilian Portuguese (pt_BR)
Portuguese (pt_PT)
Russian (ru)
Vietnamese (vt)
Chinese — Mandarin (zh_CN)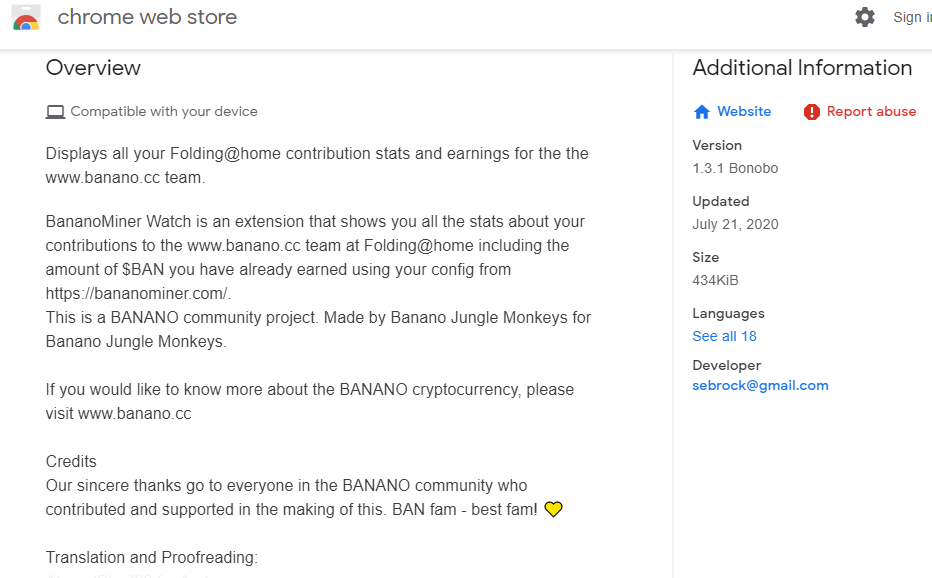 We would greatly appreciate if you left a review and rating in the webstore, this really helps us with being found in search results.
Credits
Our sincere thanks go to everyone in the BANANO community who contributed and supported in the making of this. BAN fam — best fam! 💛
Translation and Proofreading:
AhmedDhaif93 for Arabic
Goose for Chinese
Kryptnonite for Danish
ATH for Dutch
Liberty_Seed and iazid for French
sebrock for German
Skittish for Hindi
Pramono for Bahasa Indonesia
Lore and macaleon for Italian
Africa by Toto for Japanese
mina_hanem for Farsi
nknown for Portuguese
pygo for Norwegian
MidNightSonne and andrecrjr for Brazilian Portuguese
YaroslavaWise and Nomina for Russian
Cristalla for Spanish
Tahadorukk | Guns'NRoses for Turkish
Tu Hoang for Vietnamese
bbedward for reminding the jungle to support
Graphic Design support
If you would like to contribute another language which is not there yet, or if you have any other suggestions or questions, get it touch with us. You can find André on twitter and both of us andrecrjr a.k.a. Eroshi Nakamoto and myself sebrock|42 세브로크-마흔 둘 on the Banano Discord Server.
The DEV/TEST repo on github is at https://github.com/sebrock/bananominer-watch-DEV_TEST/
We welcome PRs, so if you know what that is and have something to contribute, go ahead.
Credits to 'The Daily Peel'
This article is based on an original article appearing at 'The Daily Peel', a news website created by the BANANO community. This article was written by BANANO community member sebrock with minor editing by bantano. Re-use with permission by 'The Daily Peel'.
Original article link: https://www.daily-peel.com/post/introduction-to-bananominer-watch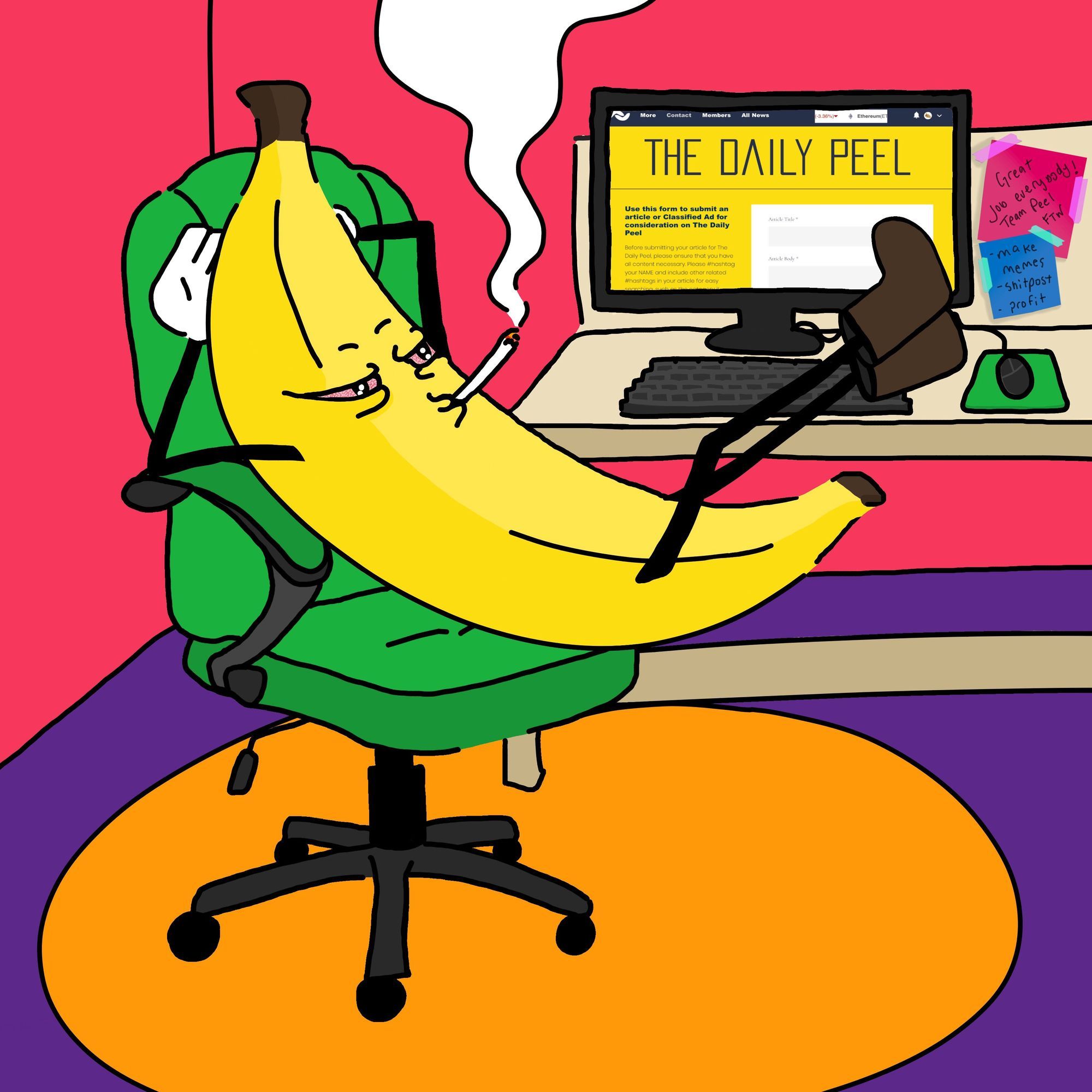 What the Fork is BANANO?
For those of you who don't know BANANO yet, it's obviously perfect to just read our animated, meme-rich and interactive Yellowpaper!
BANANO is a cryptocurrency (forked from NANO in April 2018) powered by DAG technology — here to distrupt the meme economy. Yes, BANANO has memes! And also feeless and near-instant transactions, a highly active community, and active technical development! The BANANO community doesn't take themselves too seriously, but we're here for the long run and we enjoy what we do. On top of this, BANANO is super easy to use and puts an emphasis on free and fair distribution, gamification and crypto education.
See current BANANO price and market data at Coingecko or Coinmarketcap. All current trading pairs and exchanges here.
Join the Banano Republic!
BANANO ($BAN) is a fee-less, instant, rich in potassium cryptocurrency powered by DAG technology disrupting the meme economy.
Official Website: banano.cc
Yellowpaper: banano.cc/yellowpaper
Help getting started: banano.how
Join our social channels for updates & giveaways:
Discord | Twitter | Telegram | Reddit | Youtube
Publish0x | Uptrennd | LBRY | Medium | Hive
Github | BitcoinTalk | Instagram | Facebook | TikTok
Overviews:
BANANO News | BANANO links | BANANO events