Development Update: "Wrapped" BANANO on Binance Smart Chain
Backed by next generation DAG tech and potassium, BANANO is a cryptocurrency getting into your wallet fast, feelessly, and with loads of…


Backed by next generation DAG tech and potassium, BANANO is a cryptocurrency getting into your wallet fast, feelessly, and with loads of fun. BANANO is distributed for free to everyone. Its easy-to-use technology onboards normies and crypto-noobs without the usual hassle by combining a fun attitude with gamification, and then educate them to handle crypto in general in a responsible way.
Today, we want to share a brief dev update about how you soon will be able to swap BANANO (BAN) with any cryptocurrency on decentralized exchanges like PancakeSwap. Learn more about the upcoming release of the wBAN app below!
Edit: Attention: wBAN is NOT yet available on Binance Smart Chain mainnet! Details further below.


So then, what is wBAN?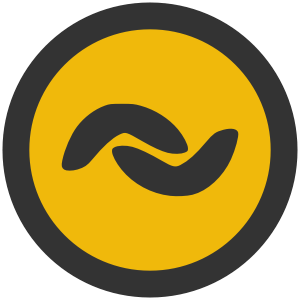 wBAN means "Wrapped Banano"
The Wrapped Banano token (wBAN) will be available on the Binance Smart Chain ("BSC" for short) and will be attached to BAN.
That means that one "wBAN" will always be equal to one "BAN"!
But why wBAN?
Now you may wonder, with a cryptocurrency so fast and feeless, why on Earth are we creating a wrapped BAN token on a blockchain that has fees and slower transactions speeds than BANANO?
The main purposes of wBAN are:
to increase BANANO liquidity on available exchanges
to swap between BAN and other cryptocurrencies (we like to connect to other communities, so connecting blockchains is naturally a good thing)
to educate new and existing BANANO users (monKeys) about more features and utilities they might not be familiar with
Also, unlike some platforms, Binance Smart Chain fees are relatively low (in USD terms between $0.10 to $0.40 for a transaction) which makes it great tool to learn about DeFi & Yield Farming.
Soon all the things you may not have known about (DeFi, yield farming, APY, APR, liquidity pools, and impermanent loss) will make sense. Some more upcoming articles will dive into those topics.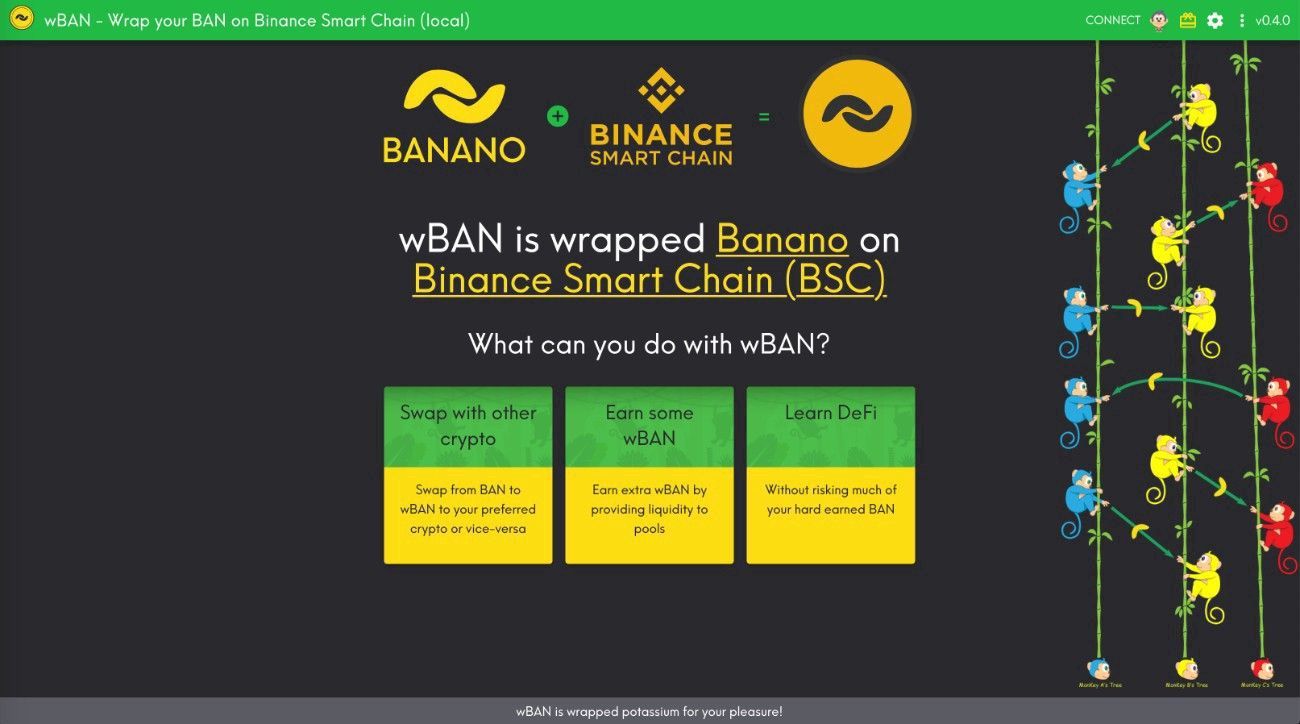 How will this work?
Through the soon to be available wBAN app, you will be able to swap your main-net BANANO (BAN) to wrapped BANANO (wBAN), and vice-versa. The wBAN app will act as a centralized exchange so that monKeys can deposit BANANO and "mint" an equal amount of wBAN for swapping on the decentralized exchanges like Pancakeswap. Of course, you will also be able to swap wBAN back to BAN.
Here's some sneak peek on the app: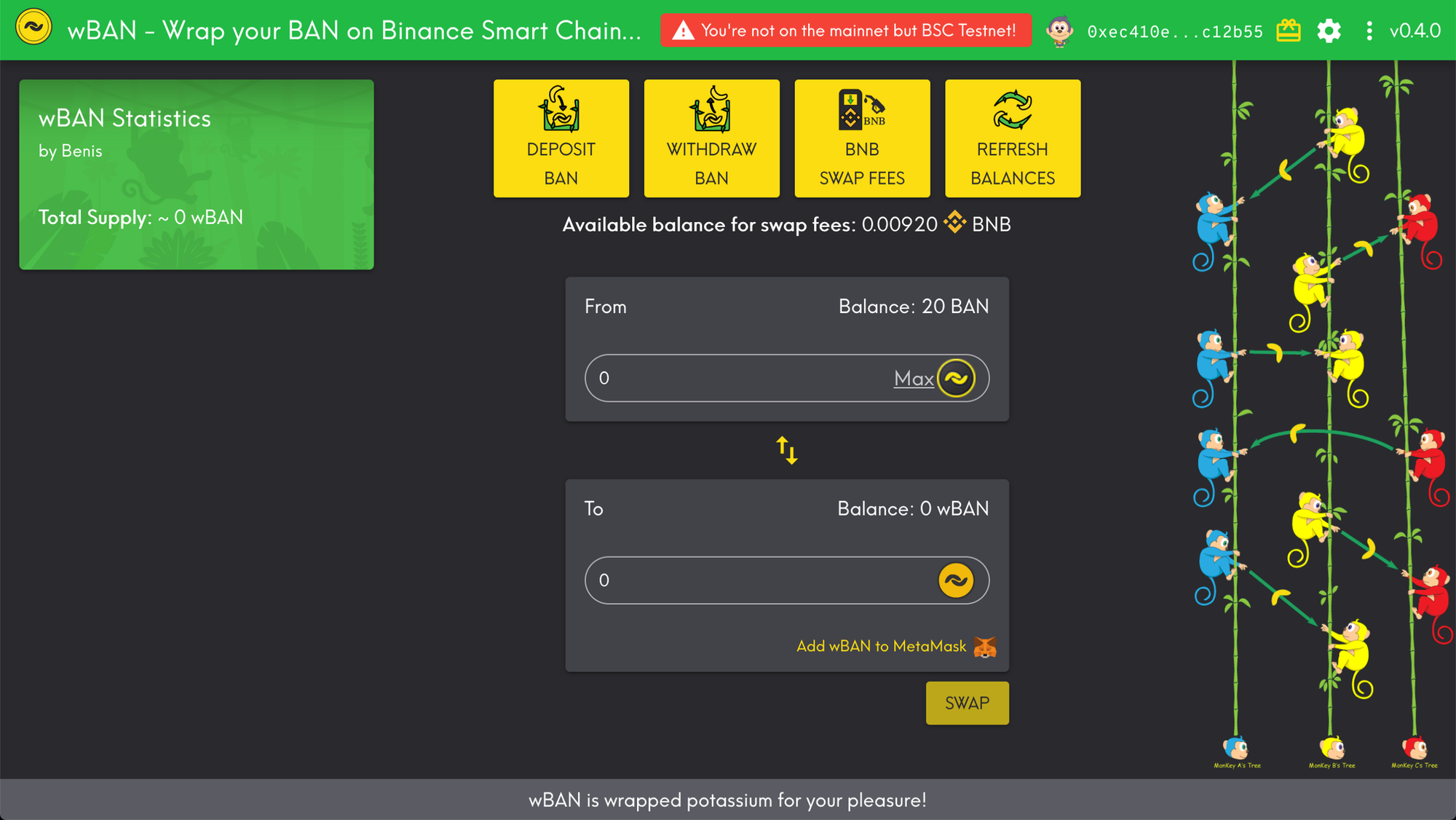 Once you get your hands on wBAN you will be able to do multiple things:
provide liquidity in multiple Binance Smart Chain decentralized exchanges such as PancakeSwap
swap your wBAN to any other crypto-currency available on BSC, and even bring them back to your Binance account
swap any other crypto-currency to wBAN to get some BAN
etc.
Minting wBAN tokens with your BAN involves paying BSC fees with BNB, so you will need to provide a small amount of BNB upfront (with the "BNB Swap Fees" button displayed in the above screenshot) in order to swap BAN to wBAN. Swaps from wBAN to BAN will also be done as a BSC transaction through MetaMask, and also involve a small BNB fee.
Stay tuned for detailed instructions which will be released upon wBAN app launch.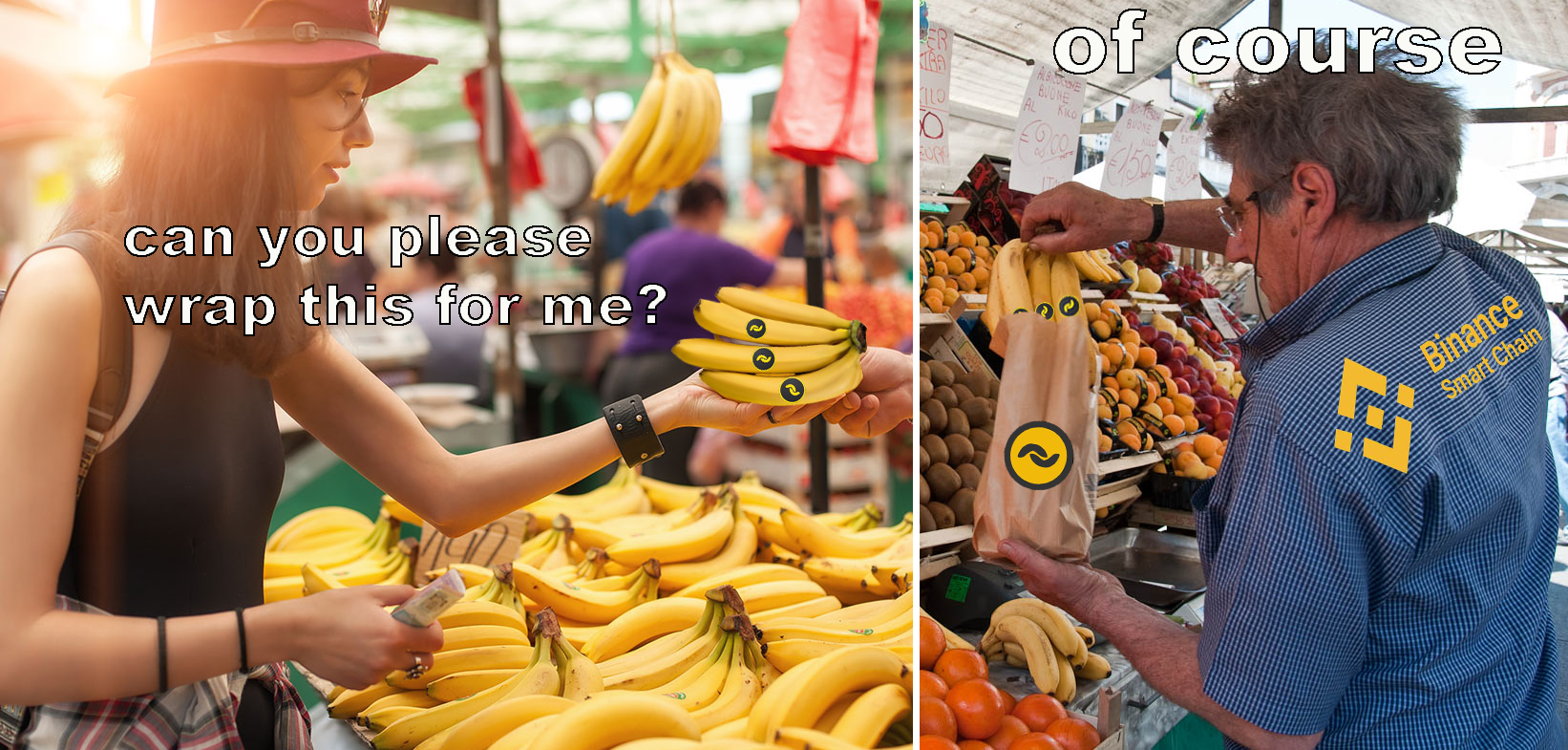 Edit: Attention: wBAN is NOT yet available on Binance Smart Chain mainnet!
We've seen multiple screenshots and links sent yesterday after the announcement mentioning a wBAN token which has nothing to do with the app. Even worse, we've seen as well 11 transactions made with this token via PancakeSwap, and they keep coming
Please don't try to be an early user or clever on this! Wait for wBAN to be available otherwise you'll most likely loose crypto.
Reminder: anyone can create and deploy a token named wBAN. The name of the token is not enough to make sure it's a "legit" one!
We will come back to you when it's available and also give you both the smart-contract address and OpenSource all wBAN source code. We know you want to play with wBAN asap, but stay on the safe side and wait so that you don't loose hard earned money!
When will wBAN be available?
But WEN wBAN???
Maybe in about 4 to 6 weeks, but as with all things crypto, it's hard to predict exactly.
At the moment wrap-that-potassium who is leading the wBAN development project and some of his 'helper monkeys' are working on:
User Experience (UX) improvements for the wBAN app
A new BSC smart-contract with the ability for upgrades, for new features, and potential bug fixes
We will provide more development updates here while this is going forward, but in the meantime, we are also going to put out articles explaining topics such as DeFi, Yield Farming, and PancakeSwap. This way all the monkeys in the jungle can have a better understanding of wBAN and be ready and educated when it's available!
Want to learn more? Want to contribute? Connect through the BANANO discord server and participate in giveaways or events to get some free BANANO, and get involved in a thriving, welcoming community.
Credits
wBAN is a community project in the BANANO ecosystem, developed mainly by wrap-that-potassium. Big thanks also to iazid, Oops, Kirby, VirtuGrana, plutoh, fraggles, zzjulien, pbuyle, Akubanano, Nicetheboy and David99 for their advice, betatesting time, design work and other help all contributing to bring this project forward ❤
What the Fork is BANANO?
For those of you who don't know BANANO yet, it's obviously perfect to just read our animated, meme-rich and interactive Yellowpaper! BANANO is a cryptocurrency (forked from NANO in April 2018) powered by DAG technology — here to distrupt the meme economy. Yes, BANANO has memes! And also feeless and near-instant transactions, a highly active community, and active technical development! The BANANO community doesn't take themselves too seriously, but we're here for the long run and we enjoy what we do. On top of this, BANANO is super easy to use and puts an emphasis on free and fair distribution, gamification and crypto education.
See current BANANO price and market data at Coingecko or Coinmarketcap. All current trading pairs and exchanges here.
Join the Banano Republic!
BANANO ($BAN) is a fee-less, instant, rich in potassium cryptocurrency powered by DAG technology disrupting the meme economy.
Official Website: banano.cc
Yellowpaper: banano.cc/yellowpaper
Help getting started: banano.how
Community News: The Daily Peel
Join our social channels for updates & giveaways:
Discord | Twitter | Telegram | Reddit | Youtube
Publish0x | Uptrennd | LBRY | Medium | Hive
Github | BitcoinTalk | Instagram | Facebook | TikTok
Overviews:
BANANO News | BANANO links