Claim Your Daily XMAS Gifts (BANANO and cryptomonKeys NFTs)
BANANO is a DAG-based cryptocurrency with easy-to-use apps, distributed entirely for free through airdrops, faucets, and games. All…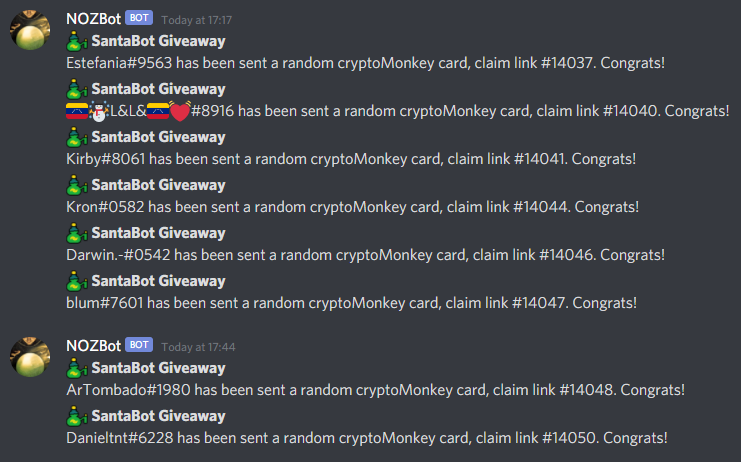 BANANO is a DAG-based cryptocurrency with easy-to-use apps, distributed entirely for free through airdrops, faucets, and games. All happening in a fun, community-driven, meme-rich, and educational atmosphere.
In the spirit of Christmas, we're giving away daily BANANO and NFT gifts at the BANANO Discord server. Learn below how that works.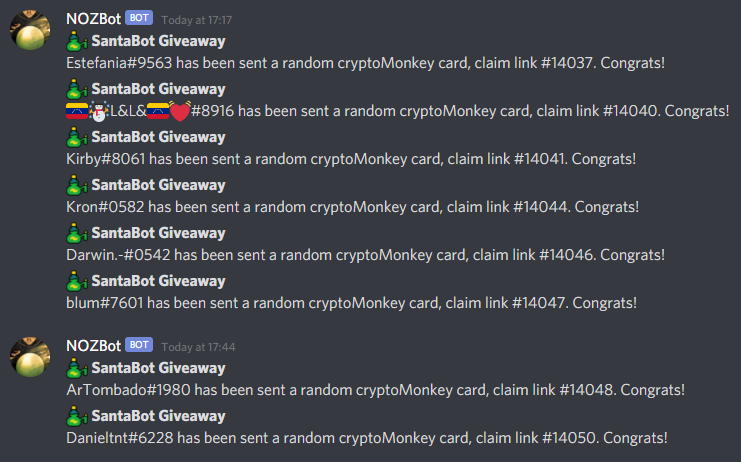 @SantaBot🎅 is Here!
In the spirit of Christmas, count down the days with our @SantaBot🎅! Each day up until Christmas you can receive a gift on the BANANO Discord Server. Gifts include BANANO, cryptomonKey NFTs, and for the naughty ones, coal.
How To Claim
Requirement: You have to be a BANANO citizen to claim your daily prize. If you are not a BANANO citizen yet, there is still time to become a citizen and start claiming before Christmas. It is totally worth it! And no worries, we describe further below how that works.
In the channel #the-jungle, simply claim your gift once per day with the command #gift or #santa. Gifts randomly include BANANO, cryptomonKey NFTs or, if you're unlucky, coal.

You will get notified via private message from NOZBot aka SantaBot about your prize:
BANANO prizes will be automatically added to your BANANO Discord Tipbot Balance

cryptomonKey NFTs will be sent to you as claimlink, just follow the instructions: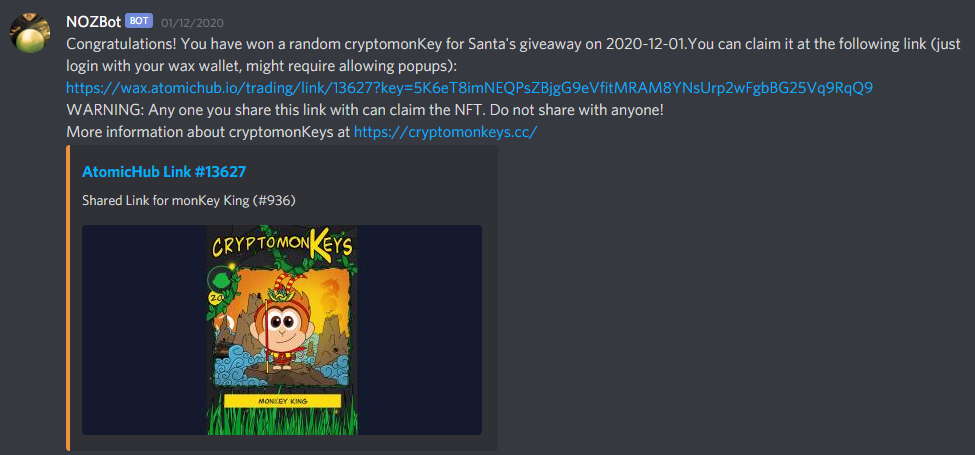 Good Luck and Enjoy!
Big 'Thank you' to Vyryn for creating yet another bot serving free BANANO and cryptomonKeys distribution ❤
Not on our Discord yet? No Problem!
This event is for BANANO Discord Citizens only
Don't know what BANANO Citizenship means? Don't have the Citizen role? Don't worry! Follow these 3 steps and you'll be a monkey in no time (maybe not in time for this event, but at least for future events):
1. Join our Discord at BANANO Discord Server
2. Enter the #the-jungle (chat channel) of your preferred language
3. Introduce yourself and participate in the chats. Have a little patience and fun in the chat and learn more about BANANO, and a moderator will grant you citizenship after some time! Find more details in this article.
Why do we require participants to have the Citizen role?
BANANO and its community thrive off of free distribution, and we want to make sure that everybody is getting their fair share, and avoid that only bot or alt/fake accounts exploit our distribution. The "Citizen" role helps us accomplish this by weeding out "alt" accounts and ensuring everybody has a fair chance at taking home some $BAN! It might not work out for this giveaway if you're starting now, but at least you'll be prepared for next time then, and you'll find some new friends, promised! ❤
Now head over to the BANANO Discord Server and join us! We have BANANO giveaways and rains going on there all the time!
Don't know Discord? No worries, it's easy to join it, get step-by-step help here. If you have further questions after joining, as in the channel #the-jungle.
What the Fork is BANANO?
For those of you who don't know BANANO yet, it's obviously perfect to just read our animated, meme-rich and interactive Yellowpaper! BANANO is a cryptocurrency (forked from NANO in April 2018) powered by DAG technology — here to distrupt the meme economy. Yes, BANANO has memes! And also feeless and near-instant transactions, a highly active community, and active technical development! The BANANO community doesn't take themselves too seriously, but we're here for the long run and we enjoy what we do. On top of this, BANANO is super easy to use and puts an emphasis on free and fair distribution, gamification and crypto education.
See current BANANO price and market data at Coingecko or Coinmarketcap. All current trading pairs and exchanges here.
Join the Banano Republic!
BANANO ($BAN) is a fee-less, instant, rich in potassium cryptocurrency powered by DAG technology disrupting the meme economy.
Official Website: banano.cc
Yellowpaper: banano.cc/yellowpaper
Help getting started: banano.how
Join our social channels for updates & giveaways:
Discord | Twitter | Telegram | Reddit | Youtube
Publish0x | Uptrennd | LBRY | Medium | Hive
Github | BitcoinTalk | Instagram | Facebook | TikTok
Overviews:
BANANO News | BANANO links | BANANO events | Daily Peel