BananoMiner (Earn Crypto by Supporting Medical Research) Update: BANANO is now the #1 Contributing…
Backed by next generation DAG tech and potassium, BANANO is a cryptocurrency getting into your wallet fast, feelessly, and with loads of…

BananoMiner (Earn Crypto by Supporting Medical Research) Update: BANANO is now the #1 Contributing Team!
Backed by next generation DAG tech and potassium, BANANO is a cryptocurrency getting into your wallet fast, feelessly, and with loads of fun. BANANO is distributed for free to everyone. Its easy-to-use technology onboards normies and crypto-noobs without the usual hassle by combining a fun attitude with gamification, and then educate them to handle crypto in general in a responsible way.
'BananoMiner' has been established as BANANO mining faucet in early 2019 already. Users can contribute their processing power to medical research through our Folding@Home integration and get subsidized BANANO cryptocurrency as a reward. BananoMiner has been popular since the very beginning, however with BANANO's recent spike in price and popularity more and more users are joining, and Team BANANO now became the biggest Folding@Home contributor. This is why we are now increasing the 'mining difficulty'. Read more below.
BananoMiner Update: Team BANANO ranks first!
⛏️ We did it guys! ❤ BANANO is now (April 2021) the No #1 ranked team at Folding@Home, a project where users can contribute their processing power to science and get subsidized BANANO as a reward. In line with this recent increase, mining difficulty now underwent another increase due to the recent inrush of new users.
Some numbers: Since BananoMiner started 2 years ago, almost 200 Million BANANO have been distributed! And Team BANANO currently has almost 5000 active folders!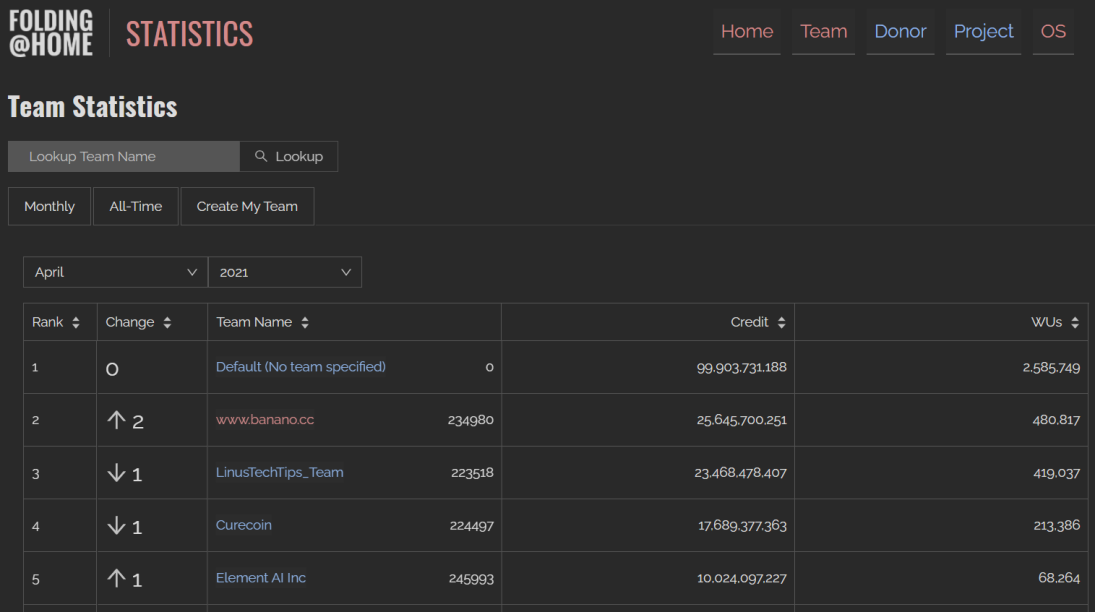 BANANO is entirely distributed for free in many different ways, through faucets and events, and also through BananoMiner. Thus, the primary purpose of BananoMiner is distributing BANANO, and its great that users can contribute to Science by using it. It however shouldn't be too profitable since this will attract mining farms and users who systematically set up mining rigs or cloud computing accounts. This is why we now reduce rewards and basically 'increase difficulty'. Exact details or ratios are as usual not disclosed to avoid any systematic use, however if you like to know more you can join the BANANO Discord and discuss with lots of other users in the channel #banano-mining.
If you don't know BANANO and BananoMiner yet, find more information and detailed help getting started below.
What is Folding@Home?
The Folding@Home project is running since many years and allows everyone to support medical research by contributing their computing power and help fighting many different diseases such as Parkinson's, Huntington's, Cancer, Alzheimer's and many more. More recently the project also started to explicitly calling for everyone's help to fight Coronavirus and find new therapies against it! Read more here.
It's simple: You download the Folding@Home client, then your computer runs protein fold simulations in the background (powered by your CPU and/or GPU) which in turn helps researchers fight diseases. In that sense it's similar to mining, but you're doing something really useful with your computer power.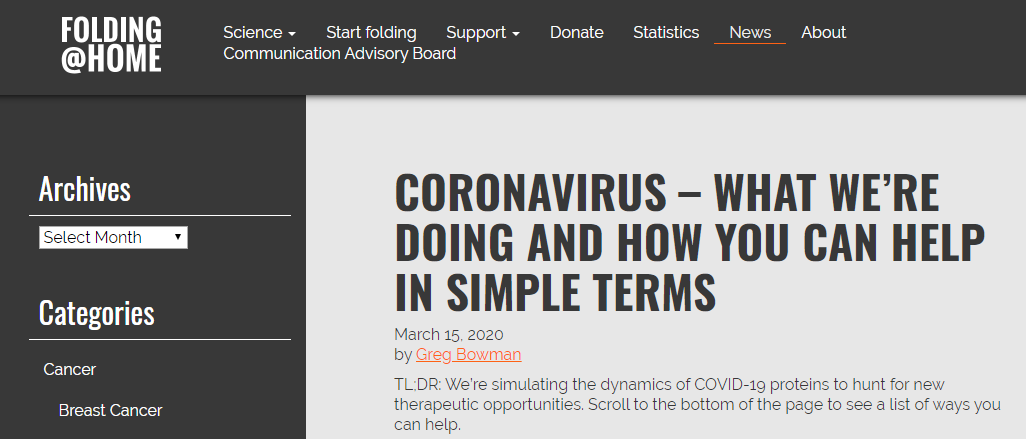 What does crypto or BANANO have to do with it?
BANANO is a cryptocurrency distributed for free to everyone since more than 3 years in many different ways. About 2 years ago, we have started to support the Folding@Home project by paying every contributor to Folding@Home who joins the BANANO team through an integration called 'BananoMiner'. That means we're rewarding everyone who supports Folding@Home with free cryptocurrency and thereyby use the BananoMiner integration as part of our ongoing free & fair distribution scheme. Read more about BANANO below.
Also, everyone please share this article with your friends and help them get started as well! Everyone counts! Let's do it!
How to Set Up Folding@Home and Get Crypto Rewards
Get a BANANO address from vault.banano.cc or the Kalium mobile app if you don't have one yet. Make sure to keep your private key safe. Your Banano address starts with 'ban_…'
No worries, this will only take few minutes and is easy!
Help getting started at https://banano.how
Head to https://bananominer.com and enter your BANANO address into the text box. Then click "Start Now!"
Write down YOUR personal User ID provided, and the team ID which will be "234980" for everyone: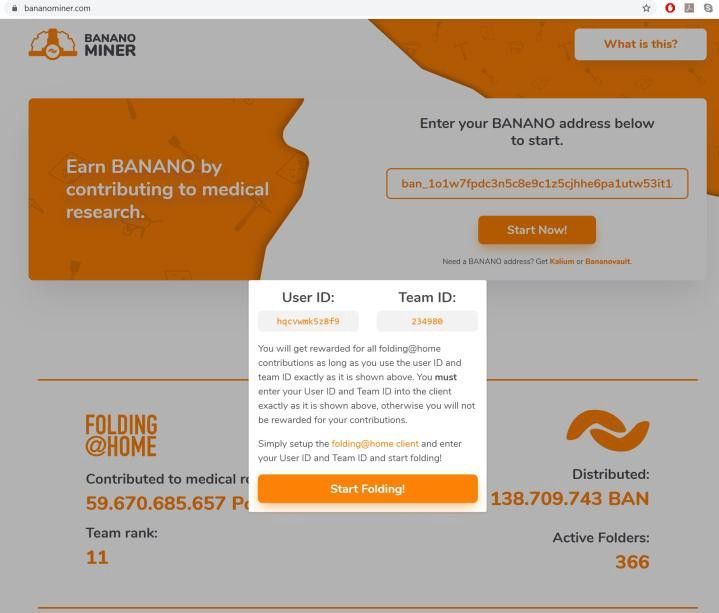 Download the Folding@Home desktop client here and install it.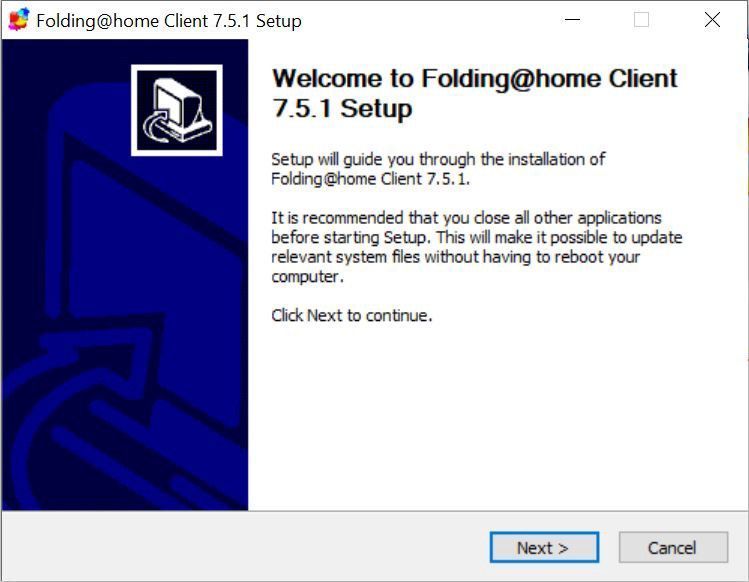 When the installation is complete, run it and select 'Set up an identity' or 'Change Identity'.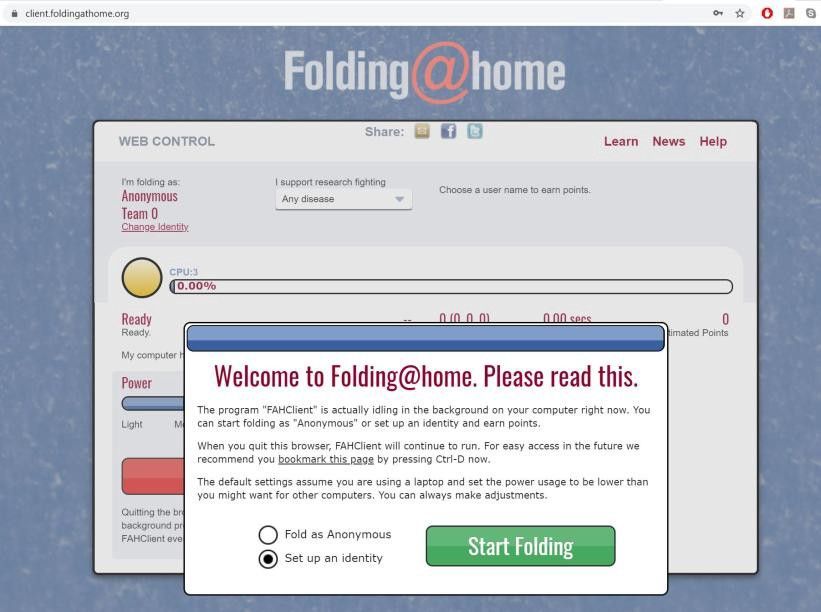 Fill in the username and Team ID (234980) you wrote down before. Optionally, get a passkey for more points/higher rewards here and fill it in as well (you'll need your username and and email address for this).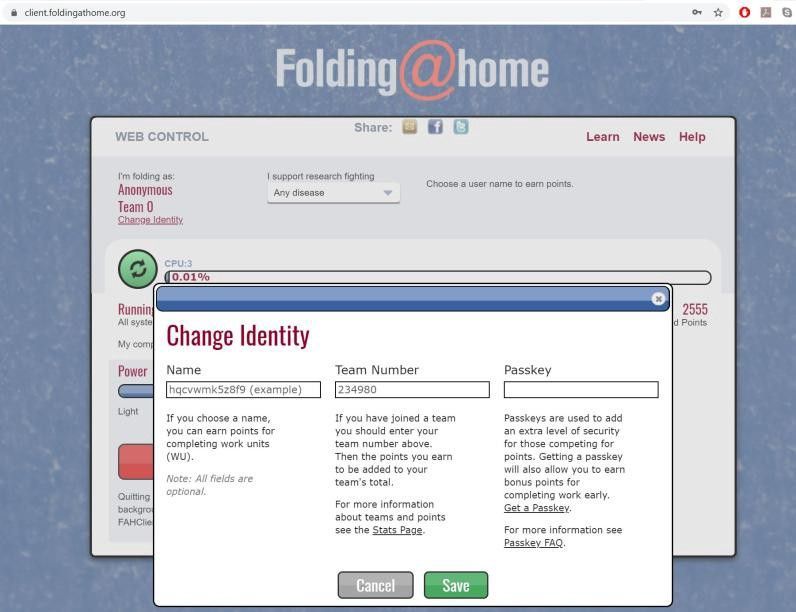 Press "Save". Adjust your Folding Power to where you want it. It will contribute more when you set it higher, meaning your rewards will be higher. Adjust as needed when your computer gets too loud or slow.
Press "Fold" and you're good to go! You're now supporting research and help fighting Coronavirus! You're awesome! Thank you!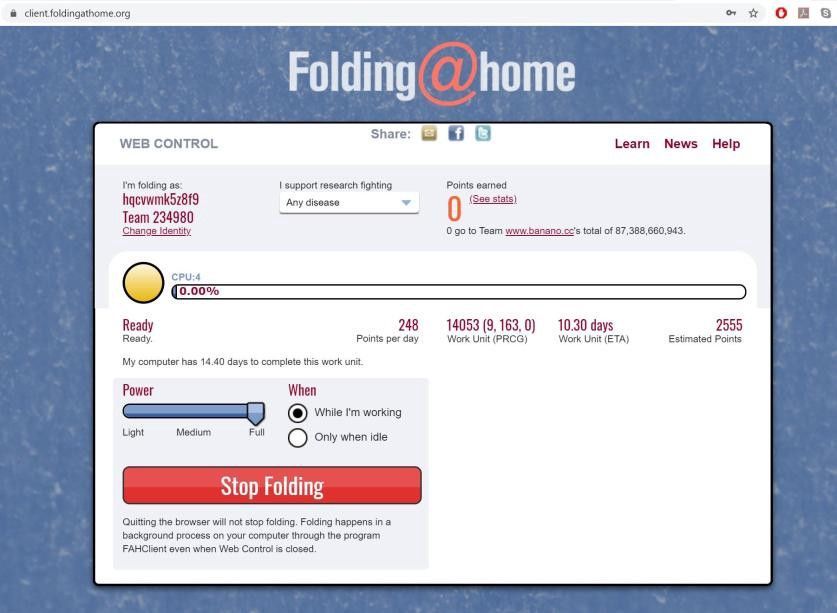 Rewards in BANANO cryptocurrency will be paid to your BANANO wallet address after your first work unit reaches 100% and approximately every 12 hours after that as long as you keep completing work. It might take 24 hours or even little more initially to get going.
For more questions and support, visit the BANANO Chat Server at chat.banano.cc. You will also find more information on bananominer.com.
You'll find more information below, including some awesome videos!
How much BANANO will I get?
The more you use your CPU/GPU for protein folding calculations and the more powerful your computer is, and subsequently the more points you accumulate at Folding@Home, the higher your BANANO rewards will be. However, the amount of BANANO per point will fluctuate over time based on different parameters. Thus, it's hard to predict how much you'll earn from this exactly. Of note, we're not aiming here to make this profitable for professional miners or make you rich. Take this merely as an incentive to contribute to something good. If you like to discuss with others about how much they received or have questions join the BANANO discord server and find the #banano-mining chat channel.
Related Links and More Information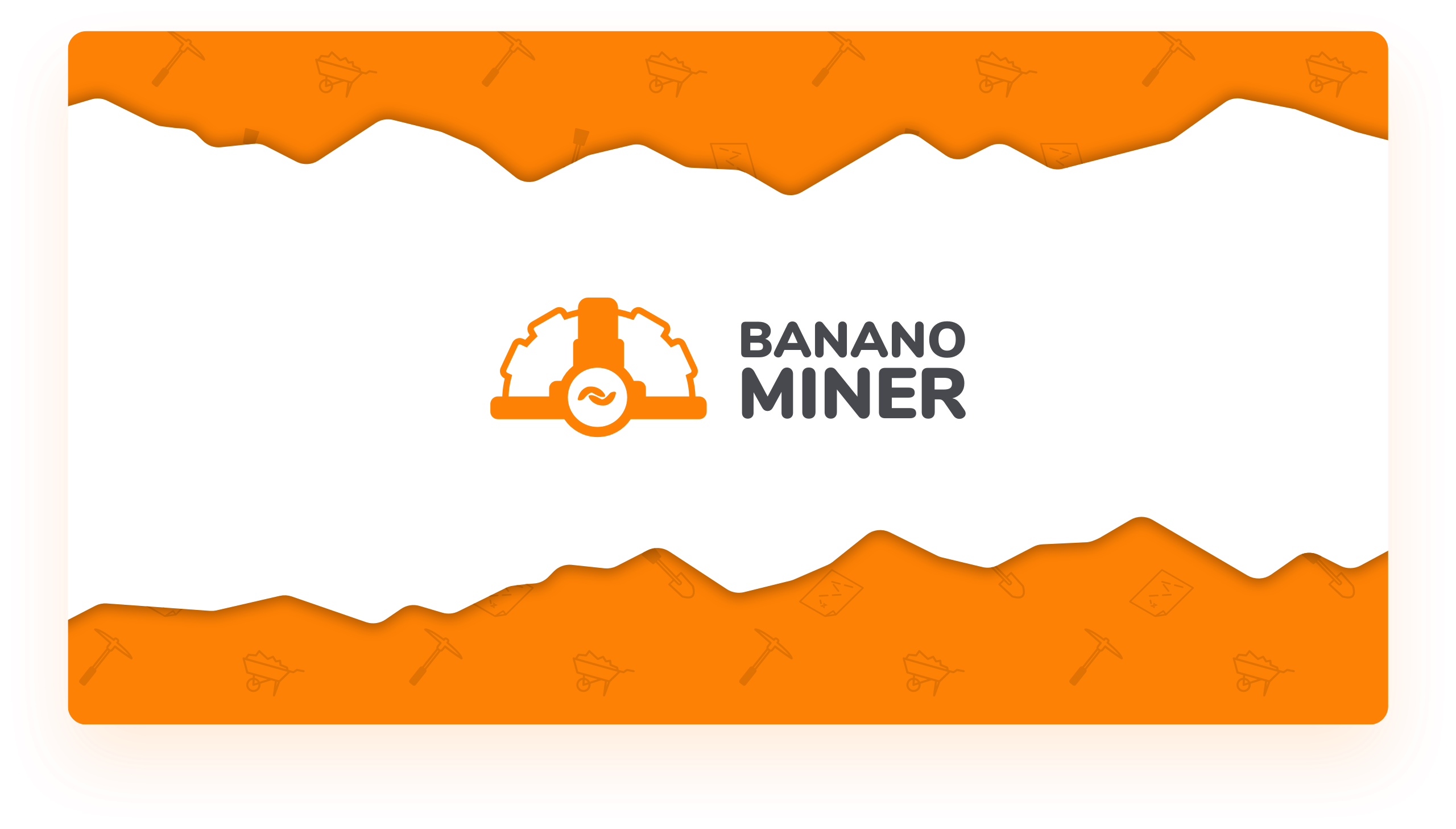 BananoMiner Website
Folding@Home Website
Folding@Home Official Statement about Coronavirus
BananoMiner Banano Payout address
What the Fork is BANANO?
For those of you who don't know BANANO yet, it's obviously perfect to just read our animated, meme-rich and interactive Yellowpaper! BANANO is a cryptocurrency (forked from NANO in April 2018) powered by DAG technology — here to distrupt the meme economy. Yes, BANANO has memes! And also feeless and near-instant transactions, a highly active community, and active technical development! The BANANO community doesn't take themselves too seriously, but we're here for the long run and we enjoy what we do. On top of this, BANANO is super easy to use and puts an emphasis on free and fair distribution, gamification and crypto education.
See current BANANO price and market data at Coingecko or Coinmarketcap. All current trading pairs and exchanges here.
Join the Banano Republic!
BANANO ($BAN) is a fee-less, instant, rich in potassium cryptocurrency powered by DAG technology disrupting the meme economy.
Official Website: banano.cc
Yellowpaper: banano.cc/yellowpaper
Help getting started: banano.how
Community News: The Daily Peel
Join our social channels for updates & giveaways:
Discord | Twitter | Telegram | Reddit | Youtube
Publish0x | Uptrennd | LBRY | Medium | Hive
Github | BitcoinTalk | Instagram | Facebook | TikTok
Overviews:
BANANO News | BANANO links