BANANO Halloween Emoji Design Contest Announcement
BANANO has something for everyone and can get into your wallet fast, feelessly, and with loads of fun. BANANO is distributed for free to…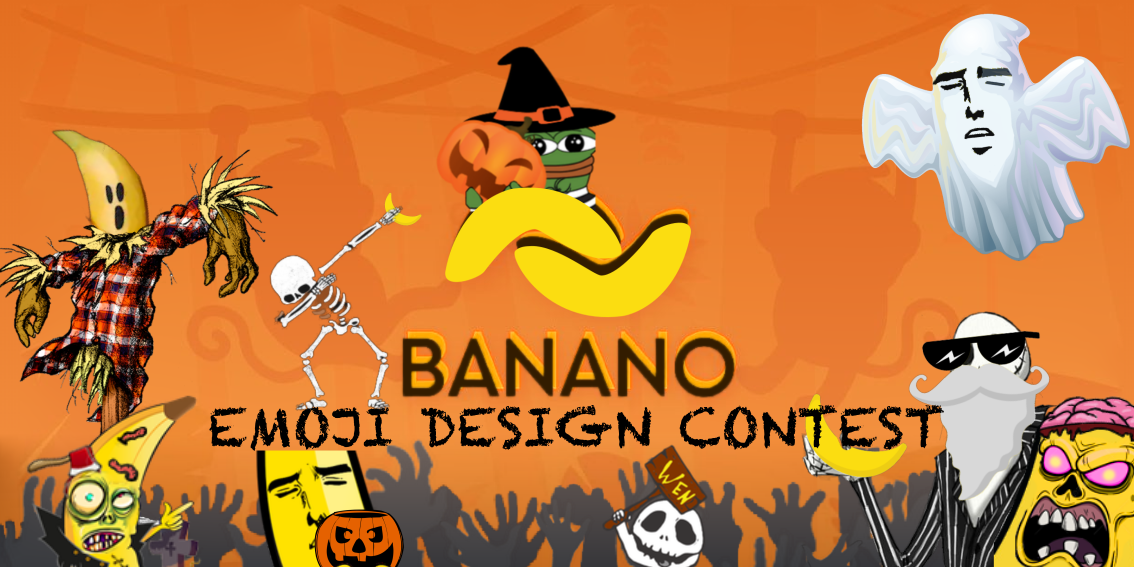 BANANO has something for everyone and can get into your wallet fast, feelessly, and with loads of fun. BANANO is distributed for free to everyone. Its easy-to-use technology onboards normies and crypto-noobs without the usual hassle by combining a fun attitude with gamification, and then educate them to handle crypto in general in a responsible way.
Halloween is approaching fast, meaning it's time to get creative in our annual Halloween Emoji Design Contest, with BANANO and cryptomonKeys NFT as prizes! Details below!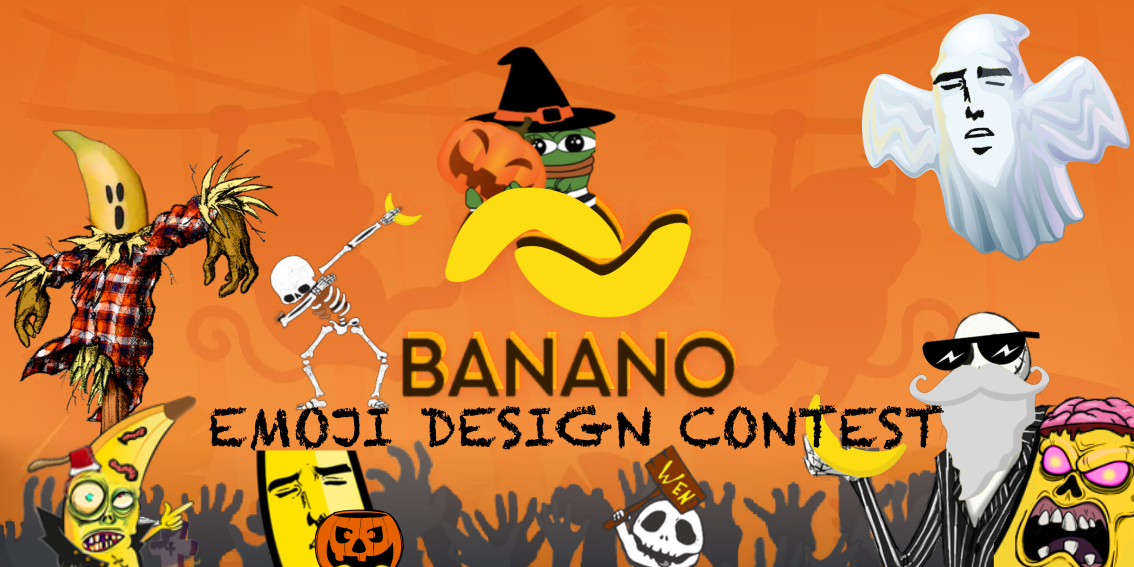 Halloween Emoji Design Contest Announcement
Time to clear out those skeletons in your closet, and turn them into emojis!
💀BANGO IS BACK!
👻 This Halloween, we will be hosting another round of the hit community game Bango and we need your help!
2nd Annual BANANO Halloween Emoji Design Contest & BANGO event
Submissions Close: October 19th
We want amazing BANANO community themed Halloween emojis for Bango, so we are hosting a Halloween themed Emoji Design Contest. The top 25 entries will win prizes and be featured on this year's Halloween Bango cards!
🎃 Prize Pool: 42000 BANANO and 10 cryptomonkeys (BANANO-themed NFTs)!
Here is the prize breakdown:
🥇 1st — 7000 BAN
🥈 2nd — 5000 BAN
🏅 3rd, 4th, 5th — 2000 BAN each
🙊 1 rare cryptomonKey NFT for all Top 10 placed participants
🏆 15000 BANsplit amongst all submissions that are included on the Bango Cards
🎁 9000 BAN being given away in special secret rewards
Please submit your entries to #🔥-contest-submissions-results on the BANANO Discord chat server
Submissions Close: October 19th
This event is open to anyone (you do not need the citizen role to participate)
You may submit unlimited entries, but will only receive prizes for your highest voted submission. All submissions have the potential to be included in BANGO.
After submissions are closed, a panel of judges will vote. Winners will be announced and prizes will be paid at discord directly.
Translation for our Spanish community:
Concurso de Diseño de Emojis de Halloween
Cierre de Inscripciones: 19 de Octubre
¡¡¡Es hora de limpiar esos esqueletos de tu armario y convertirlos en emojis!!!💀¡BANGO ESTÁ DE VUELTA!
👻 ¡Este Halloween, tenemos la intención de organizar otra ronda del exitoso juego comunitario Bango, y necesitamos de tu ayuda!
Queremos increíbles emojis de Halloween con temas de la comunidad de Banano para Bango, por lo que estamos organizando un Concurso de diseño de emojis con el tema de Halloween. ¡Las 25 mejores participaciones ganarán premios y aparecerán en las tarjetas de Halloween Bango, de este año!
🎃 ¡Hay 42000 BANANO en premios a repartir! Aquí está la distribución de los premios:
🥇 1–7000 BAN
🥈 2–5000 BAN
🏅 3, 4, 5–2000 BAN cada uno
🙊 NFT de Cryptomonkey para los 10 mejores
🏆 15000 BAN dividido entre todas las creaciones que se incluyan en las tarjetas del Bango
🎁 9000 BAN que se regalan en recompensas secretas especiales
Envía tu trabajo a #🔥-contest-submissions-results
Cierre de Inscripciones: 19 de Octubre
Este evento está abierto para cualquier persona (no necesitas el rol ciudadano para participar)
Thank you to joseit0 for translating!
What the Fork is BANANO?
For those of you who don't know BANANO yet, it's obviously perfect to just read our animated, meme-rich and interactive Yellowpaper! BANANO is a cryptocurrency (forked from NANO in April 2018) powered by DAG technology — here to distrupt the meme economy. Yes, BANANO has memes! And also feeless and near-instant transactions, a highly active community, and active technical development! The BANANO community doesn't take themselves too seriously, but we're here for the long run and we enjoy what we do. On top of this, BANANO is super easy to use and puts an emphasis on free and fair distribution, gamification and crypto education.
See current BANANO price and market data at Coingecko or Coinmarketcap. All current trading pairs and exchanges here.
Join the Banano Republic!
BANANO ($BAN) is a fee-less, instant, rich in potassium cryptocurrency powered by DAG technology disrupting the meme economy.
Official Website: banano.cc
Yellowpaper: banano.cc/yellowpaper
Help getting started: banano.how
Community News: The Daily Peel
Join our social channels for updates & giveaways:
Discord | Twitter | Telegram | Reddit | Youtube
Publish0x | Uptrennd | LBRY | Medium | Hive
Github | BitcoinTalk | Instagram | Facebook | TikTok
Overviews:
BANANO News | BANANO links | BANANO events